Headteacher's Welcome
It has been a fabulous week in school. The children have had an action packed Arts Week and created some amazing pieces of work. The children had a lot of fun on Tuesday with their Samba Drumming Workshop too.
The Reception and Year 1 children have spent three days in their new September classes and have really settled into their new classrooms, had time with their new peers and begun to build relationships with the staff they will be working with next year. The Year 2 children have also really enjoyed their Arts Week, creating lots of fantastic artwork and also spending time with their new Y3 peers. On Monday each class learnt about one South American country and then created a display together - there are some pictures below.
Huge thanks to the staff for making it such a successful week for the children and in particular to Mrs Sanderson who is our Art curriculum leader and has inspired and supported the staff team to put together such a brilliant week. We finished the week with our own Rio festival - we danced, sang and paraded in our Amazing masks.
Have a look below at some of the fantastic creations!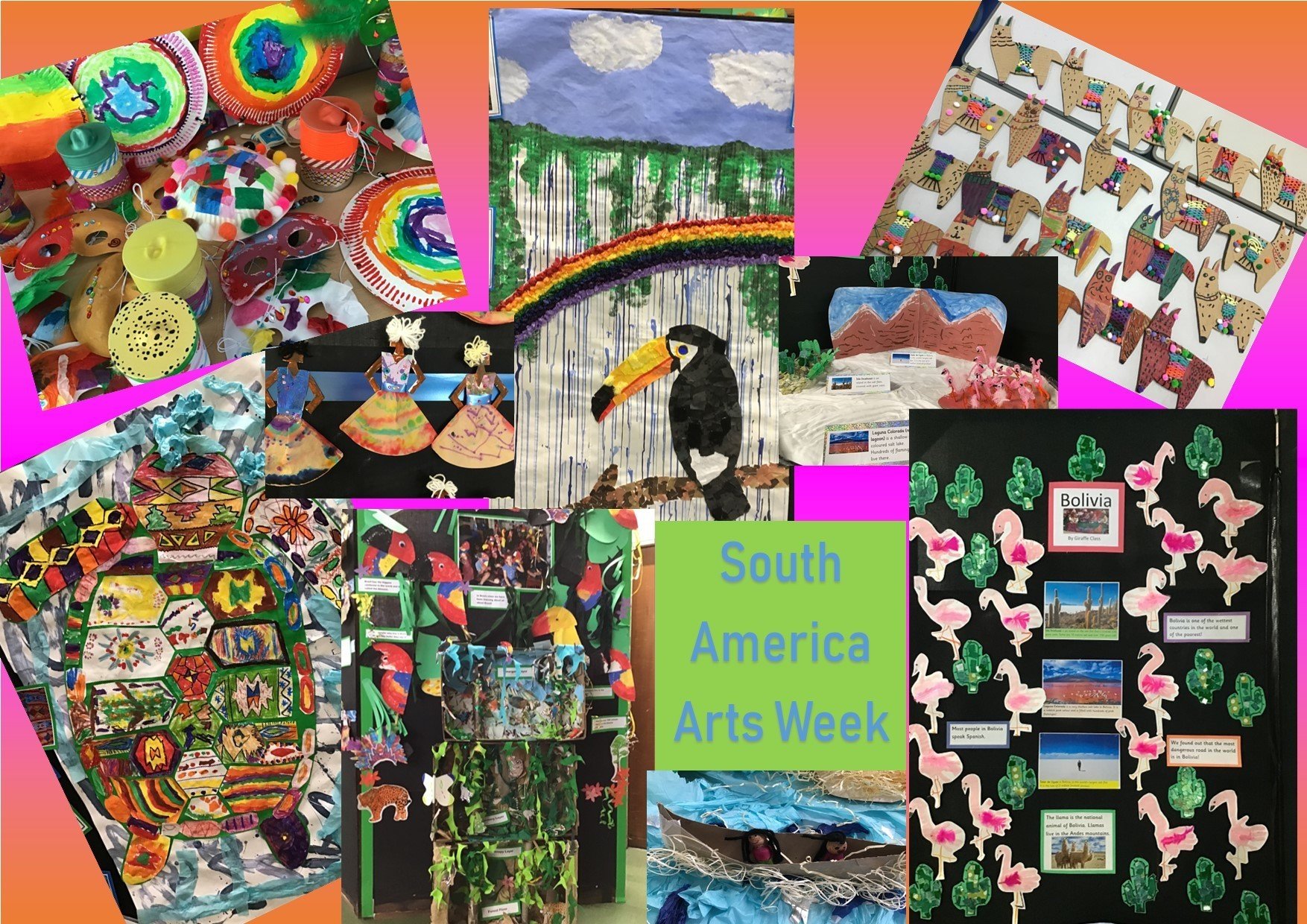 Click the image to see more pictures in our gallery
Rio Carnival!!!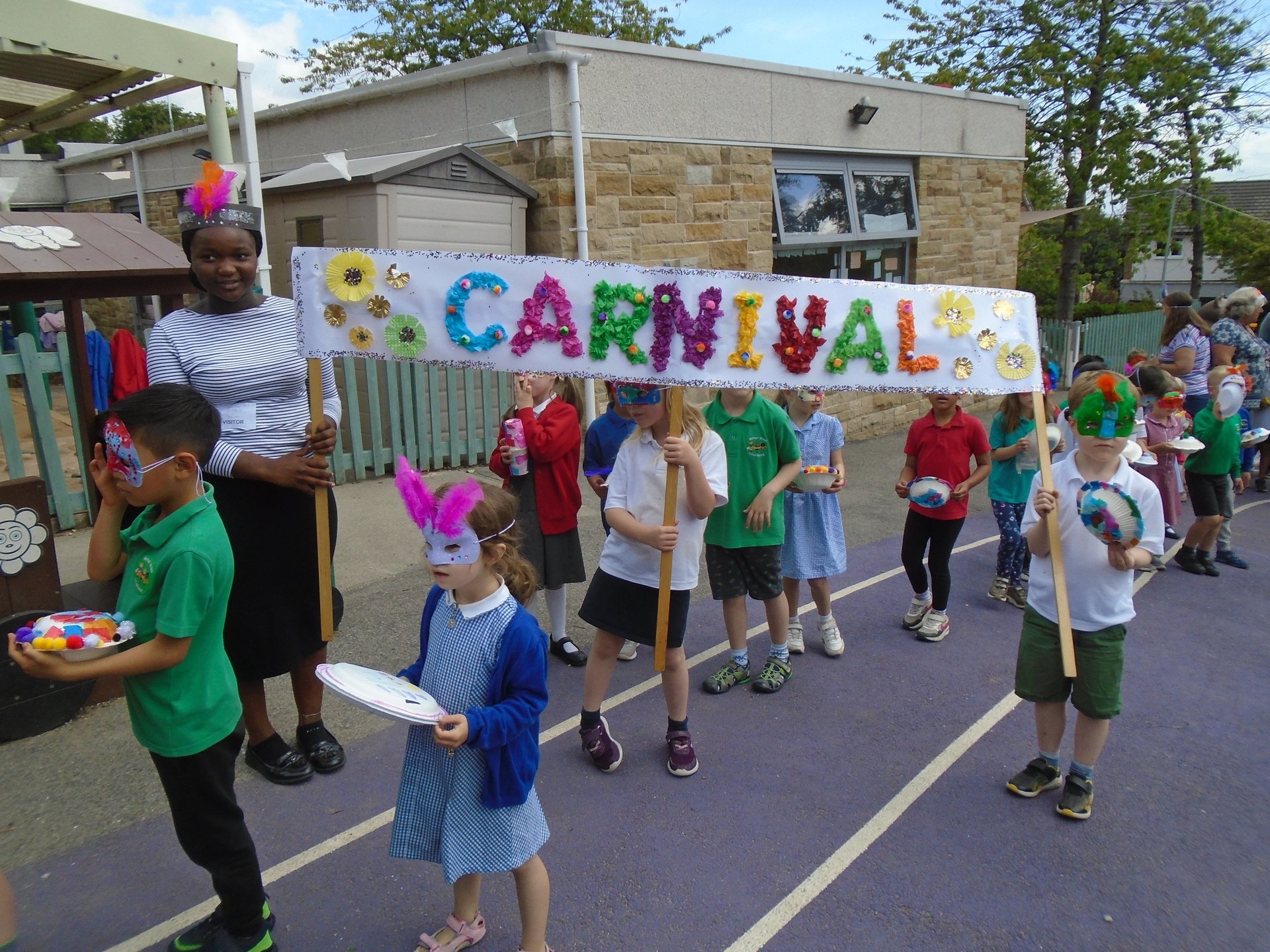 Hot Weather Next Week!
As you will be aware a heatwave is predicted over the weekend and into next week with temperatures peaking on Monday and Tuesday. School will follow public heath advice and do our best to keep the children as cool as possible; we will remain open unless will receive further advice from the Local Authority.
The following measures will help:-
Children should wear loose, light-coloured clothing to help keep cool (they do not need to wear school uniform)
Sandals are advised (no flipflops)
A hat (preferably with a wide brim)
Children must bring a water bottle - they will be given lots of breaks throughout the day and advised to drink plenty
Please apply sun cream - we will not be planning to go out at lunchtime as it is too hot and there is limited shade, however classes may take short breaks in shaded areas such as the Woodland.
We will ensure as much ventilation as possible and plan calm activities for the children. If you have a fan that you could manage without on Monday and Tuesday then please bring to the school office so that Mr Johnson can do a quick check before allocating it to a classroom.
Please also be mindful over the weekend that too much sun exposure can be dangerous for young children.
Notes from the Teachers
There will be a welcome meeting for new Y1 and Y2 classes in the first week back after the holidays. They will start at 9:00am and last for no longer than half an hour. It will be an opportunity for you to find out specific details about what to expect in your child's new class and to ask any questions. For those parents who are unable to attend all of the information will be shared after the meeting.
The dates will be as follows:-
Tuesday 13th September - Penguins and Kangaroos,
Wednesday 14th September - Elephants and Lemurs
Thursday 15th September - Turtles
Reception Children
Well done to all of those Reception children who have been coming into school independently this week and saying goodbye to their grown ups at the gate. They have been so sensible and grown up - definitely ready for Y1!
Stumperlowe Park Road
Sheffield
S10 3QP
0114 2304094
enquiries@nethergreen-inf.sheffield.sch.uk