Headteacher's Welcome
Welcome Back! I hope you have all had a fantastic Easter break. The recent sunshine has certainly been very welcome! The children have returned happy, well rested and ready to learn which is brilliant. It has been a particularly exciting week for our Kangaroos and Turtles classes who have been to Conisbrough Castle - their first school trip ever! They had an amazing day and the rest of the Y1 and Y2 classes are looking forward to their visits next week.
We will share some photos of all the class visits next week.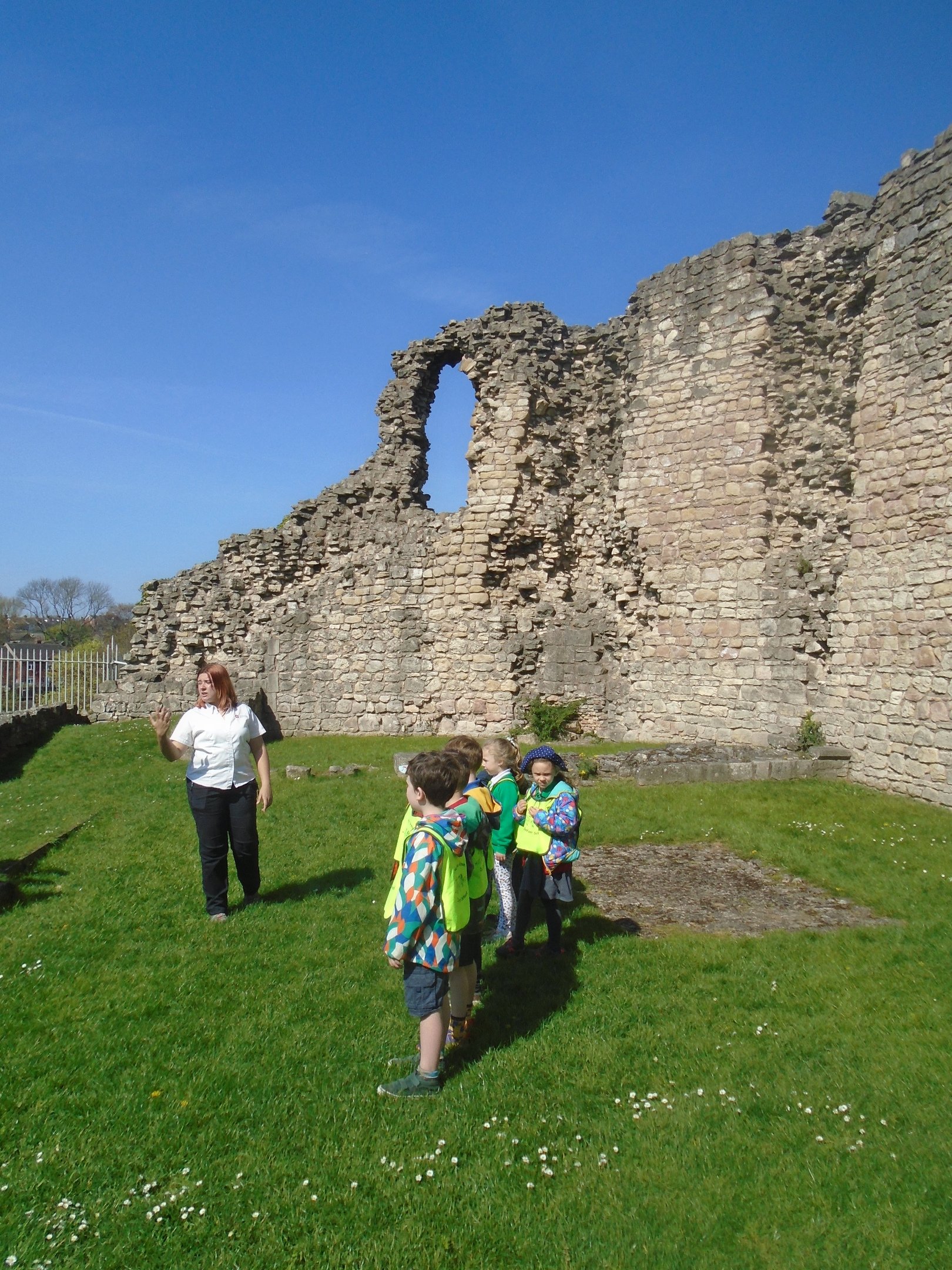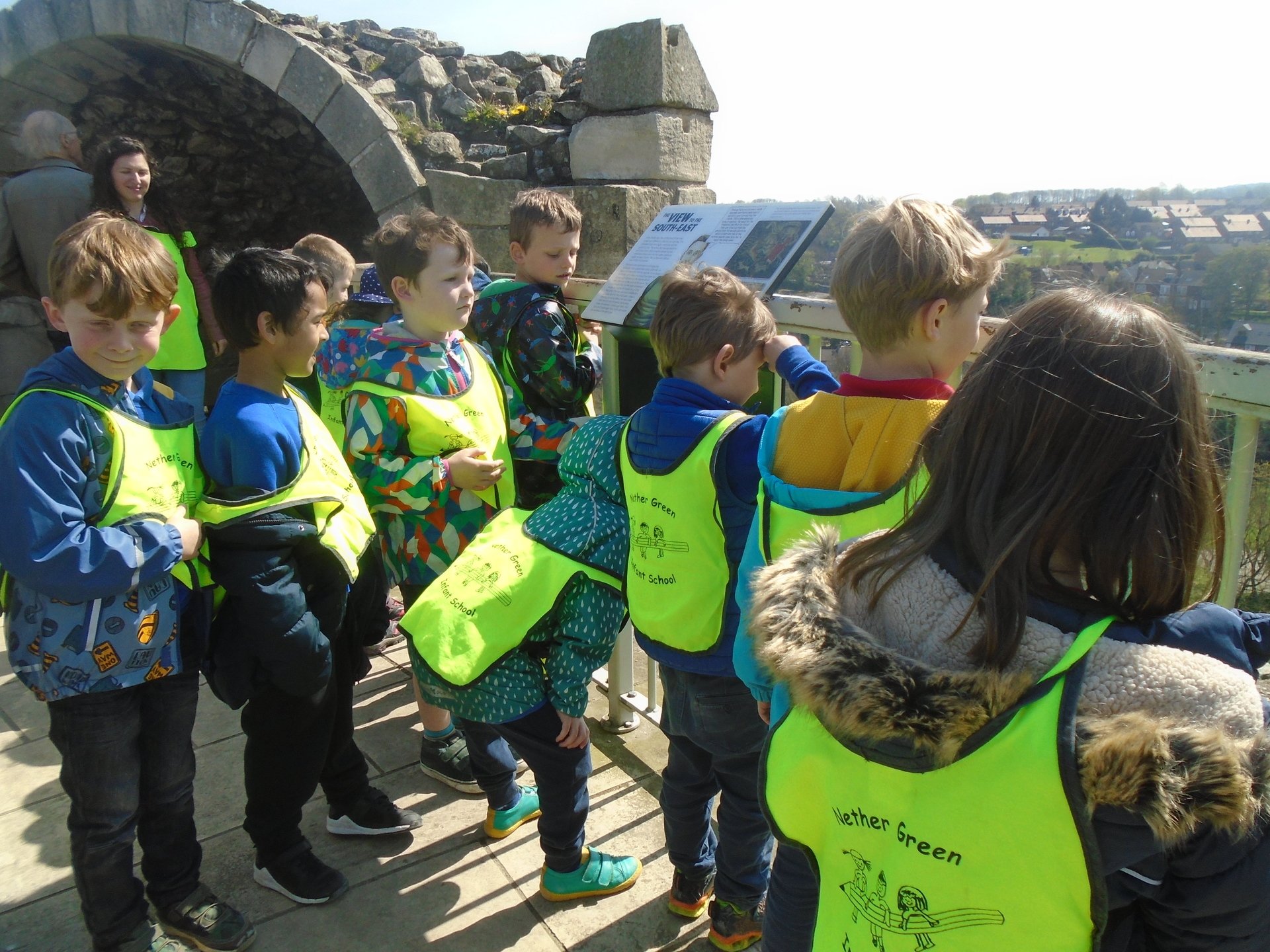 Parent Drop Ins Next Week
We are looking forward to welcoming you into school next week for our informal parent drop in sessions. This will be an opportunity for you to see your child's classroom, look at their books and see any work displayed in classrooms - we are sure your child will love showing you around and sharing their fantastic work with you.
Classrooms will be open from the end of the school day until 5:00pm. Class teachers will be there to chat to parents - however please note this is not a formal parents meeting and teachers will not be expecting to talk in detail about individual's progress.
What you need to know:-
T

ues 26th Apr - Y1 & Y2 -Elephants, Kangaroos, Lemurs, Penguins, Turtles.
Wed 27th Apr -Reception - Bears, Giraffes, Koalas.
Classroom doors will open at the usual time at the end of the day. Please come into the playground and go to your child's classroom door -
Lemurs please come in via the hall door.
If you are arriving later than home time, please enter via the main school entrance.
All parents should leave via the main entrance - the school gates will be locked as we have clubs taking place in the playground.
After School Club, and all other clubs will run as usual. Please collect your child as usual from their club and then enter school with your child via the main entrance.
You may visit classrooms until 5:00pm when the bell will ring to signal home time.
You do not need to book.
Please do not come if you have any Covid symptoms.
Notes from the Teachers
Year 1 and 2
The topic this term is Once Upon A time. You
can
find
out all
about what your child will be learning by looking at the following information:-
This information can also be found on the KS1 page.
Reception
The topic this half term is Mini-beasts! There has been great excitement this week as the caterpillars have arrived. We will be observing closely to see what happens!
Foundation Stage Weekly Newsletter
Did you know that the Reception Newsletter gives lots of ideas for how you can support your child's learning at home? Click the link below to see what your child will be learning next week.
Messages from the Office
Reception Butterfly House Trip 17th May
Please log into ParentPay to make a voluntary contribution and give permission.
This will be put outside school next week - please name everything - there are so many items of school uniform unnamed!
School Dinners
Next week is week 2.
We are aware that many of our families are looking forward to Eid which is approaching shortly. We are able to authorise up to 2 days off school for those families who wish to celebrate. Please inform the school office if your child will not be in due to Eid.
Dates for the Diary
Please see the attached Parent Calendar for the summer Term.
Please note we have an additional bank holiday on Fri 27th May - this is in lieu of the extra bank holiday for the Queen's Jubilee as this falls in school holidays. School will close for half term on Thursday 26th May.
Upcoming Events
Mon 25th Apr - Conisbrough Castle Trip - Lemurs and Penguins
Tues 26th Apr - Parent drop in Y1 & Y2 - end of school day until 5:00pm.
Wed 27th Apr - Parent drop in Reception - end of school day until 5:00pm.
Wed 27th Apr - Penguins Class dance performance at the Octogon
Thurs 28th Apr - Conisbrough Castle Trip - Elephants
Tues 17th May - Reception Trip to Butterfly House
Tues 24th May - Reception Sports Afternoon
Wed 25th May - Y1 & Y2 Sports day - details TBC
Break up for half term.
Fri 27th May - School Closed - Jubilee bank holiday in lieu
Mon 6th June - INSET day - school closed to children
Tues 7th June - First day of new term
The new School Year Starts on Monday September 5th 2022
The school term dates for the year can be found here
Extra-Curricular Clubs
We had our first French Club this week - it was Tres Bon! The children really enjoyed it. There are 4 places left - please book via ParentPay (Y2 only ).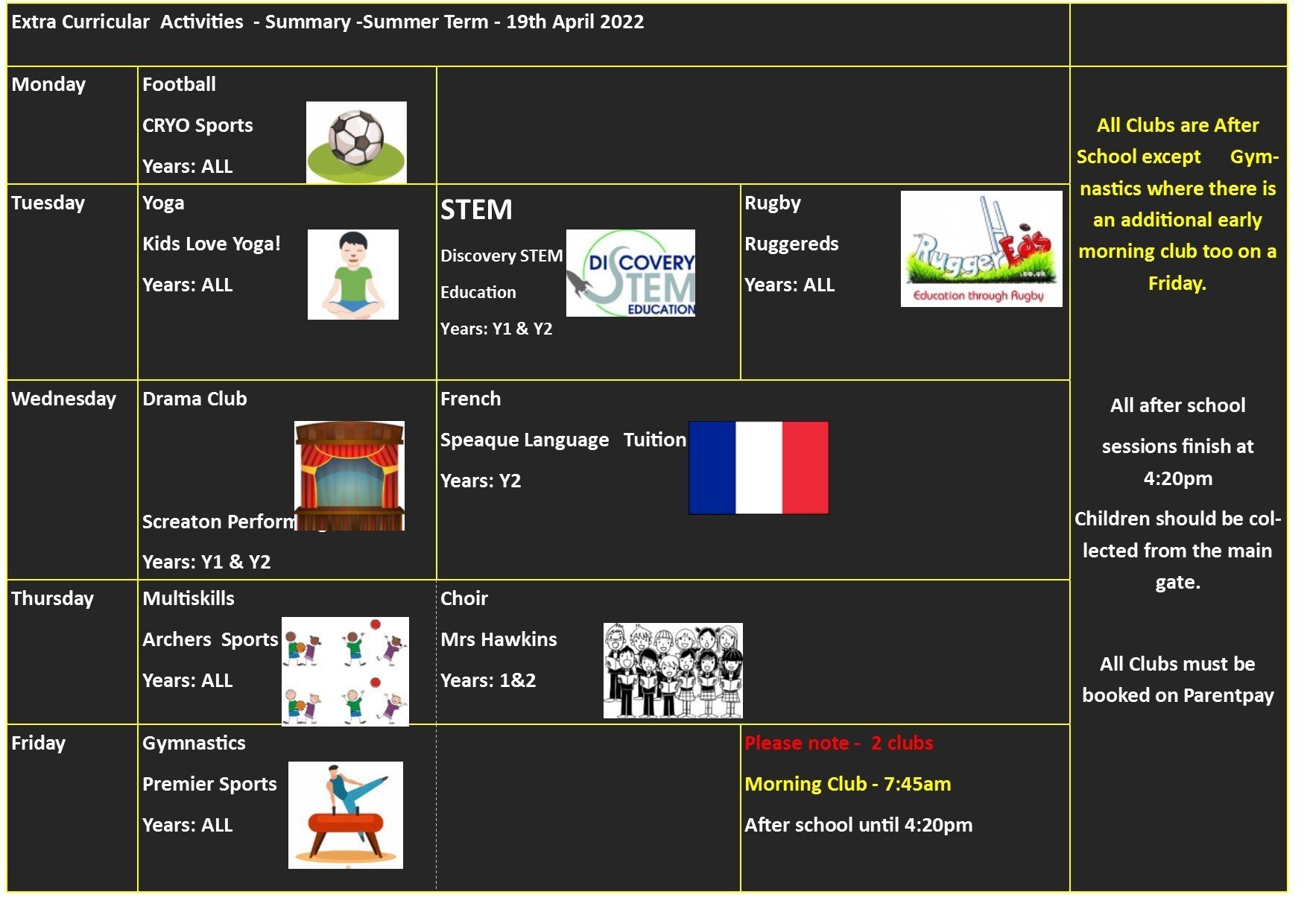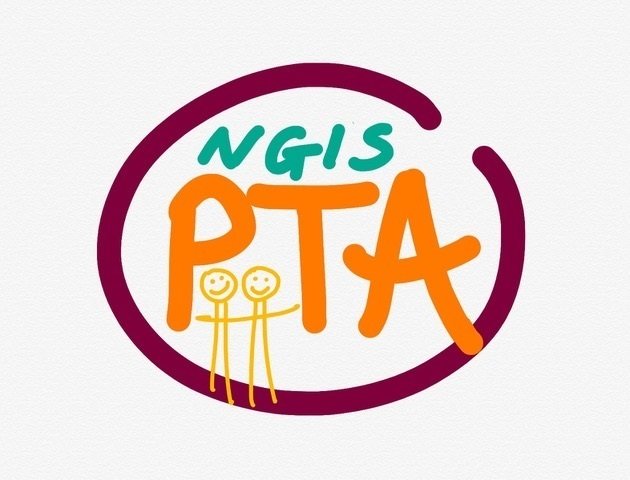 PTA Update
Summer Fayre - Would you like to join us next week to plan this exciting event?
The PTA is starting to think about this year's Summer Fayre which we are really hoping will go ahead after school on 24th June. Many of you won't have had the opportunity to be involved in the summer fayre but it is a really lovely occasion, is great fun for the children and is a really good way to raise money for the school. For the year 2 children it will be their only opportunity to experience this event. We have had an initial meeting but a small group of us is gathering again via Zoom on

27th April at 7.45pm,

to talk further about the fayre and would love it if more people feel able to be involved to help organise the event. If you did not necessarily want to attend meetings but are happy to support in organising the fayre there are some specific roles that need doing such as organising the raffle, organising the prizes for the games and organising the strawberries and cream stall, and we would be delighted if people could take on these roles. We will need an enormous number of volunteers to help on the day and we will be asking for people to sign up for this nearer the time. The fayre is a wonderful event but it can't go ahead without people to help organise it and to help on the day.
S6 Foodbank
Thanks for your support so far with this. Just to let you know we still have a weekly collection for this. These are the items that are really in need:-
Tinned Vegetables
Pasta Sauce
Toilet Rolls
Cereal
Tinned Meat
They have requested that we don't send pasta or sugar.
Thanks for you support.
Stumperlowe Park Road
Sheffield
S10 3QP
0114 2304094
enquiries@nethergreen-inf.sheffield.sch.uk