Weekly News Page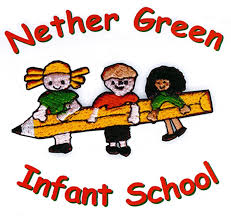 Friday 10th December 2021
Headteacher's Welcome
There has been glitter galore this week as the children have been creating some beautiful Christmas Crafts. Classrooms are looking fabulously festive! Crafts will be coming home soon but here's a sneak peak before they arrive...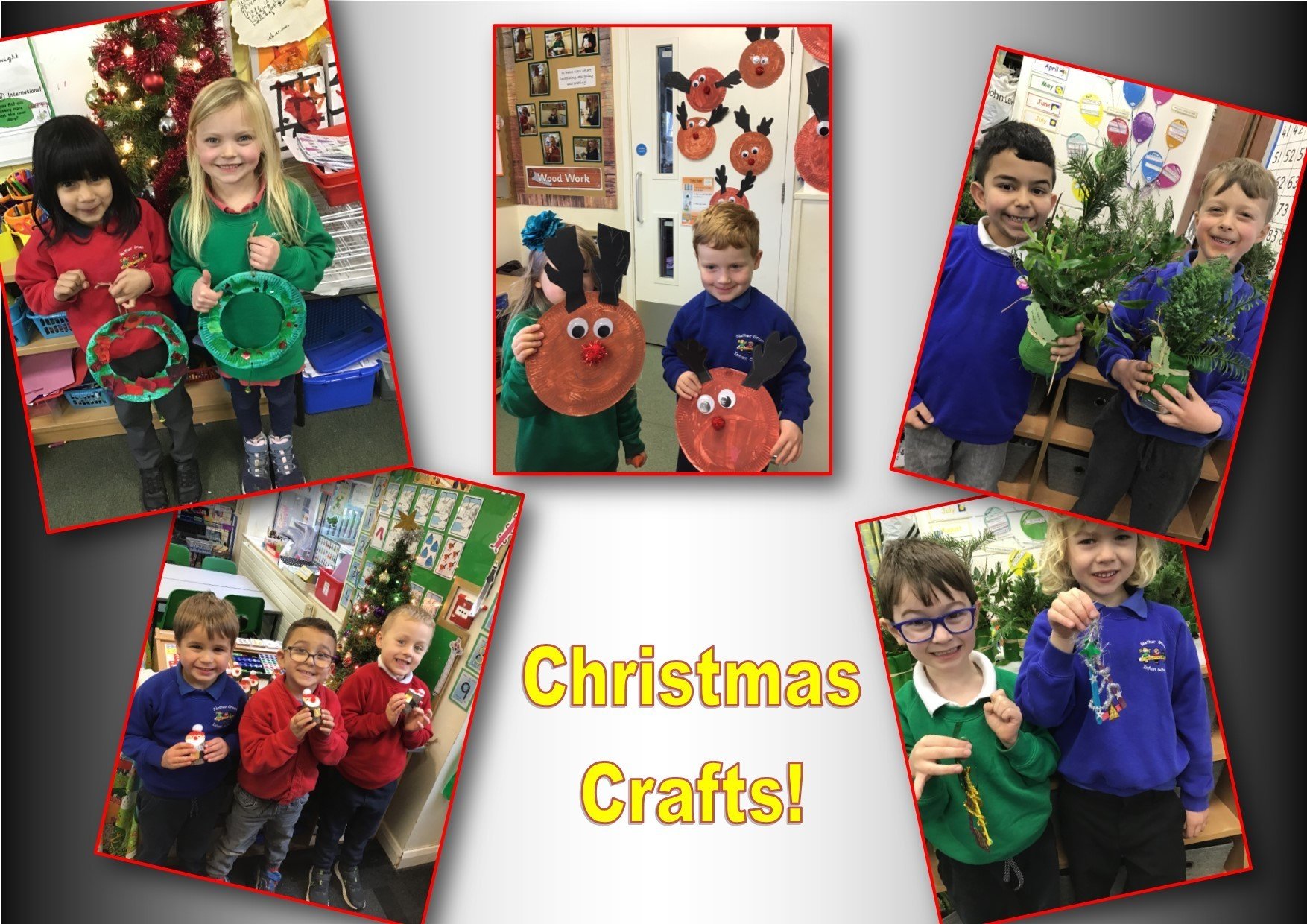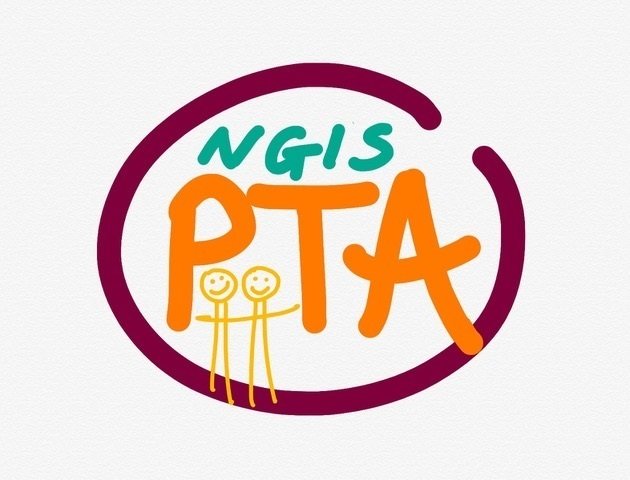 PTA Update!
Xmas Tree Recycling

Nether Green Infant School

9th January 2022

£6 per tree
The PTA will be serving refreshments at the Christmas Singing event next Friday 17th so please bring cash!
Thank you for all the donations for the Rainbow Raffle - the raffle will be drawn during Fantastic Friday assembly today and prize winners will be contacted!
There's a lot going on next week...
Tues 14th Dec - PTA Winter Wonderland

-

If you do not wish your child to take part please email school.

Tues 14th Dec - Choir Concert

-

The choir will be performing in the playground at 3:45pm. Tickets must be booked via ParentPay and the deadline is today. 2 Tickets per family. We will be taking donations for Cancer Research - please bring cash. Choir Letter

Wed 15th Dec - Christmas Lunch in school

- Please see the attached menu. Children can make their choice as normal in the classroom on the day.

Thurs 16th Dec - Class Christmas parties

- Please see the attached letter

for all children

Fri 17th Dec - Festive Singing

- T

he

children

will be singing outside to parents at 2:00pm in the playground. In light of the recent concern around the new Omicron Covid variant

we are limiting numbers to 1 adult per family.

All adults must wear a face covering.

The PTA will be selling

refreshments. Children may go home after the event. This event will not be recorded due to safeguarding.
Please note After School Club will finish at 4:30pm on Friday 17th December.
Notes From the Office
Deadlines Today:
Milk for next term (ParentPay)
Order for Whole School Christmas Singing USB (ParentPay)
Choir Concert Tickets (ParentPay)
Reception classes -
Deadline for Gingerbread Man Workshop 15th Dec. (Parentpay).
School Dinners
There will be a new menu from January! Please see attached.
Week beginning 4th January - Tuesday 4th will be Monday's menu - then back to Wednesday.
Next week is WEEK 1 of the lunch menu - please remember it is Veggie Monday! (no ham grab bag!). It is Chrstmas dinner day on Wednesday!
Notes from the Teachers
Foundation Stage (Reception)
Please make sure your child comes to school everyday with suitable clothing for playing outside in cold weather including:-
hat
gloves
waterproof coat
waterproof shoes
As well as playtimes and lunchtimes, Reception children play outside as part of their curriculum whatever the weather!
Please see the latest weekly Newsletter on the Foundation Stage page with everything you need to know about learning in Reception.
Christmas Jumper Day
Thank you for all your donations...we have collected £125 so far for Save the Children. Thanks for your support!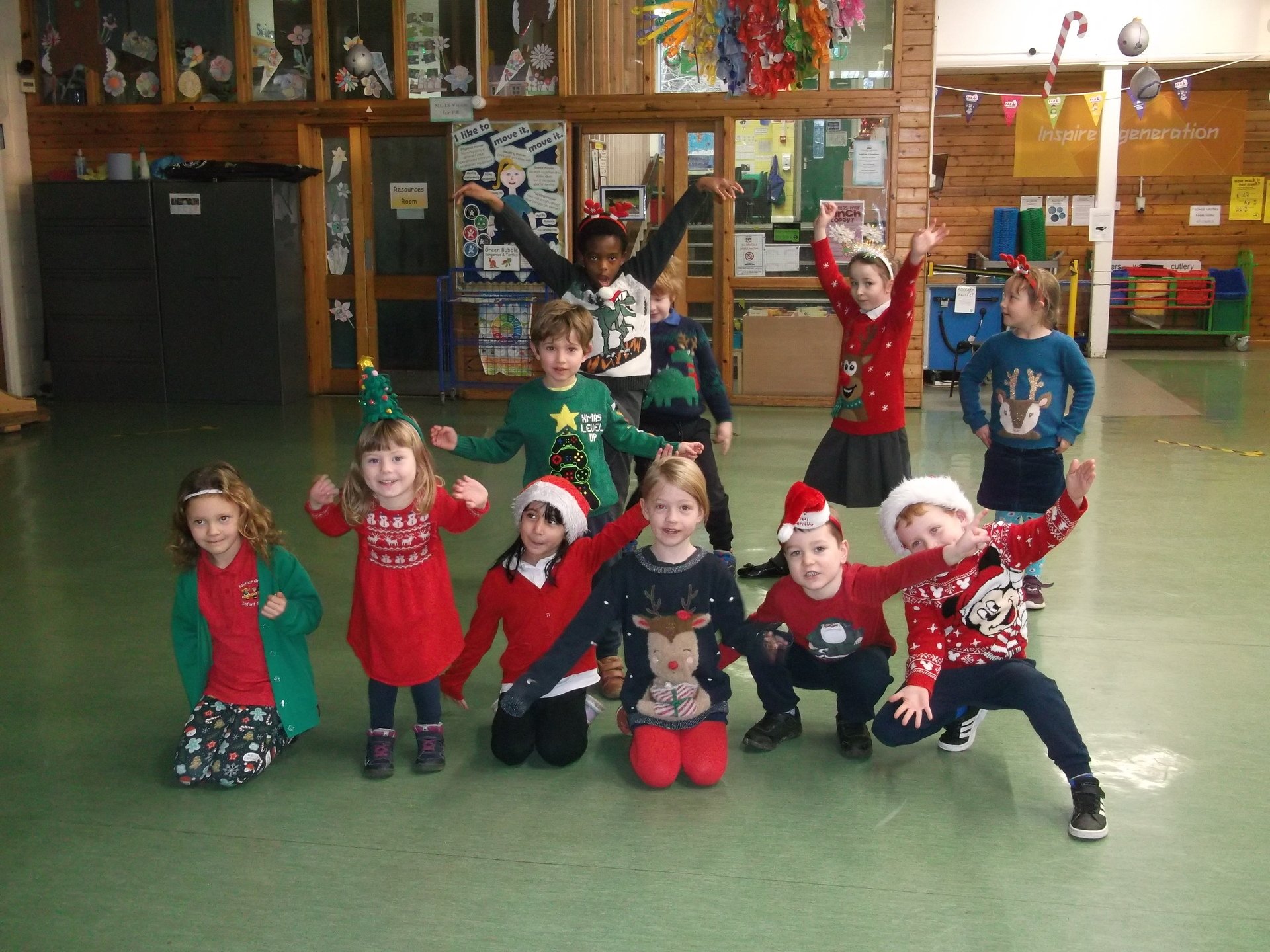 Breakfast club enjoyed a Christmas dance in their jumpers!
If you haven't had chance to make a donation you can still donate cash at the school office.
Covid Update
Thank you for continuing to be vigilant and taking your child for a PCR test if they have any Covid symptoms.
If you are attending the Choir concert or Christmas singing next week these are the additional measures that will be in place for everyone:-
Limited people allowed on site ( 1 adult per family for the whole school singing on 17th)
Sanitise hands on arrival
All adults MUST wear a face mask
All adults are asked to take a lateral flow test before attending
DO NOT come to school if you have any Covid symptoms
Toby's Amazing Charity Bike Ride!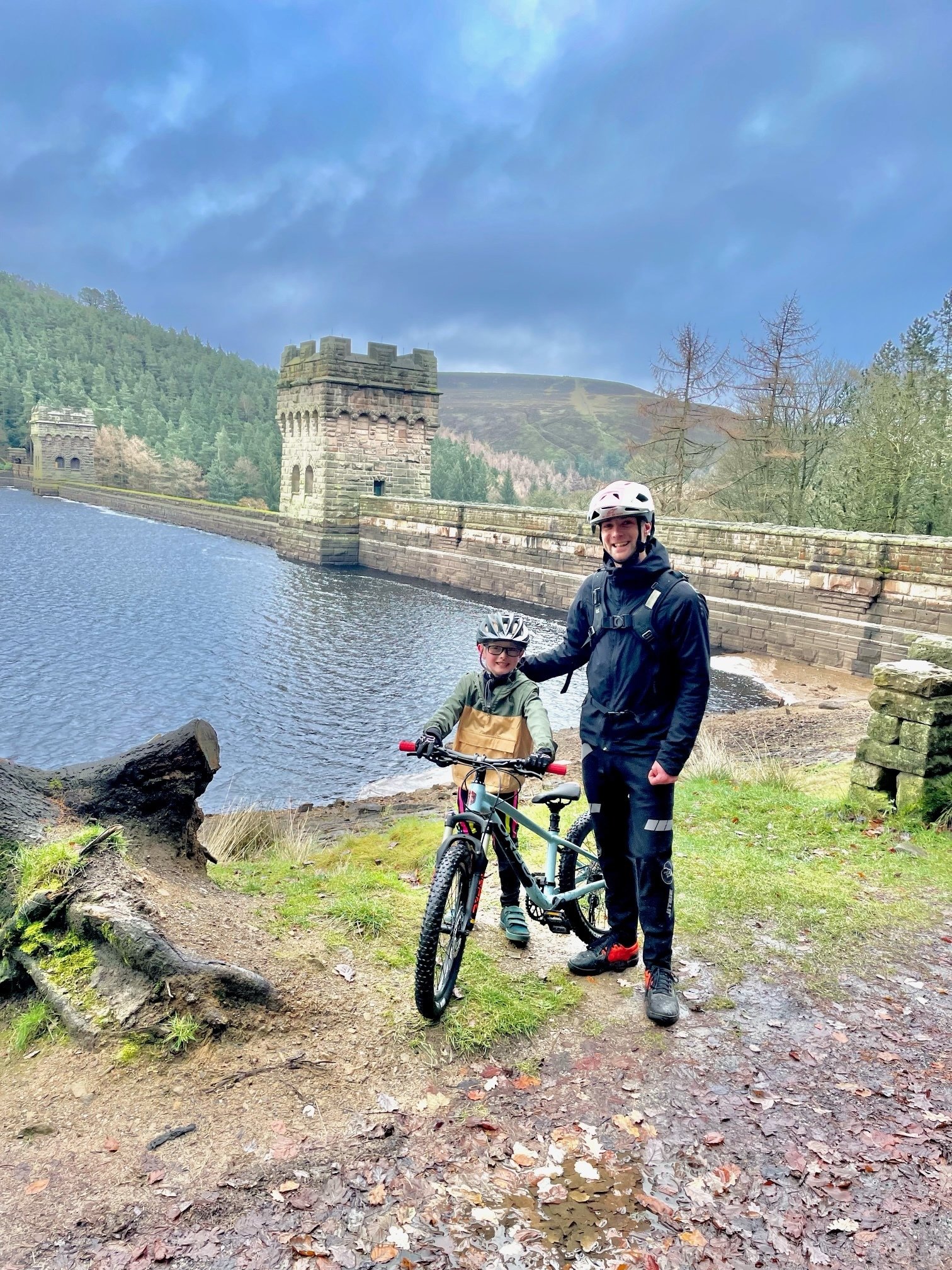 Congratulation to Toby in Y2 who decided he would like to do a bike ride to raise money for BBC Children in Need. Toby's bike ride was delayed a week due to the snow, however he completed the 10 miles last Sunday. He did a great job and finished very wet from all the puddles but was very happy.
We are astounded by everyone's generosity, including fellow school parents. At time or writing he raised £1200 for Children in Need. Thank you!
Christmas Cards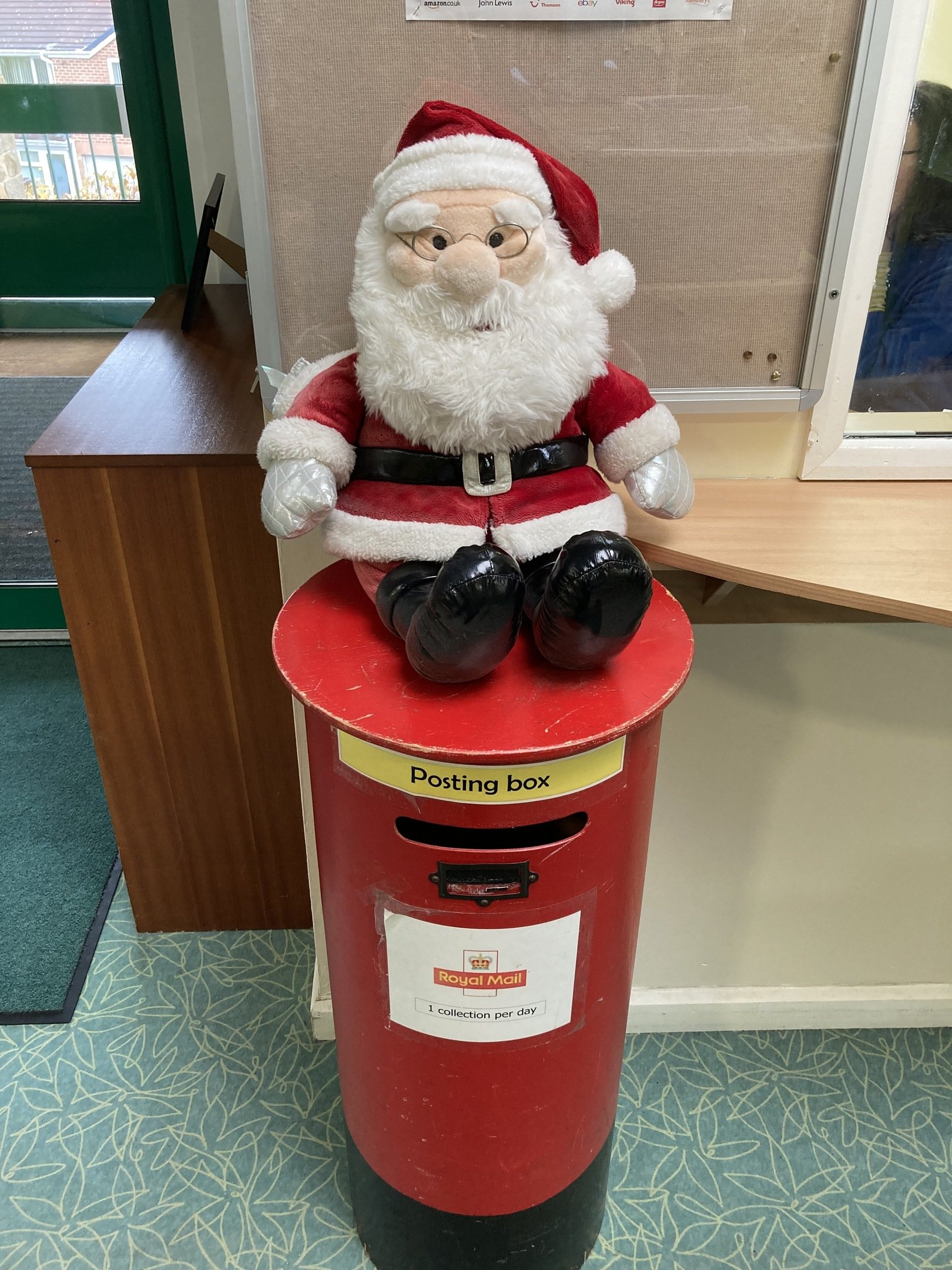 The last day to post cards in the Postbox is Wednesday 15th December!
Please make sure your child puts the first name, surname and class on each envelope otherwise it gets very confusing! Thanks
Dates for the Diary
Upcoming Events

Tues 14th Dec PTA Winter Wonderland
Choir concert after school (3:45pm - outside)
Wed 15th Dec - Christmas Lunch in school
Deadline for Reception Gingerbread Workshop via ParentPay
Thurs 16th Dec - Christmas parties in classes
Fri 17th Dec - Last day of Autumn term -
Christmas singing for parents outside 2:00pm (weather permitting)
After School Club will finish at 4:30pm.
Tues 4th Jan - First day of Spring term
Wed 5th Jan - Koalas and Giraffes Gingerbread Man Workshop
Thurs 6th Jan - Bears Gingerbread Man Workshop
The school term dates for the year can be found here
Recycle, Recycle, Recycle!
Between now and the end of December you can make money for school by recycling all sorts of things via Teracycle. For each bag of recycling set in school will be given £10.
Click the link for more details.
Community Events
Broomhill Library have opportunists for children to go and do some Christmas Crafts.
The Sheffield Children's University Christmas Passport to Learning newsletter which includes details of activities happening across Sheffield during the Christmas holiday is now available!
Stumperlowe Park Road
Sheffield
S10 3QP
0114 2304094
enquiries@nethergreen-inf.sheffield.sch.uk