Key Stage 1
Welcome to our Key Stage 1 page! In Key Stage 1, we have 5 classes with up to 30 children in each.
As well as our class teachers, there are a number of teaching assistants who support the children within Key Stage 1.
Curriculum Information
English and Maths are taught in all of the classes.
However, the order in which skills or concepts is taught will vary in each class and year group because of a number of factors. Please take note of your child's newsletters which will keep you informed about what your child will be/has been learning in these areas.
Kangaroo Class
Week beginning 11.11.19
Kangaroos have really enjoyed helping Mr Johnson in our woodland area. We worked as a team to scatter woodchip over the muddy ground after all the rain we've had!
In maths this week we have been learning the names and properties of 3D shapes. We sorted 3D shapes then made them using straws and playdough. We also used the shapes to build castles. We had to think carefully about which shapes were best for the bottom of the tower and which shapes could only go at the top.
September 2019
Our Autumn term has got off to a fantastic start with lots of super learning about our class animals.The children are now very knowledgeable about their animals and have some wonderful work on display.
Our main topic for this term is Fire and Water - this begins with a step back in time to the Victorian seaside!
A step back in time...
We all had a wonderful time meeting Miss Lily and going back in time to the Victorian seaside!
We dressed up, we played with old toys, we used the bathing machine and put on a Punch and Judy show.
Marvellous Maths
Today we were joined by The Quantum Theatre Company who came to perform The Calculating Mister One.
1898 London: Someone was trying to steal Professor Ebenezer Brain-Teaser's latest invention, an incredible calculating machine...
The children had a fantastic time joining in with the calculations and problem solving alongside some entertaining song and dance.
Celebrating Hinduism
Lots of wonderful learning has been happening in school about Hinduism. We have been learning lots about the faith particularly the festival of Diwali.
We have made and lit Diya lamps and some of our Hindu children helped out in assembly telling us all about this special event and how they celebrate with their families. The children dressed up in their special Diwali clothes and we lit a row of Diya lamps just like in the story of Rama and Sita.
Some Year Two children took part in an Indian dance activity too.
We've had a really great time and completed some fantastic learning activities.
Week beginning 17th June
The Year One children have been learning all about seeds and the different ways in which they can travel. They designed their own seeds and had great fun making them using lots of craft materials.
.Week beginning 17th June
We had an exciting time helping to spread the bark chippings in our woodland area. We worked as a team, filling and carrying buckets. It has made the woodland area look great!
Week beginning 17th June
The Year Two children have had a really busy start to the week.
Following on for their woodland research they have been making bird feeders to attract more birds to our Woodland Area. They have worked in small groups to make the Cheerio feeders and the hang them for the birds to find. There was some super teamwork going on and we are looking forward to checking in on the feeders next week!
Week beginning 12th June
The Year 2 children have been working on some non-fiction writing about our Woodland Area.
We have been using the internet to research different facts and information to help us attract more wildlife to our Woodland Area. We have had a particular focus on birds.
This children used a range of non-fiction books and the internet to help gather facts.
Week beginning 3rd June
All classes planted grass seed around the willow dome in the woodland before the holidays.
We came back to school on Tuesday to find the grass is growing really well!
Next we are going to think about how we can encourage wildlife to visit our woodland area. We are planning how we might do this in our English lessons this week.
Week beginning 20th May
The Year Two children have been very busy in recent weeks reading Jack and the Beanstalk, growing and monitoring their own beans and making bean patties.
Week beginning 11th March
We have had lots of fun during our Science week. We have taken part in many different practical investigations and have been amazed by some of the results. Did you know that when a Mento is dropped into a bottle of diet cola, the bubbles of gas get larger and larger and they quickly shoot to the top of the bottle creating a cola fountain?
On Thursday we had a visit from the 'Silly Science' company. We had great fun taking part in all of the amazing experiments.
Week beginning 25th February
We had a very exciting visitor in Key Stage 1 this week. Florence Nightingale came to tell us about her life, including the improvements she made to hospitals. We tried on different outfits and handled artefacts from the past. These photos show just how much fun we had!
Week beginning 14th January
We've begun our new topic about Superheroes. This week all of the year 1 and 2 classes were visited by a firefighter. The children were able to wear some of his equipment and asked him questions about his job. From this, we created some fantastic writing which can be seen in many of our classrooms.
December 2018
This was a really busy month in key stage 1. The year 1 children performed their Christmas production brilliantly and looked fabulous in their outfits. We also made Christmas crafts with parents and helpers who joined us in our learning.
Week beginning 26th November 2018
This week the Kangaroos have had a great time learning all about fractions. Some shapes were cut in half and hidden in the wildlife garden, we had to find a shape and then find the person who had the matching half as quickly as we could. We put these equal parts together to make a whole.
We collected sticks and then used these to mark half on a piece of paper. We then used colourful Autumn leaves to fill in one half of the shape. How many different ways can you halve a rectangle?
We had a great time being chefs and designing our own pizzas. We split our pizza into four equal parts and we made each quarter have a different topping. We then used different collage materials to make our pizza. Which flavour pizza would you choose?
Week beginning 12th November 2018
We've had a very busy week in the Leopards this week. On Friday we celebrated Children In Need and we all dressed up in our pyjamas for the day. It was really fun and it was great to learn in a slightly different way.
Throughout the week we have been working on our division skills. We're getting really good at sharing things fairly into groups and we have also learnt that when this can't happen we have a remainder.
In geography and English lessons we have been studying the Arctic and looking at what life is like in such a cold place. We compared what it is like there to how we live in Sheffield.
During our PSHE session, we discussed what we were proud of. We used our ideas to create a proud clouds which are displayed in our room.
The photos below show some of the learning that has taken place this week. We hope that you enjoy looking at them.
Week Beginning 5th November 2018
This week Tigers enjoyed a local walk to see the cenotaph in Fulwood as part of our learning about Remembrance Day. We learned about why it is so important to remember those who fought in the World Wars and why this day is so meaningful. When we got back to school, we made our own memorial out of poppies which we created using collage and painting skills.
We have also been learning about the Hindu festival Diwali, why this is such as special time for Hindus and some of the ways that this festival is celebrated. Tigers were inspired to create our own Diwali dances and we really enjoyed acting out the story of Rama and Sita to help us understand the festival better.
Autumn term 1 2018
This term has been very busy. We've been exploring warm countries around the world and have been researching our class animals. The children have mixed colours and have created their own pictures in the style of Aboriginal drawings.
We were visited by some creepy crawlies and had the opportunity to hold a range of creatures. These included: lizards, a tarantula and stick insects. The children really enjoyed this and learnt lots about how animals are adapted to their habitats.
In Maths, we have been concentrating on place value, addition and subtraction. Much of the work has been supported with concrete apparatus such as 100 squares, Diennes apparatus (tillichs/10s and 1 sticks) and Numicon.
In English, we have been looking at different types of texts. Some of the work has been based around non-fiction books and creating fact files to do with our class animals. We have also explored Handa's Surprise.
In Geography, the children have enjoyed learning about the continents, oceans and habitats. To support this learning, we have been playing the following: https://www.youtube.com/watch?v=K6DSMZ8b3LE&list=RDK6DSMZ8b3LE&start_radio=1 for the Seven Continents Song, https://www.youtube.com/watch?v=X6BE4VcYngQ&list=RDK6DSMZ8b3LE&index=2 for the Five Oceans Song and https://www.youtube.com/watch?v=byvf7jwdvOI&list=RDK6DSMZ8b3LE&index=3 for the Habitats Song.
Week Beginning 18th June
This week was our KS1 Sports Day and we all had a fantastic time. The children took part in a range of events from sprints and hurdles to javelin and football dribbles!
Week Beginning 7th May
Tigers have had a very busy week. We have been learning to tell the time, writing stories about Cinderella, creating our own competitive games in PE and having a close look at plants! Not only that, but we found time to work on composing some additional percussion rhythms to go with Prokofiev's famous orchestral piece 'Peter and the Wolf'. The children have been using grids to create their own notation for the beats in a bar and rehearsing their compositions using a range of instruments. Some groups even decided to have a conductor to keep everyone in time!
Week Beginning 23rd April 2018
In Kangaroos this week we had an exciting Science lesson outside, hunting for wild plants. We had a clipboard and a 'wild plant hunt' sheet, and we set off looking for buttercups, daisies, dandelions, brambles, nettles and ivy. We made a tally of how many of each plant we saw. When we were enjoying a bit of piece and quiet in our wildlife garden we heard a rustling sound, we couldn't believe it when we saw a fox! We spotted a robin, some frogspawn and lots of ants too.
Week Beginning 16th April 2018
Zebras have been on a 'plant hunt' during Science this week. We were good at spotting lots of different types of plants and knew the names of some of them. We took clipboards with us and recorded our observations by drawing and labelling the plants we spotted.
Week Beginning 16th April 2018
We have had an exciting morning with a visit from Rock Steady Music. First they held an assembly where they showcased the instruments of a rock band and we learnt about acoustic and electronic music. Then they worked with each year group in turn to get some hands on experience playing the drums, keyboard, electric guitar and microphone. We sang 'We will Rock You' with our very own band.
Week Beginning 26th March 2018
This week, the Leopards went to Forge Valley School to take part in a Team Sports cricket event. We enjoyed a range of activities that helped to improve our catching, throwing and striking skills. All of the children did really well and some were even to catch a ball whilst diving!
Week Beginning 19th March 2018
This week the Tigers have been writing letters! We started with thank you letters to Mrs Fox who came in to visit us for Science Week. We had such a lovely time learning all about what it's like to be a vet and some of the different ways that we can take good care of animals. The children tried on scrubs and operating caps, looked at interesting x-rays and even got to try out some authentic equipment! We drafted our letters carefully and then wrote them up neatly ready for Miss Fox to deliver our work.
Week Beginning 12th March 2018
It's Science week!
In the Kangaroos this week we have been busy doing some fun Science experiments. Our favourite one was making old dirty pennies look shiny and new again. We put them in white vinegar, added some salt, counted to 20 and then lifted them out again. The look of amazement on the children's faces when they saw how clean and shiny the pennies had gone was great to see!
We blew up a balloon using yeast! We put yeast and warm water in a bottle, added some sugar and then stretched a balloon over the neck of the bottle. The yeast produced carbon dioxide which blew up the balloon.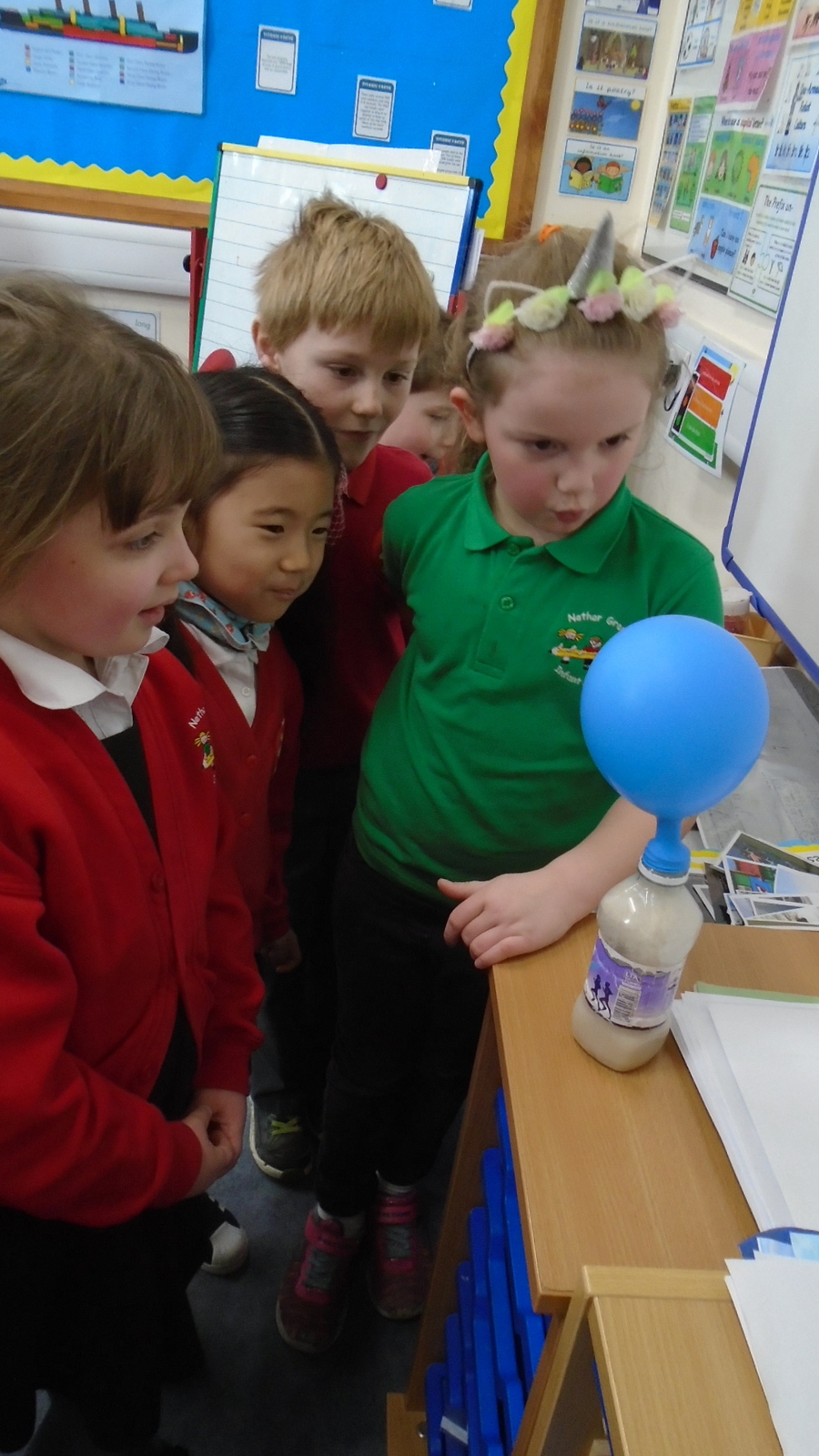 We made an erupting volcano! We put bicarbonate of soda and white vinegar in a bottle, added some washing up liquid to make some bubbles, then added some red food colouring to make it look like lava. We loved watching the volcano erupt as the chemical reaction was taking place.
Asa's Grandad very kindly came in to talk to us about light. We talked about the sources of light we use to help us to see in the dark. Can you remember what they are? We also looked at reflective objects which cause light to 'bounce off' them.
Can you remember what the words transparent and opaque mean?
We talked about white light being made up of 7 colours and we coloured in a rainbow. Can you remember what colours they are and what order they are in?
Week Beginning 5th March 218
In Panda class we have been learning about instructions and why they are so useful. To help us understand the need for them to be concise and clear, we made our own model using either K'Nex, Lego or Magnetix. Then we wrote instructions for how to make it. The next day, we swapped instructions with a partner and we had to make their model by following their instructions to see if they were clear enough.
We had a lot of fun finding out about instructions in this way!
Week Beginning 26th February 2018
In the Zebras this week we have really enjoyed reading lots of books written by Julia Donaldson. During our Design and Technology session, we made our own magic wands for the witch in the story 'Room on the Broom' to use.
During our English sessions we have used adjectives to describe ingredients to go in a spell and we are getting much better at using 'and' to join our ideas. We have started to write instructions to make a magic spell, remembering to use 'bossy verbs'
In Maths we have been solving missing number problems and are getting much better at using a number line to help us do this.
Week Beginning 12th February 2018
In the Leopards this week we have really enjoyed a number of subjects. On Wednesday, one of our parents (Mrs Judge) came into school to lead us in a design and technology lesson. We looked at the Little Miss Inventor resources and drew designs for keeping Mr Bump safe.
In our English lessons, we've been writing descriptions based on 'The Black Hat'. A copy of the film can be found here: https://www.literacyshed.com/blackhat.html . The children wrote their own descriptions about walking into the forest before finding a hat. They then wrote about what happened next.
Our Maths lessons have been focussed on reading scales. The children have been using rulers, measuring cylinders and weighing scales to explore measures, gain familiarity with different units and read a measure accurately.
Week Beginning 5th February 2018
In Tigers this week we have really enjoyed creating our own dance to some songs from 'The Lion King'. Our favourite is 'Circle of Life' and we really got into character becoming lions and thinking about the way they move!
We used different levels and timings to make our dance effective to watch.
As well as dancing, this week we have been learning to rap! We even wrote our own extra lines to add to the song "Grandma Rap" and came up with actions to perform.
Week Beginning 29th January 2018.
In Kangaroos we started off the week with our 'History of Toys' topic. We looked at modern day toys and the children enjoyed bringing in a toy from home and telling their peers all about it. We looked at the materials they were made from and we worked with a partner to think of as many different adjectives as we could to describe our toys.
In our English lesson the children wrote a description of their toy and then read it back to the class. We listened carefully to the adjectives they used to see if we could guess which toy was being described.
In computing, we had fun using the Easi-Speak microphones to record a description of our toys. We played it back through the computer and the other half of the class had to listen carefully to see if they could recognise the toy being described and which child was describing it.
In Science, we continued our topic on 'Materials' by looking at the different properties that they have. We chose some objects, we named the material they were made from and then we described how they looked and how they felt.
On Wednesday we walked to the Beacon Methodist Church as part of our topic on 'Places of Worship'. Reverend Will Fletcher told us all about the church and the different parts of a church. We then went on a treasure hunt to see if we could find the following special features:
font organ pulpit Bible hymn book communion glasses
Week Beginning 22nd January 2018
In Pandas we began the week with learning about the Titanic and the children went into the hall which had been transformed into rooms from the ship itself! We spent time exploring each of the rooms and thinking about what may have happened in them and who may have used them. The children went on to do some research using books and this helped them to create a time line. This research enabled us to generate questions and inspired us to write our own version of the historical events which took place. We were also very excited when Mr Knight showed us an authentic plan of the first class accommodation on the Titanic which had been kindly lent to us by Mrs Fletcher. This prompted the children to share their thoughts on which class of passenger they may have been if they had been on the ship!
Week beginning 15th January
This week in Zebras we have already enjoyed making our own clocks, writing snowy Winter poems, some brilliant ball skills in PE, and our very well attended maths open morning and it's still only Tuesday! Thank you to all the parents who were able to stay and support our children in their maths learning. We had fun looking at all sorts of ways of solving maths problems and puzzles and showing the parents the various apparatus that we use to help us. We hope they enjoyed it as much as we did.
The snowy weather gave us much inspiration for writing Winter poetry where we focused on using adjectives to describe Winter. We worked with partners to think of suitable adjectives and then wrote our own poems. Check out our poetry displays in the classroom and the main entrance to school.
Week beginning 8th January
Happy New Year! We have enjoyed seeing one another again and have spent some time catching up and sharing what we did during the holidays.
This week, in the Leopards, we have been working hard. The main things that we have focussed on are: time, in maths, and using different sentence types in English. All of the children have worked really hard and have shown a great understanding of the concepts that we've been covering.
In maths, the year 2 children have been concentrating on finding the time to the nearest 5 minute interval and the year 1 children to the nearest quarter hour. Some children, from both year groups, have shown that they can tell the time to the nearest minute!
Our English lessons, have introduced using apostrophes for contraction e.g. do not becomes don't, and looking at how we can use different sentence types to write information about ourselves.
Stumperlowe Park Road
Sheffield
S10 3QP