Tigers
Welcome to the Tigers
There are 30 children in our Tiger class. The teacher is Miss Fox. Our teaching assistant is Mrs Godbehere.
Fortnightly Class Newsletter
Our class newsletter is emailed to all our parents and carers once a fortnight.
Spellings
Click here to see the spellings for each term.
Common exception words Y1 & Y2
There is also a list of common exception words which all children should be able to read and spell for their age and stage. These may be tested every so often and it would help if parents and carers worked on them regularly with their children.
Half termly overview
Click here to find out what we are learning about each half term.
Home Learning
Click here for more information on how you can help your child at home.
What's happening in the Tigers?
Sports Morning was a great success! We all had a fantastic time and the children gave their all in every activity. Tigers gave a great display of effort and sportsmanship which they should all be feeling very proud of! Well done, Tigers!
Look back at what we have done so far this year
Welcome back, Tigers! I hope everyone has enjoyed the half term break and is feeling excited to be back.
This week we have been busy reading George's Marvelous Medicine and The Twit's by Roald Dahl and the Tigers have really enjoyed writing descriptions of the main characters.
We have also been working hard on partitioning and estimation in our maths lessons. Some of the children have even been taking on the role of 'mini-teachers' and helping each other with their learning.
Now we are all looking forward to getting to work on our upcoming production of 'Maui Catches the Sun'! What a busy term this is!
.Year 2 have been learning about special places and, as part of this, we have been to visit St.John's Church Ranmoor. We met the vicar and he taught us about the features of the church, the important things and celebrations which take place there and who the church is special to. We all really enjoyed finding out why churches are such special places to Christians. Tigers have also had a lovely time sharing their own special places and why they mean so much to them.
Thank you for all of your continued support with our learning this half term. I hope you all enjoy the break and have lots of fun!
We have all been eagerly awaiting the day of the great coin trail and it finally arrived! Tigers had a wonderful time creating a beautifully detailed piece of art using all of the coins we had collected. Thank you very much to everyone who generously donated their change so that we could enjoy creating a picture, sorting coins, weighing them and even counting them up to be bagged in the right amounts! We've been so busy but we're sure you will agree that the finished result is a real work of art!
The year 2 children have begun their SATs and we couldn't be more proud of their efforts. They have worked so hard and should all be extremely proud of themselves!
The SATs, however, are just a tiny part of the hard work going off in school and the children are continuing to produce fantastic work inspired by Vincent Van Gogh as part of the 'Grow, Grow, Grow!' topic learning. We hope you will enjoy looking at some of the beautiful sunflower themed paintings Tigers have created!
Week Beginning 5th May
Tigers have made a lovely start on our new topic, 'Grow, Grow, Grow!'
We've been acting out the story of Jack and the Beanstalk with great energy, enthusiasm and characterisation. There are some very scary giants in Tiger class! We used our drama to help us write our own versions of the story.
We have also been looking at the paintings of Vincent Van Gogh and are feeling very inspired by his work. Tigers are looking forward to painting our own sunflower pictures very soon!
What a lovely first week back we've had after the Easter break! The Tigers all had lots to say about the wonderful things they got up to and it has been fantastic to hear all about them. Refreshed from their break, the Tigers have leapt back into learning and really enjoyed dissecting plants to see what similarities and differences we could find between the different kinds. Thank you very much to everyone who sent in a plant for us to inspect.
As well as exploring plants and the natural world, we've all been down the rabbit hole to Wonderland with Alice and the Tigers have written their own magical stories inspired by the exciting production we watched! On top of all of this, we managed to squeeze in lots of learning about time and how to tell it! They really have been a busy bunch.
Tiger Class have had a wonderful half term and really enjoyed bringing in Easter bonnets as a fun finish to a lovely six weeks of hard work!
From all of the Tigers, Happy Easter! We hope you all have a lovely break!
What fun Tigers have been having learning about space!
From looking at a real space suit, to hearing from a professor of astrophysics and even tasting the freeze dried ice cream and fruit that astronauts take on their missions with them, the children have been fully immersed in the super world of space!
We thought the ice cream was surprisingly tasty. Would you like to eat your meals like this?
Week Beginning 13th March 2017
It's been another busy week in Tigers and the children have all been working hard. We have practised two SATs papers and the children all put in their best effort, making all of the teachers very proud of them!
We have also been enjoying Science Week and have conducted some investigations into which materials float, which sink and how we can manipulate these properties. Tigers finished the week by investigating what the best materials and designs for making boats are and we learned a lot about properties, shape, space and measure doing this! What do you think of our creations?
Week Beginning 6th March 2017
Tigers have had a very busy time! We all enjoyed World Book Day last Thursday and had a lot of fun getting into character in costumes inspired by our favourite books.
A lot of Tigers were also part of the Year 2 choir and sang at the Home Start charity concert at John's Church on Saturday. The whole choir were absolutely fantastic and helped to raise a lot of money for a good cause.
We have also been learning about kindness and created some brilliant pieces of drama showing how we can help others by being kind to them.
Tigers are now looking forward to our trip to the Crucible to enjoy an interactive performance of The Chimpanzees of Happy Town.
Week Beginning 27th February
The half term is off to a fantastic start in Tigers!
We have been learning about estimation in maths and finding out how to place numbers on a line using this skill.
Even more excitingly, the Planetarium Wonder Dome came into school and we all had a wonderful time learning about space and planets. We can't wait to do some writing about this and think about what a trip to space would be like!
Tiger class are still working hard on our modroc superhero masks and would be very grateful for any donations of newspaper or clean yoghurt pots so that we can use lots of lovely paint and glue without getting messy!
Week Beginning 13th February
We have been learning about the properties of materials and how these properties affect what different materials can be used for. Tiger class really enjoyed carrying out a scientific investigation to find out which material would make the best umbrella!
Week Beginning 30th January 2017
We have been very busy this week in Tigers. The Tigers are working on Modroc masks and we think that when everyone has finished theirs, they will all look fantastic.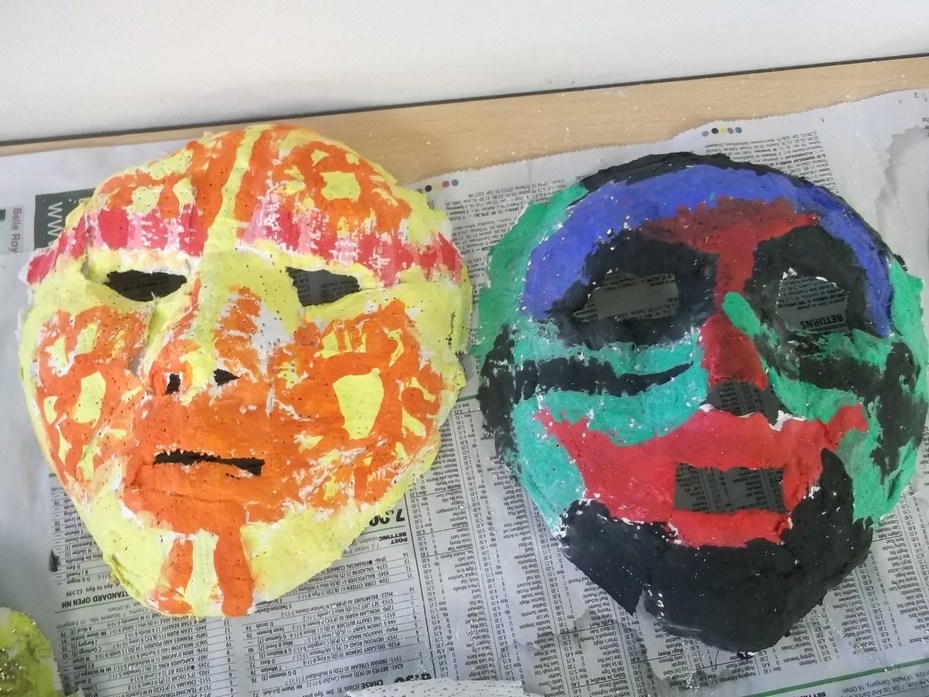 Tigers are all having a lot of fun learning how to play the recorder. We have learned how to play the notes B and A already and soon we will learn how to play a G too!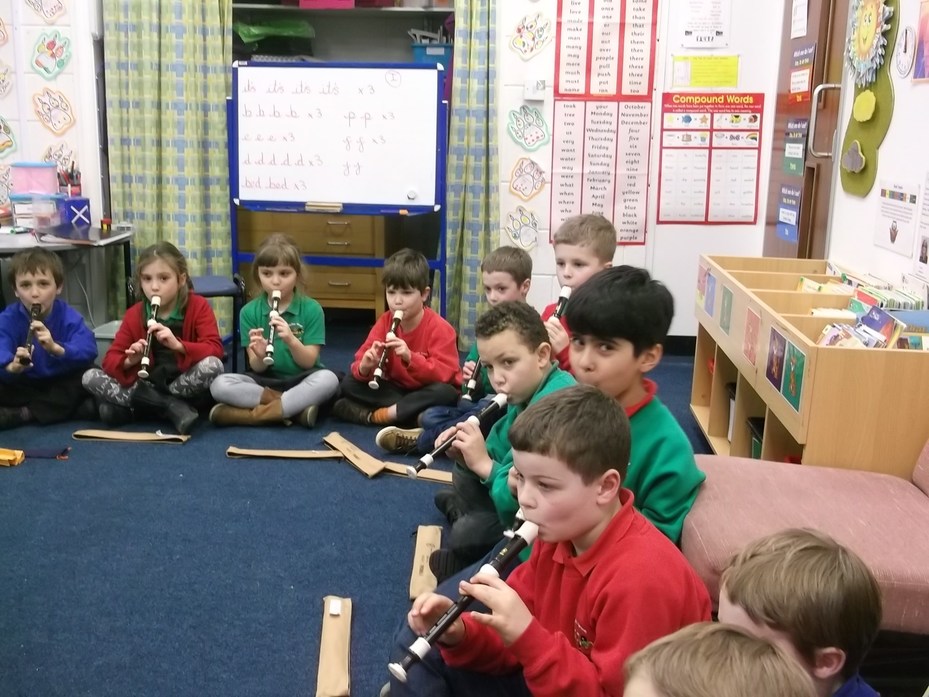 Week beginning 23rd January 2017
As part of our computing learning this half term, we have been working on how to create our own pieces of computerised animation using the Purple Mash software, 2Animate.
The Tigers created storyboards about their superhero characters which they will be turning into animated stories. How excited are we to make these!
Week beginning 16th January 2017
The Tigers have been working very hard to kick off the New Year! We have been learning how to tell the time, making super hero masks, writing stories and even flying to space during our PE lessons!
Tigers are enjoying our sessions with Mrs Webster and have been very creative making interesting balances and jumping in different ways.
We've also had a lot of fun becoming authors, writing our own 'Superhero Stories' and producing fantastic books!
Week beginning 12th December
The children have had a fantastic last week of term and have really enjoyed lots of festive activities such as the outdoor singing, some Christmas dancing and even a visit from Santa himself! We had a lovely, sparkly Christmas Jumper Day and raised lots of money for the Children's Hospital Charity.
Tiger Class would like to wish you all a very Merry Christmas and a happy New Year. We hope you all enjoy a well earned rest.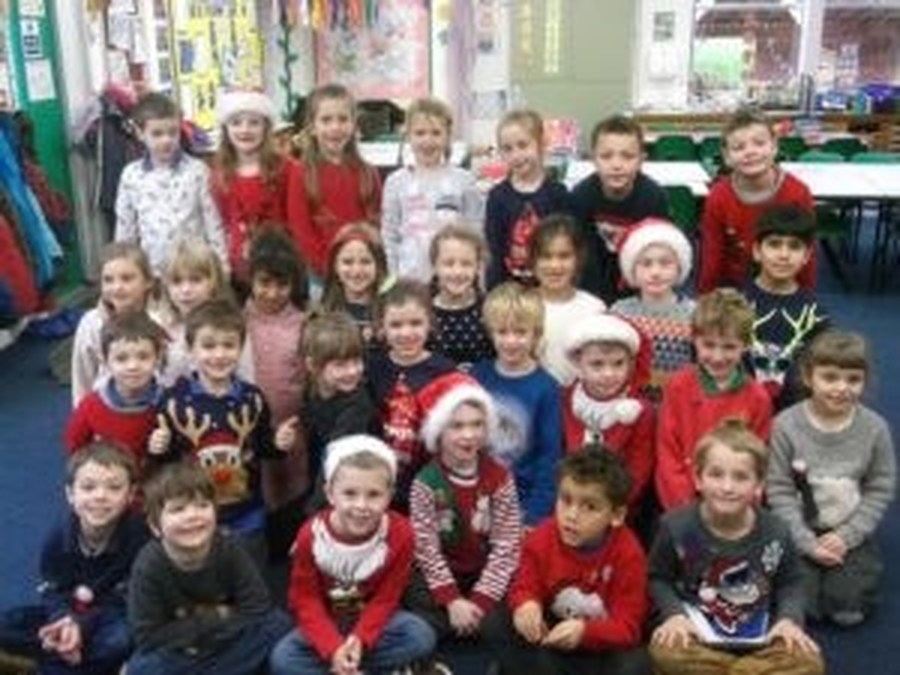 Week beginning 5th December
What a busy and exciting time we have been having in the Tigers! The children particularly enjoyed the Christmas crafts afternoon when many of you were able to join us for the festive fun. Some of the Year 2 children have also been to Fulwood Bowling Club to sing some Christmas songs for the members there who all said how fantastic our choir was.
Week beginning 14th November
Tiger class would like to say a huge thank you to all of the adults who came into school to help us with our 'Dips and Dippers' Design and Technology project! We had a fantastic time tasting new foods and making our own delicious dips.
We have also been working very hard learning how to find fractions of numbers. Please ask us to show you how we have been doing this! Next week we will be continuing our fractions learning by looking at how to find fractions of shapes.
Week beginning 31st October
What a fantastic week we have had in Tigers! We have been working hard on new methods for multiplication and learning how to use arrays. Please ask a Tiger to show you how to use them too!
We all had a wonderful time at Stay and Play on Friday. It was lovely for us all to enjoy spending time with friends and family members and to share the exciting things we have in our classroom.
In the mornings, after the bell has gone we only have a short amount of time to get the register taken and lead the children into assembly. Please could adults help us with this by saying goodbye to your child and moving out of the classroom quickly when the bell rings at 8.50 am? Children who are not in time for the register will receive a late mark as the school day begins at this point. Could we also politely remind you that children arriving after 8.50 am need to come into school via the main entrance as we shut our external classroom door at this point. Thank you very much for your help with these things as it ensures we are able to be in assembly on time and give all of the children the best start to their day.
Week beginning 17th October
Tiger class were so excited to welcome in our visitors from 'Meet a Creature'. What a fantastic time we had!
It was fascinating to learn all about the different animals, their diets and their habitats. Holding them was even better! We are looking forward to doing some descriptive writing about the creatures we met. Please ask us about what we saw and how we felt.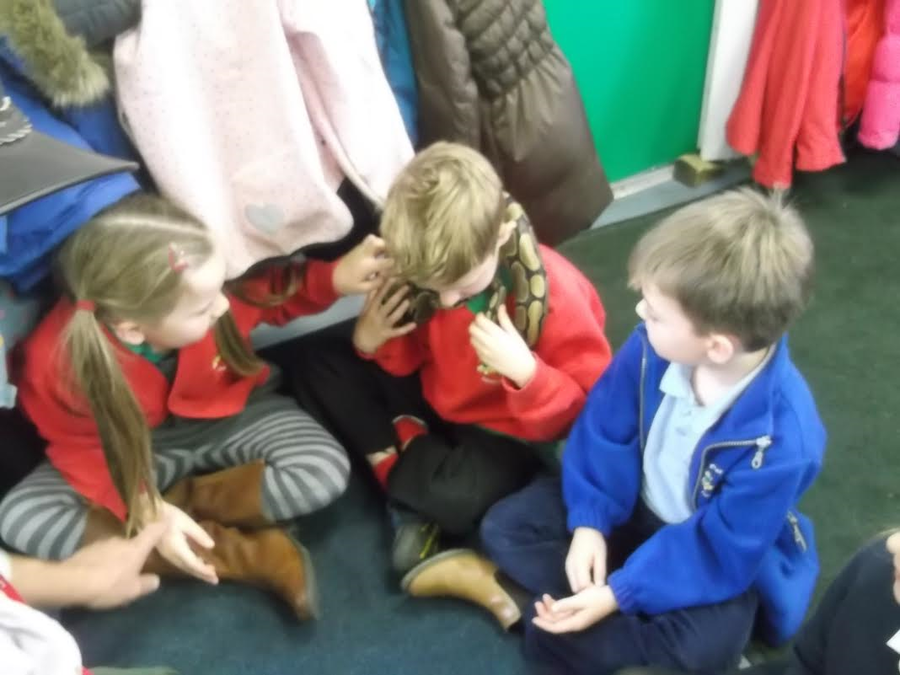 Week beginning 3rd October
Over the last two weeks we have been enjoying some Tinga Tinga Tales. We have retold the story of How the Camel Got its Hump and now we have been inspired to write our own stories about how a variety of African animals got their special features.
Tiger class really enjoyed using drama to explore the tales!
So if you want to know how the Hippo got its fat belly, how the crocodile got its bumpy back or how the spider got its web, then just ask a Tiger!
Week beginning 19th September 2016
We have been learning how to add together 2-digit numbers using partitioning. We have used tillichs to help us visualise the tens and ones which make up each 2-digit number.