Leopards
Welcome to the Leopards
There are 29 children in our Leopard class. We have 14 Year 1 children and 15 Y2 children. The teacher is Mr Knight. Our teaching assistants are Mrs Dyson and Miss Peskett.
Fortnightly Class Newsletter
Our class newsletter is emailed to all our parents and carers once a fortnight.
Spellings
Our spellings our handed out regularly and cover a number of weeks. Please look out for the next set and ask if you aren't handed it.
Common exception words Y1 & Y2
There is also a list of common exception words which all children should be able to read and spell for their age and stage. These may be tested every so often and it would help if parents and carers worked on them regularly with their children.
Half termly overview
Click here to find out what we are learning about each half term.
Summer term overview
Home Learning
Click here for more information on how you can help your child at home.
Class information
During the spring term our PE lessons will be on a Tuesday and Friday. Please ensure that your child has his or her PE kit in school for these days.
Click here to see our class timetable. This is a guide as to what will happen during a day and the times may change.
Click here to see our class rules.
What's happening in the Leopards?
Week beginning 15th May
This has been a busy week so far! The year 2 children have continued with their SATs and the year 1 children have been continuing their science work with plants.
On Tuesday, we made a magnificent sunflower from coins as part of the PTA coin trail. We really enjoyed counting them and managed to raise over £60! Thank you for all of your support!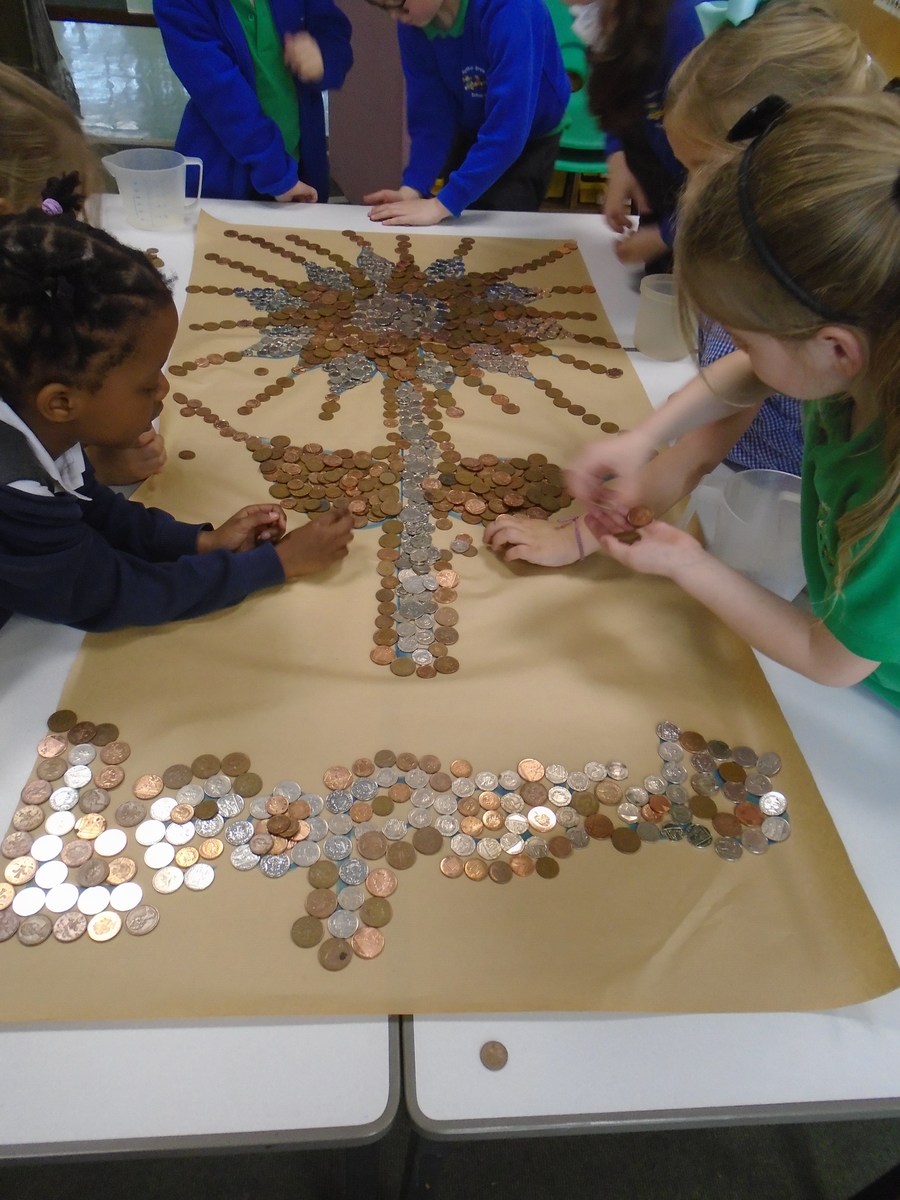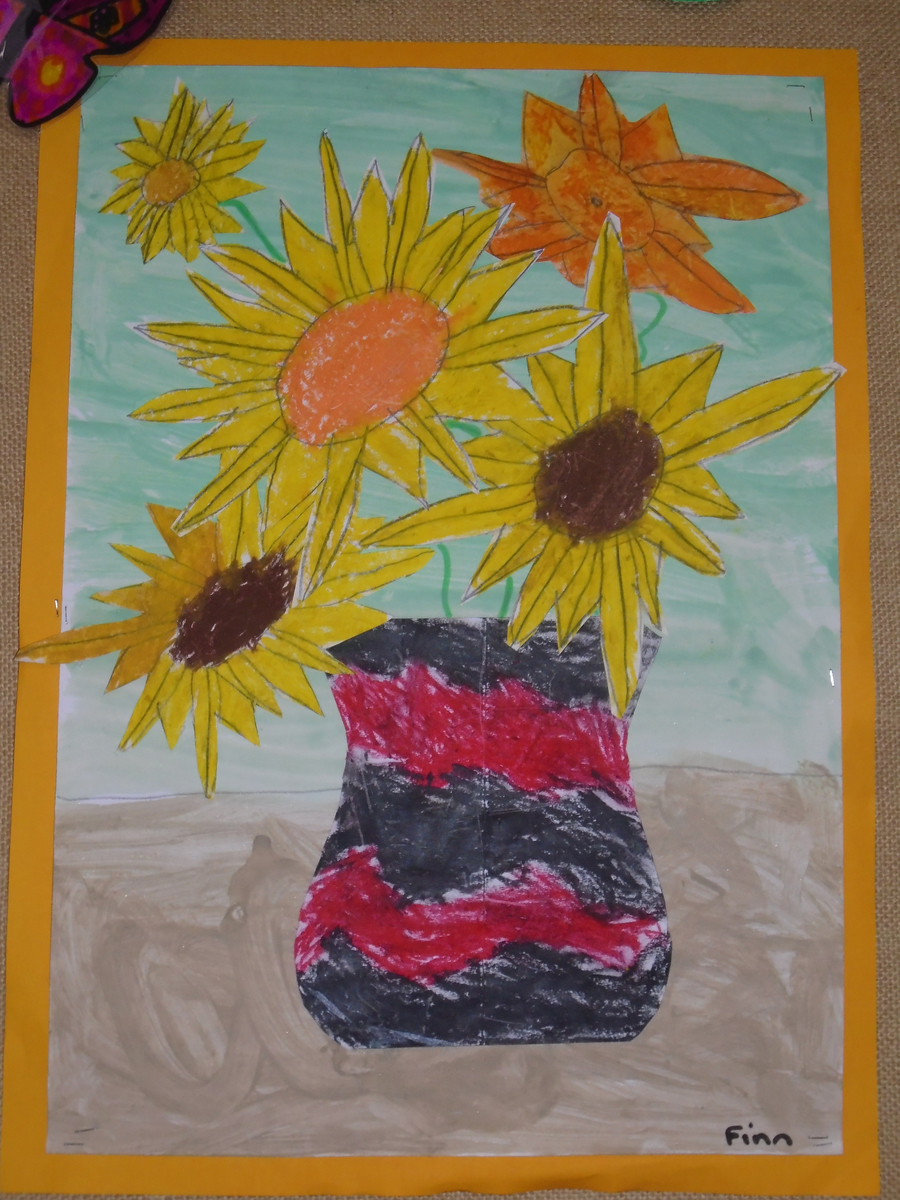 Look at what we have done so far this year...
Week beginning 8th May
It was fantastic to have Lydia Monks come to visit us. The children really enjoyed her assembly and loved watching her draw pictures of the class animals. We named our leopard 'Lily' and we hope that you like her!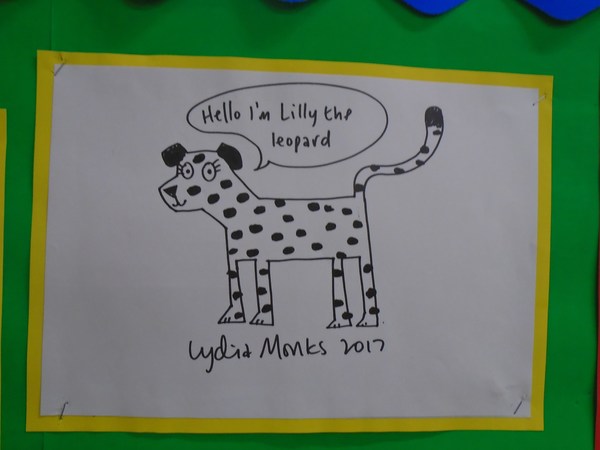 We've also been looking at Van Gogh's sunflowers and have created our own pictures in his style. Mrs McDowall has helped us to make some superb creations.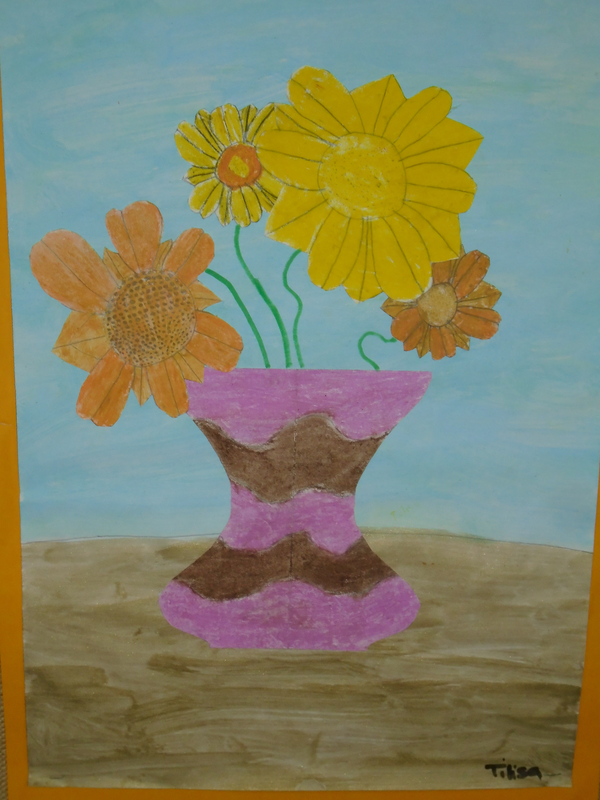 Week beginning 1st May
This week we have been exploring plants. We have looked at them and have been drawing detailed pictures based on what we have observed. We have also planted our own seeds and will be looking at how they grow over the next few weeks.
In maths, we have been revisiting our work on calculations. This has included work on addition, subtraction and the use of arrays. Please work on these areas with your child.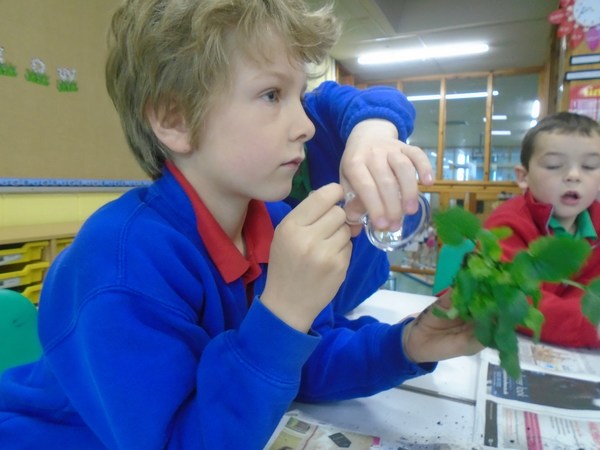 Week beginning 24th April
Welcome back! This week, our new teacher, Mrs McDowall, started to work with us. She will be staying with us until the end of term and we have been enjoying our time getting to know her.
In literacy, we linked much of our work to 'Alice in Wonderland' as we were lucky enough to have a theatre group perform the show to us. We looked at what happened in different scenes and thought about how we might change the story.
We also explored the school grounds as part of our new topic 'Grow, grow, grow!' The children drew pictures of some of the natural things that they found.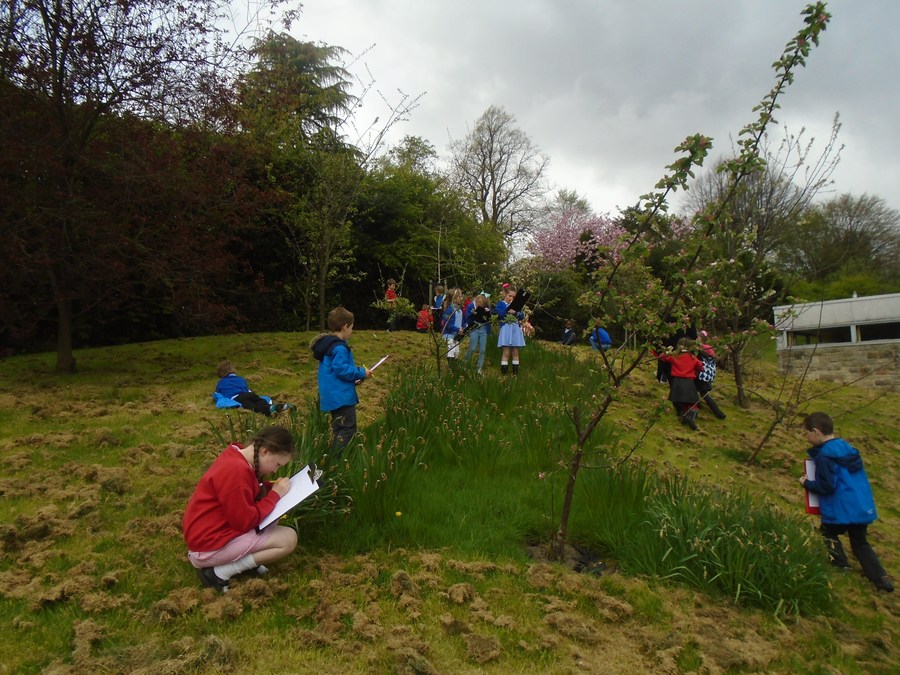 In maths, we have been revisiting a number of areas. These have included looking at shapes and fractions. How many of these can you find in 3D shapes: faces, edges and vertices? Can you see any patterns in the numbers of faces, edges and vertices that 3D shapes have?
Week beginning 3rd April
We explored Easter traditions and also said goodbye to our headteacher, Miss Ball, and our school secretary, Mrs Higgins. On Friday, we all wore our Easter bonnets!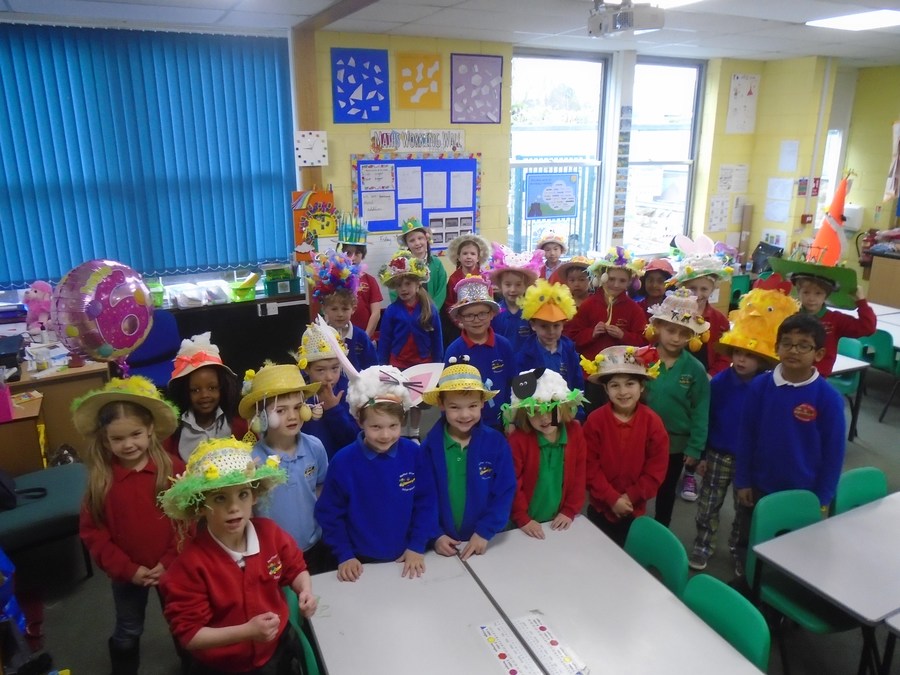 In maths, we explored number problems and statements. These included finding out what happens when you add together 3 odd numbers. The children learnt a lot about how numbers work and really enjoyed their activities.
Week beginning 27th March
This week we tried 'Astronaut ice-cream'! We had lots of different flavours, some of which were nicer than others! The children wrote descriptions of the ice-creams and also thought about what their perfect meals would be. Suggestions for perfect meals often included lots of chocolate!
In maths, we looked at missing number problems. We used our knowledge of 'inverse operations' to help us to solve problems. The children also explored what the = symbol means.
Week beginning 20th March
What an exciting week we've had! We wrote instructions for a pirate to find his treasure in space and we used Purple Mash to create our own instructions on the computers. Some of us even got to test our instructions by making a partner follow our directions.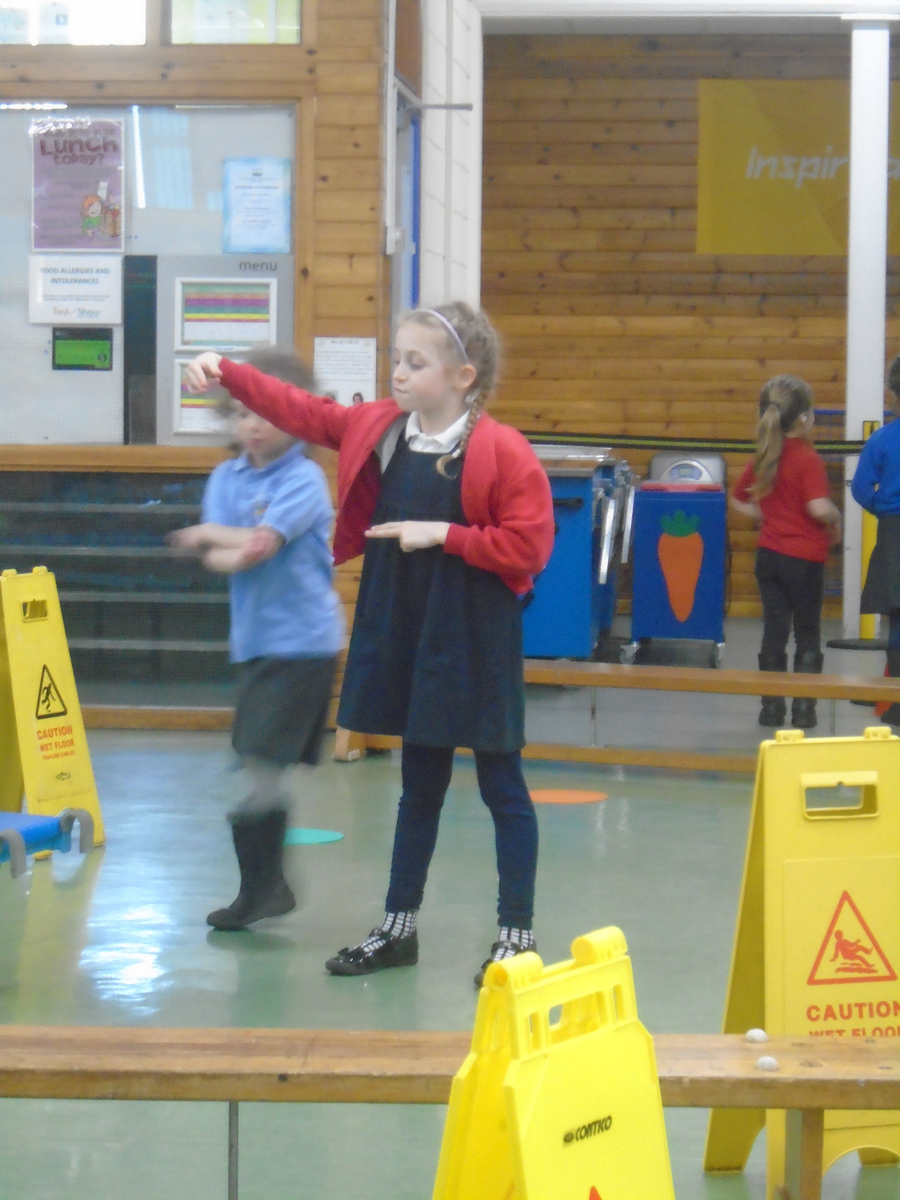 In science, we tested things which would float or sink. We also made our own boats and looked to see if we could make them float. The children tried to make blu-tac float. Can you do this?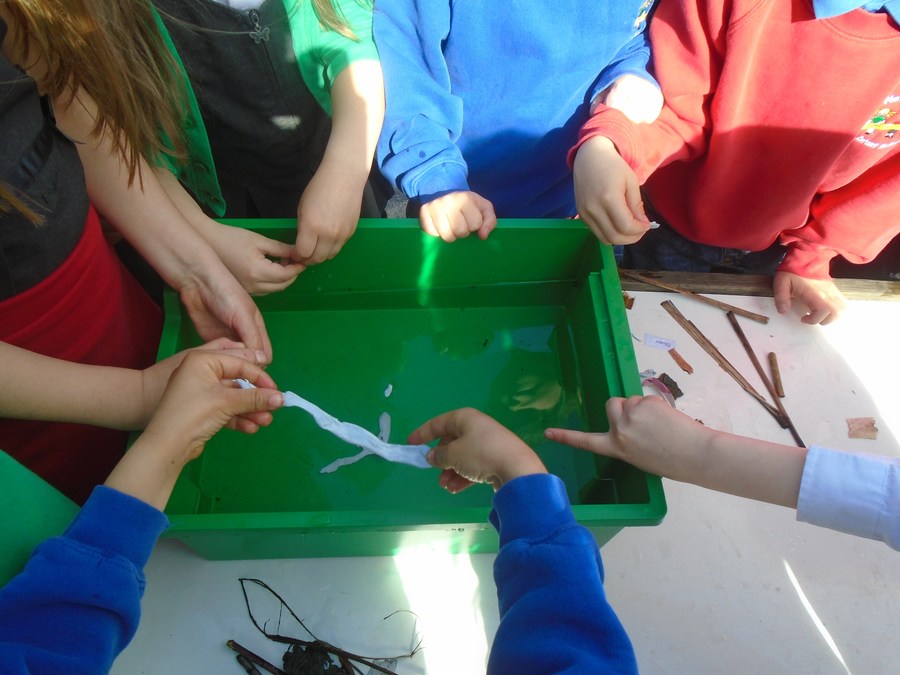 In maths, we explored the 'Bar Method'. This is a way of representing numbers and problems by using visual representations. The children used this to explore word problems. It's still early days but we will continue to explore this way of working.
Week beginning 13th MarchIn literacy we looked at different sentence types. We found out that there are 4 main types that we should try to use by the end of year 2. These are:
Simple sentences
These are sentences such as: The cat sat on the mat. They are the sentences that we use most of the time.
2. Questions
These are used to find out more information e.g. What is your name?
3. Commands
We use these to tell someone what to do: Sit on the carpet.
These sentences always include an 'imperative verb' (bossy word).
4. Exclamations
These end an exclamation mark e.g. What a fantastic day we had!
In maths, we revisited arrays for multiplication, division and fractions. An array is where we show numbers by using dots. If you would like help with this, please ask me.
Week beginning 6th March
This week we learnt about Neil Armstrong. We explored how he may have felt going into space and wrote newspapers based on his achievements. You can see some of our work around our classroom. The thoughts that the children had were very insightful. They understood how they would be excited but also scared at the same time.
In maths we have revisited addition. The year 2 children did this using vertical methods and were introduced to adding amounts of money. The year 1 children practised adding with tillichs and Numicon. All the children did very well and it would be great if you could continue to support them with their learning.
Week beginning 27th February
This week we wrote recounts about our holidays. We found out that the children had been to lots of different places and that they had taken part in lots of fun events. The children also worked hard with their comprehension skills.
In maths, we learnt about estimation and what it means. The year 2 children looked at how to use estimation to make reasonable guesses about what an answer may be whereas the year 2 children made estimates as to how long an activity may take.
We also had a visit from the Space Dome. The children got to explore our Solar System by watching projections inside the dome.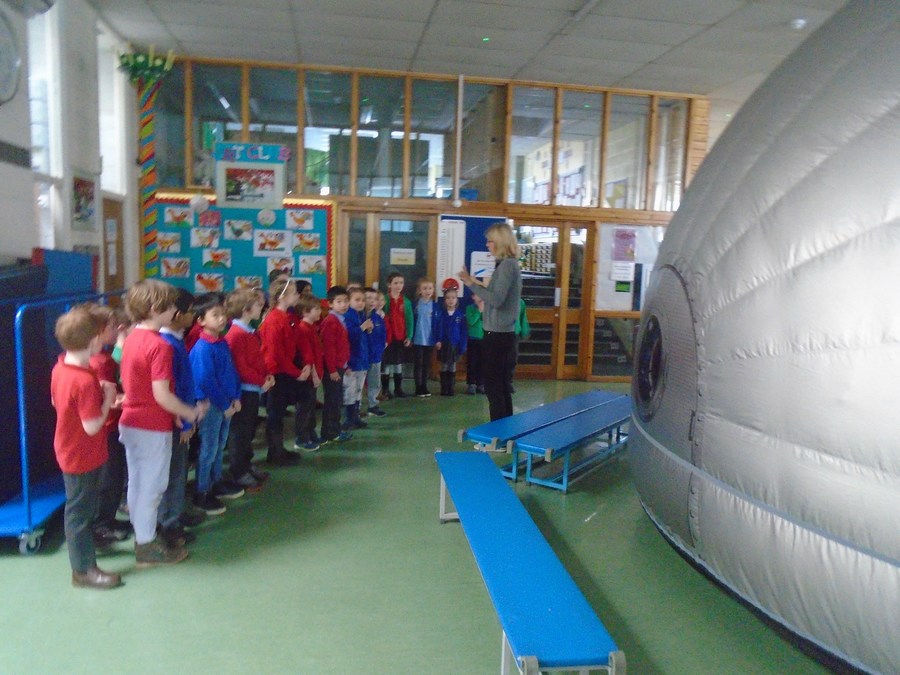 Week beginning 13th February
This week we were visited by the Quantum Theatre who performed the show 'Shape, Space and Desperate Measures'. We really enjoyed this and it linked well to our previous work about measures.
In literacy, we have been focusing on adding speech to our writing. The year 1 children have been using a mixture of speech bubbles and inverted commas whereas the year 2 children have been improving their use of inverted commas. To support their work, the children have been retelling parts of 'Little Red Riding Hood'.
Our work in maths has been based on inverse operations. These are opposites i.e. x and divide and + and -. The children have used their knowledge of number families to support them with this.
In science, we investigated which materials are waterproof. To do this, we placed teddy bears into containers which were then covered with different materials. Please ask us about our learning.
Please remember that on Friday we will be having our Superhero Day and that children can come dressed as their favourite superhero.
Week beginning 6th February
In maths we have been working hard on our understanding of shape and statistics. We have made our own bar graphs and have looked to share information that we can learn from them e.g. which is the most popular group. We also worked on how to sort shapes according to their properties.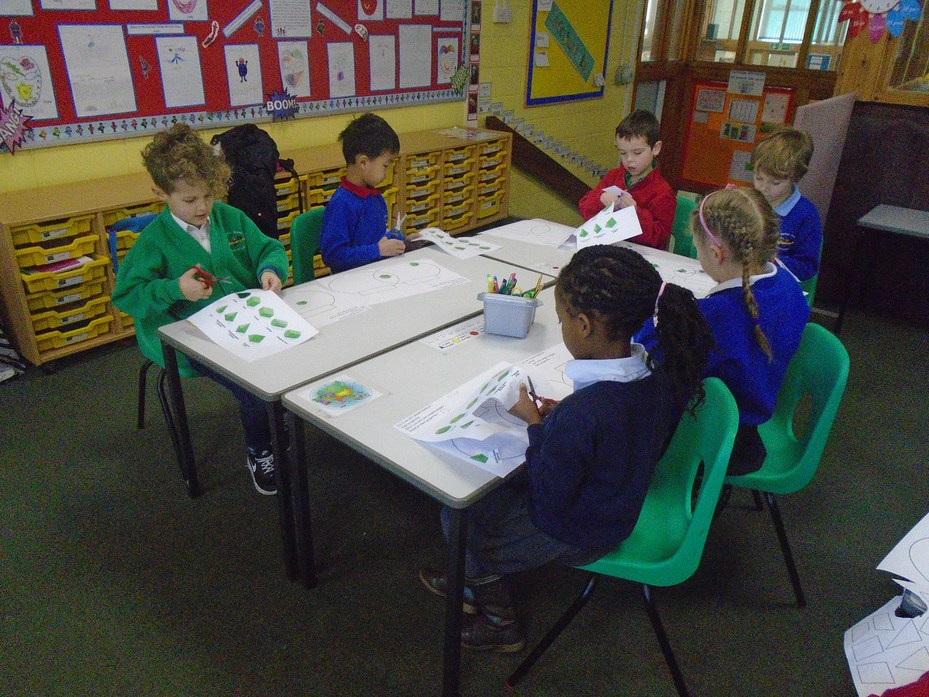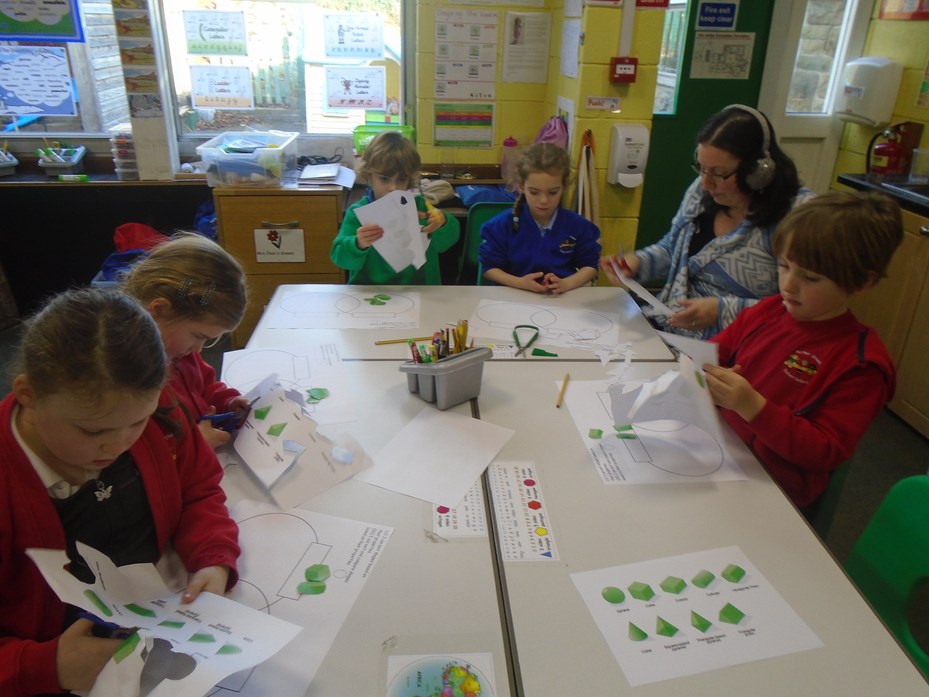 In literacy, we have linked our work to kindness week and e-safety. The children looked at the Julia Donaldson book, 'The Smartest Giant in Town' and had to decide which of George's acts were the kindest. They also imagined what may have happened to one of the characters after they'd been helped by him.
Weeks beginning 23rd January and 30th January
We have worked hard on our understanding of measures and scales. The children have been measuring items carefully with apparatus and have been developing their understanding about the units used for different measures e.g. kg and g
for mass.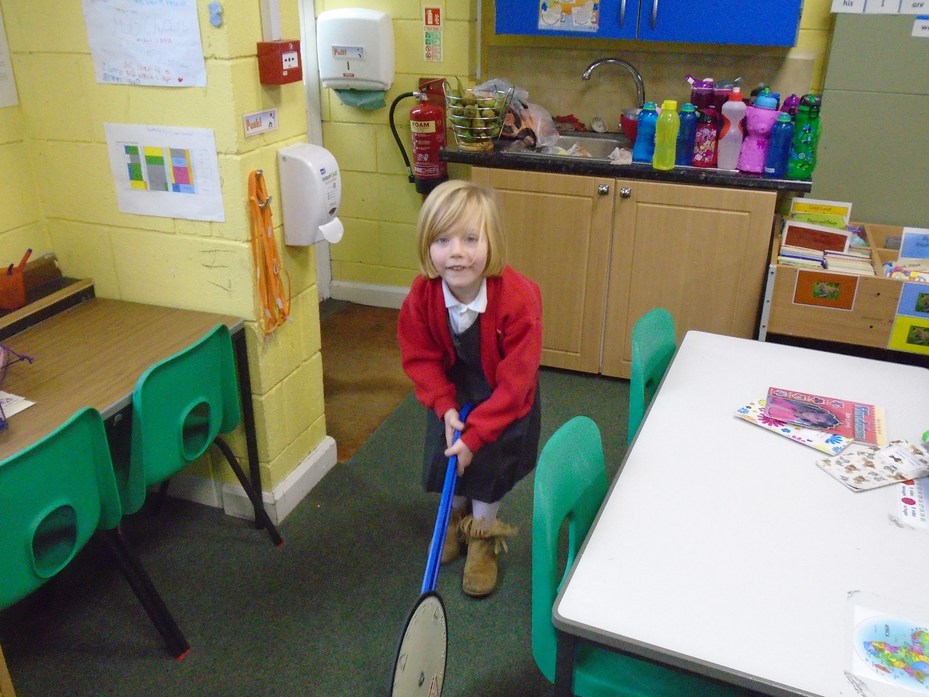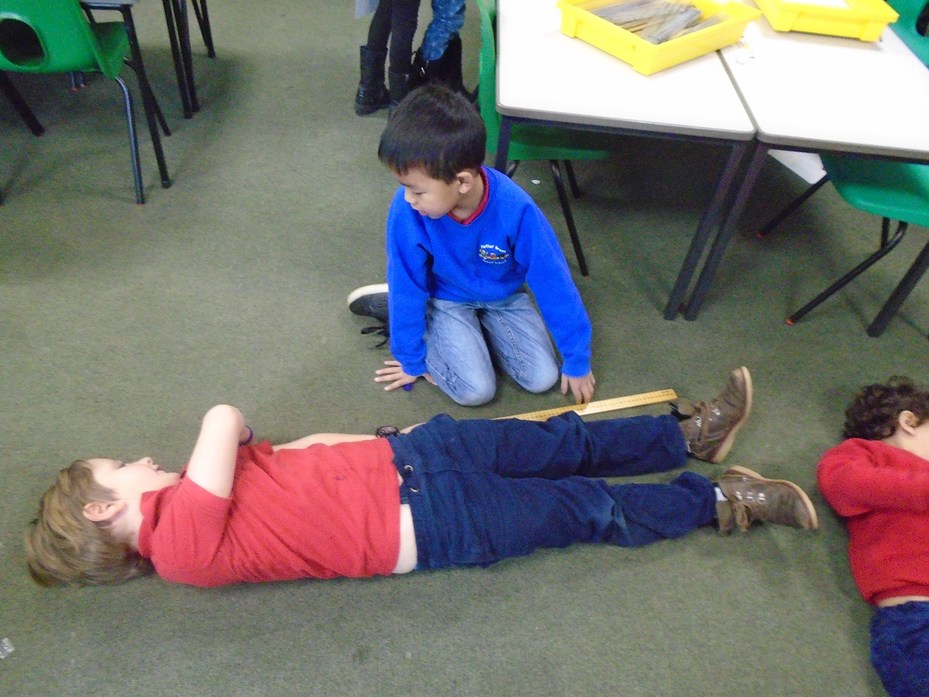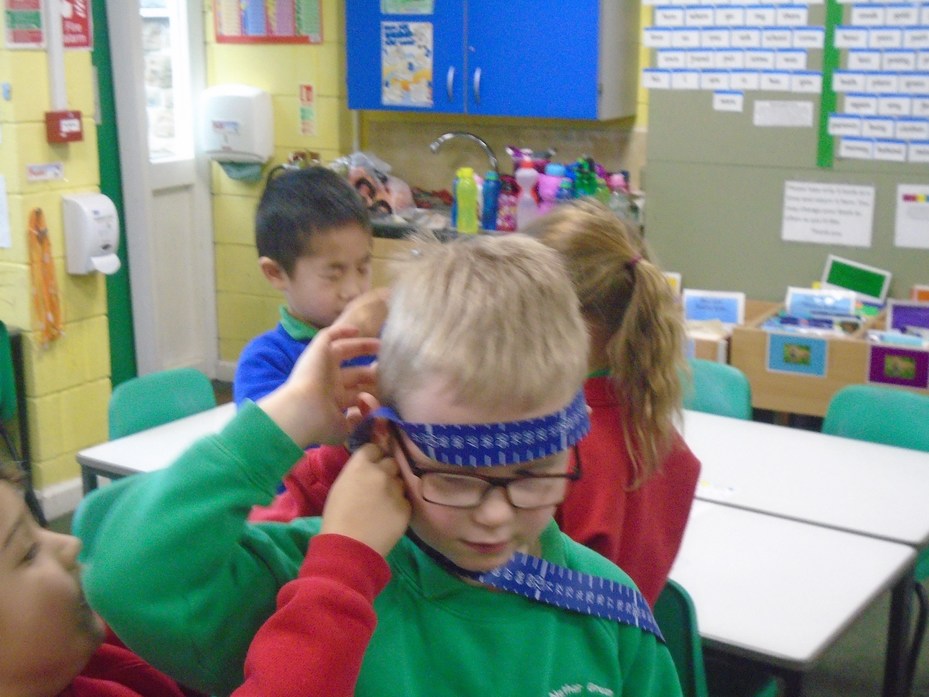 In literacy we looked at writing instructions for a superhero. The children could choose between writing instructions for a 'super sandwich' or writing instructions for how to maintain a disguise. Their work is fantastic and I hope that you take the opportunity to look at it soon.
Week beginning 16th January
This week the children have been writing their own superhero stories. These have been made into booklets which we hope to read to some of the younger children in school. We hope to put these up on display, in our room, within the next few days and I'm sure you will enjoy them.
The children have continued working on their knowledge of time are doing really well. The national curriculum requirements are for Year 1 children to know the time to the nearest half hour and for Year 2 to know the time to the nearest 5 minute interval. The following website may help your child : resources.oswego.org/games/BangOnTime/clockwordes.html This requires the children to read a time and stop a clock when it reaches it.
The photos below show the children playing this game: nrich.maths.org/6071/note. It requires children to take it in turn to add on units of time. Whoever gets to 12:00 wins.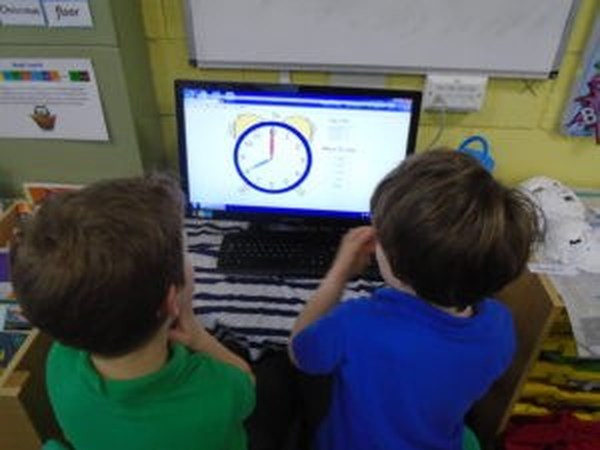 Week beginning 3rd January
HAPPY NEW YEAR! I hope that you've had a fantastic holiday and it's been great to welcome the children back to school.
The children have been introduced to our new topic 'Superheroes'. In literacy they have been thinking about what makes a superhero and examples of the children's ideas can be found on display at the rear of the classroom.
During PE, the children explored moving and travelling as a superhero that they have imagined. The children have also designed masks which they will be making over the next few weeks.
In maths we have been exploring subtraction. The Year 1 children have worked practically to solve calculations with number lines and the Year 2 children have been introduced to vertical methods. Next week we be looking at time but we will keep revisiting subtraction.
In maths, we have been exploring subtraction, The Year 1 children have worked practically to solve calculations with number lines and the Year 2 children have been introduced to vertical methods. Next week we will be looking at time but we will keep revisiting subtraction.
Week beginning 12th December
We've had a really fun and crafty week! The children have enjoyed their work and have been very creative. We've had fun making cards, stars and trees. The Leopards would like to wish you a very Merry Christmas and a Happy New Year.
We also did an experiment about touch. Please ask us what we learnt.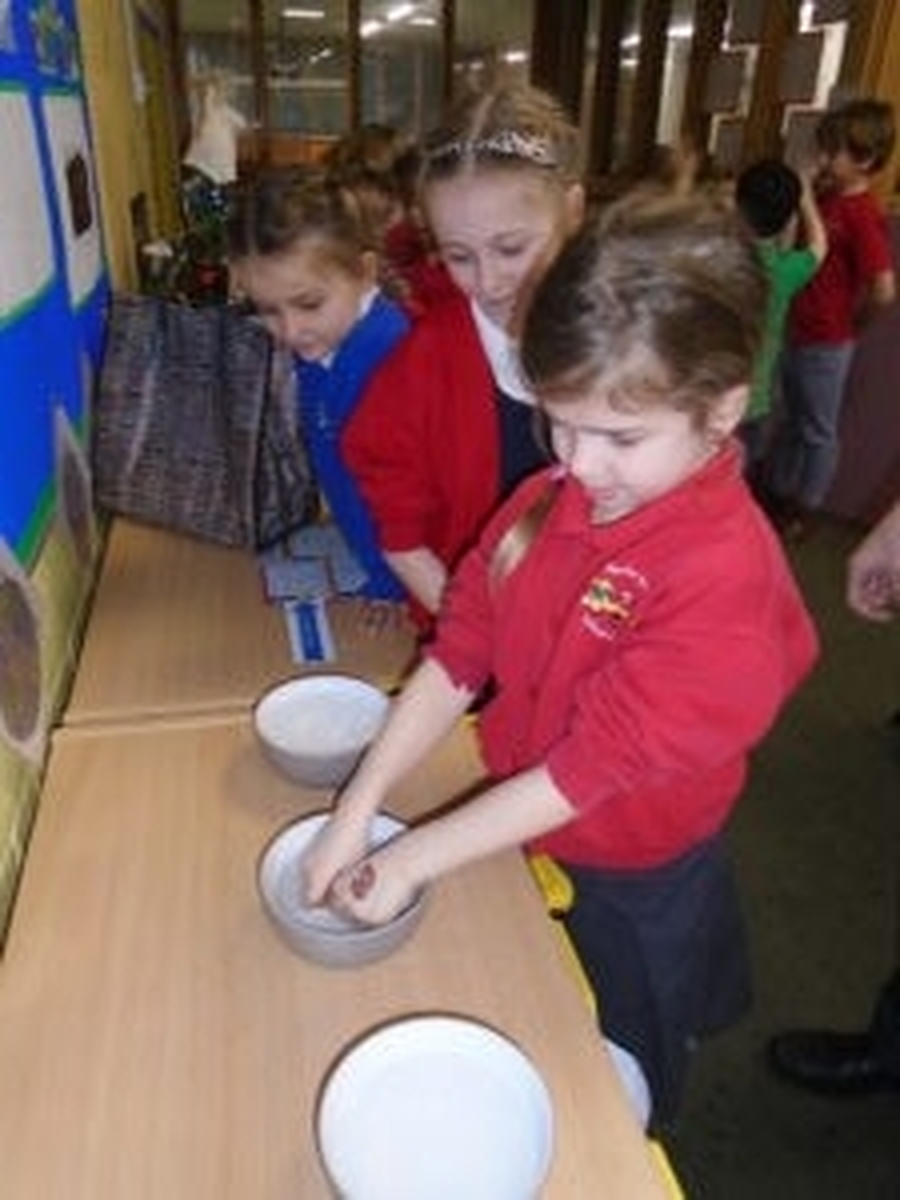 Week beginning 5th December
Well done to Year 1 children in their performance of Angel Express! I'm sure that you'll agree they did a brilliant job. Thank you for all your help and support with costumes and helping the children with their lines. Also well done to the Year 2 children who sang at Fulwood Bowling Club.
Week beginning 28th November
On Tuesday, we had great fun with our Christmas Crafts. It was lovely to see so many parents, grandparents and carers. Thank you for your support and help!
Week beginning 21st November
In maths we worked on fractions. The children have looked at fraction walls and have tried to find fractions which are the same. For this activity, the children were in mixed Year 1 and Year 2 pairs.
We also worked on our balances in PE. This was part of the Real PE lessons that we're looking to develop.
As part of our topic we made some huts in the style of those found along the Amazon river.
Week beginning 14th November
This week we explored 'Dips and Dippers' unit. Thank you to all the parents and helpers who made this such a fun and valuable learning experience! The children sampled dips and dippers from around the world. They evaluated these and used their knowledge to design and make their own creations. Some were more tasty than others!
We linked our maths learning about fraction to the work we did about division last week. The children found fractions of numbers by using a similar method to division. The following explains what we did:
Look at the problem e.g. 1/4 of 12.

The bottom number of the fraction (the denominator) tells the child how many groups they will be sharing between and they will draw that number of faces.

The whole number (in this case 12) is then shared between the number of faces by drawing dots or sharing items.

The top number of the fraction (the numerator) shows the children how many of the peoples' dots/items they need to count or keep. The children will draw a ring around this group, count the dots and write the number at the end of the number sentence.
Week beginning 7th November
It was lovely to see so many of you at Parents' evening and to share all the work that the children have done. I trust that you are as proud of the children as I am.
In literacy we explored comparative and superlative adjectives. Examples include: tall (adjective), taller (comparative adjective) and tallest (superlative adjective). We used this to look at houses located along the Amazon River and comparing them to each other.
During our maths lessons we introduced division. The children did really well and some have even begun to solve problems with remainders which is an end of year expectation for Year 2!
The following steps tell you what to do for our method of division:
Write the calculation down.

Look at the number that you are sharing by and draw that number of faces.

Share out the first number between the people by drawing dots or sharing out items. Remember to stop sharing when you reach this number.

Circle the last person's dots/items and count them. This is the answer. We circle this person in case there are remainders (leftovers).

Check for remainders. These would be found by an incomplete row i.e. a row in which the last person does not receive a dot/item. Write how many are left (if any) as a remainder.
In PE we have been exploring the new Real PE scheme. The children had fun playing the Popping Pirates game.
Week beginning 31st October
What another busy week we've had! In literacy/topic work we have been looking at our local area and comparing it to villages found along the Amazon River. We started by having a walk along the road and talking about houses, environment, work and leisure before writing how we felt about these things. Next, we looked at some villages along the Amazon and compared them to each other. We tried to find out which was the most like ours and explored things found in them.
In maths we have been working on arrays to show the link between repeated addition (4+4+4) and multiplication(3x4). The children have been working hard and have shown a great understanding of the methods. Some of the work can be found on our Marvellous Maths display.
These photos show us working on our multiplication.
We also had our Stay and Play morning on 4th November. It was lovely to see many parents and grandparents staying to work with the children.
Week beginning 17th October
On Monday, we had our 'Meet a Creature!' experience. The children had the opportunity to meet a variety of creatures from rainforest and desert regions. We learnt many interesting facts like how spiders can eat up to 4 of their own legs if they are really hungry (they do regrow!)! The children had the choice as to whether or not they would like to hold or stroke the creatures…I have to admit that many of the children were braver than me! The children have also written about their experiences. Their work can be found in their discovery books.
Week beginning 10th October
The children have had a busy week. They have worked hard to create their own fact files. The year 1 children concentrated on fact files about themselves with the year 2 children writing about animals. We particularly, focused on the features of fact files such as: headings, subheadings, captions and diagrams. Please feel free to look at your child's books to see their work.
In maths, we have begun to work on shape. The children have shown their knowledge of 2D shape names and have begun to look at their properties i.e. how many sides or points a shape has. They have also started to identify lines of symmetry and recognise the difference between regular and irregular shapes.
Week beginning 3rd October
In maths we have been working hard on subtraction. The year 1 children have been using number lines and cubes to help them subtract numbers from totals up to 20 or 30.
The year 2 children have been working with numbers to 100 and have been using tillichs. The following show the methods that we have been using. These are intended to give the children a good understanding of how we subtract as well as an appreciation for how much a digit is worth.
A guide to simple subtraction in year 2 – with exchanging
A guide to simple subtraction in year 2 – no exchanging
In literacy, we have been writing our own Tinga Tinga Tales. The children have been very imaginative and have really enjoyed writing these.
Week beginning 26th September
We have been enjoying our work on 'Tinga, Tinga Tales'. These are traditional African stories which were used to explain how animals got their features e.g. how the camel got a hump or how the elephant got a trunk. The children have been retelling the story about the camel through drama and writing. Next week the children will be making up their own Tinga, Tinga Tale to explain how an animal gained a feature.
In maths we have been looking at coins. The children have been adding coins together and have been exploring ways of making a given amount.
Week beginning 19th September
This week we had a walk around our local area. This helped us to link our topic work on 'Our World' to our literacy work on instructions. The children have drawn some maps based on our journey and have started to add symbols to represent items such as bus stops. We have also written different sets of instructions. Our key vocabulary has included: imperative verbs (bossy action words such as: stop, turn, cut and walk) and time conjunctions (words which link ideas but which also refer to time e.g. first, then, next or finally).
Week beginning 12th September
We've had lots of fun this week! In English we have been writing descriptions about places. This has focused on using nouns and adjectives. The following are examples of the resources that we used with the children:
t2-e-039-story-settings-posters
worksheet-for-describing-settings-in-a-group
In maths, we have continued our work on place value. The children have been looking to split 2-digit numbers into tens and ones. This has been supported with the use of Tillichs.
In art, we have been colour mixing.
In PE, we have been looking to work safely with equipment. We looked at how to carry mats and benches safely before exploring ways of travelling and jumping.
Week beginning 5th September
Our first week back has been very busy! We've written postcards about our holidays, worked on our understanding of place value in maths, started our topic about 'Our World' by finding the capital cities and countries which make the UK and many other things. We've also gotten to know one another.
week-1-postcards This includes pictures of some children working as well as some information about what we did.
The following pictures show us working with Numicon. We are looking at the values of numbers e.g. 8 = 4 + 4 or 8 = 1 + 2 + 5. The children overlaid pieces to check their understanding before copying down the values as number sentences.