Koalas
Welcome to the Koalas
We are a Foundation Stage class of 25 children. Our teacher is Mrs Keeling and our teaching assistant is Mrs Timmins.
This year Mrs Steigler (M/T/W) and Mrs Webber (Th/F) will also be in class working with children on a one to one or small group basis.
Weekly Class Newsletter
Our weekly class newsletter is emailed to all our parents and carers.
Half termly overview
Click here to find out what we are learning about each half term.
Spring 1 2017 Once Upon a Time
Summer 2 2017 Keeping Healthy
What's happening in the Koalas?
Week Beginning Monday 3rd July
On Friday we had a 'Marshmallow building challenge!' Children worked with a partner or in a small group to build the tallest tower they could using marshmallows and sticks. It was harder that it sounded! Have a look at our photos and read what the children said.
"It needs to be more stable." "It feels strong."
"This is going to be impossible!" "I've just mended it and it's fallen down again!"
"We need to work as a team you know." "Remember we are working together."
"I'll try connecting them." "We're not stable enough."
Week Beginning Monday 3rd July
This week the children have enjoyed reading poems. We even learnt a simple poem called 'Hopalong Popcorn' which we 'performed' in class. We have all loved watching Michael Rosen performing 'Chocolate Cake' on our Interactive Whiteboard! He has such an expressive face and uses actions and noises to really make the poem come to life. Next week on Monday morning and Friday afternoon the children will be visiting their new Y1 classes. They are excited to spend time with their new teachers and classmates.
Week Beginning Monday 26th June
This week has been more like November than June and the children have had a lot of wet playtimes! Let's hope it improves for our Summer Fair on Saturday.
In class the children have been learning to count in 2's and we are getting better and better counting round a circle...
2, 4, 6, 8,10. We have also been doing more work on instructions this week writing a set of instructions for washing your hands and giving and following instructions to send a Bee Bot to selected places on a floor mat. Everyone got very good at 'forwards' and 'backwards' but turns were more difficult!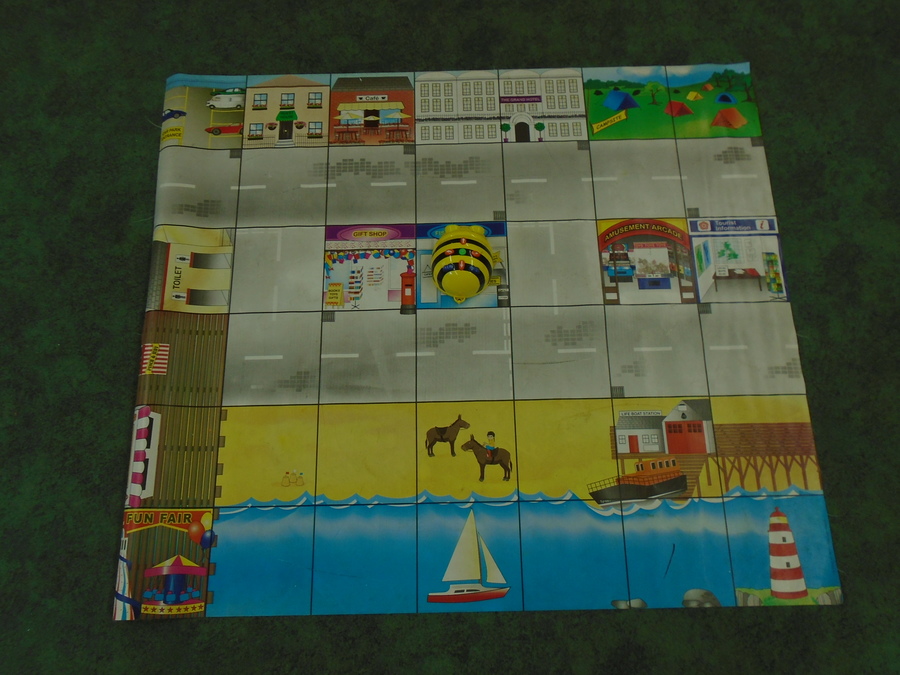 Week Beginning Monday 19th June
This week the children have been practising giving and following instructions. Most found that giving the instructions was far easier than following them! Children played barrier games making models from Duplo. They got much better at giving specific instructions for the colour and size of brick to use but their positioning was much more difficult as 'like this' just doesn't work when your partner can't see what you are doing!
Children also followed instructions to build a model aeroplane and followed instructions to colour pictures.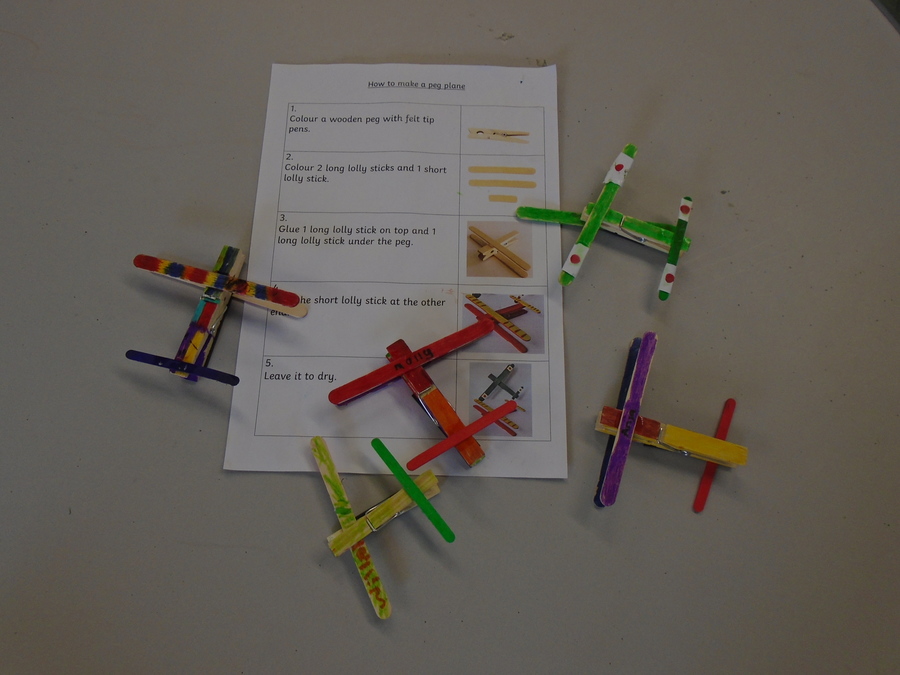 Week Beginning Monday 12th June
16th June 2017
We had a fantastic sports day, have a look at us in action!
Week Beginning Monday 5th June
A big welcome back to everyone after the Spring holiday. The children have done some great writing about what they have done.
On Friday we had the SPONSORED BOUNCE!!!!!!!!! Each class had great fun climbing up, over and through our bouncy castle. See if you can spot any of your friends on our photos.
Week Beginning Monday 22nd May
A big welcome back to everyone after the Spring holiday. The children have done some great writing about what they have done.
On Friday we had the SPONSORED BOUNCE!!!!!!!!! Each class had great fun climbing up, over and through our bouncy castle, which we managed
Week Beginning Monday 22nd May
This week our butterflies hatched!! The first one was there when we arrived on Monday and then three more hatched on Thursday. After looking at them in class we released them outside. We have one more to go ...
They are all Painted Lady butterflies. When their wings are closed they are brown, but when they open their wings bright red and black patterns appear. Look at our photos to see use letting them go.
Week Beginning Monday 15th May
This week the PTA organised a 'Coin Trail' to raise money to buy new maths equipment, unfortunately we had to work indoors because of the rain. Each class had a sunflower outline to fill with coins. We had so many that we could have filled 3 or 4 sunflowers. The children counted the coins into bags by collecting and making piles with 10 coins in each. In total we collected £60.54!
Week Beginning Monday 8th May
A visit by Lydia!
Today the artist Lydia Monks came to school. She writes and illustrates her own books as well as being the illustrator for Julia Donaldson and has illustrated over 100 books. When she was at school Lydia told us she used to draw all the time and that her favourite thing to draw was horses. She now works in her studio and told us that she was our neighbour ... look out for her at Forge Dam! I wonder if you have any books at home that she has illustrated? Look at the pictures below to see her in action.
DO NOT DISTURB
4 of our 5 caterpillars have now climbed to the top of the pot where they are hanging in a 'j' shape. This is a very delicate time for our caterpillars so we are trying not to touch or move their pot. In 3 days the chrysalides will have form and we will move them into our butterfly habitat.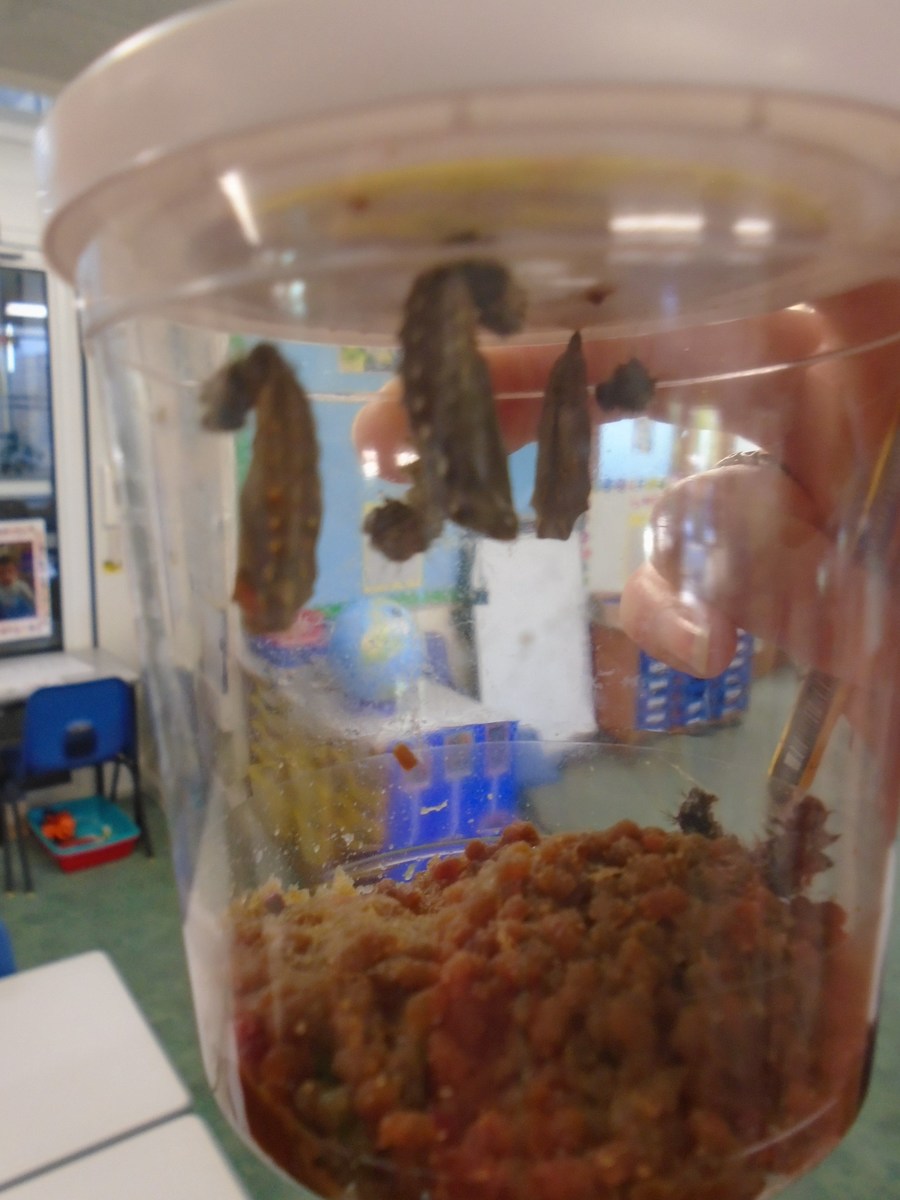 FAIR TRADE
This week we have been learning all about Fair Trade. Children enjoyed pretending to be banana farmers, walking to work in the 'banana fields' and then picking as many 'bananas' as they could! Two children were chosen to be the bosses and rode round on bikes shouting at the 'workers' to "pick more" and "stop chatting". At the end everyone was paid but it was NOT fair! The bosses got paid lots of money and the workers only 2p, not enough to feed their family.
Week Beginning Monday 2nd May
Wow, our caterpillars are getting so big! We have five; four of which are a similar size and one which is much smaller. The children think he or she is not eating as much as the others. When the caterpillars get bigger they shed their skin and you can see this all around their pot. I wonder what will happen next week?
Week Beginning Monday 24th April
This week our caterpillars arrived! At the moment they are living in a tub complete with all of their food and are very small. They have everything they need to eat and grow bigger and bigger until they climb to the top of the pot and harden in a chrysalis. We have noticed that they are spinning webs. When we looked this up on the internet it told us this was to stop the caterpillars getting blown away if they were outside in the wind and to protect them from predators. We have also noticed some skin which has been shed, which they do as they get bigger.
Children have started paying for their snack each day. We found that few children had an idea of money, recognising coins or making totals and thought this would be a good way to make it real. So far it has been very successful with children reading the price and then finding the correct coins. Already we have heard children talking about money. "How much are the bananas today?" "Where is the 4p?" "Use a 2 a 1 and a 1."
Week Beginning Monday 27th March
We finally got round to making volcanoes!!!! We used flour to make the shape then added bicarbonate of soda and food colouring. When we added vinegar it reacted with the bicarbonate and 'lava' flowed out!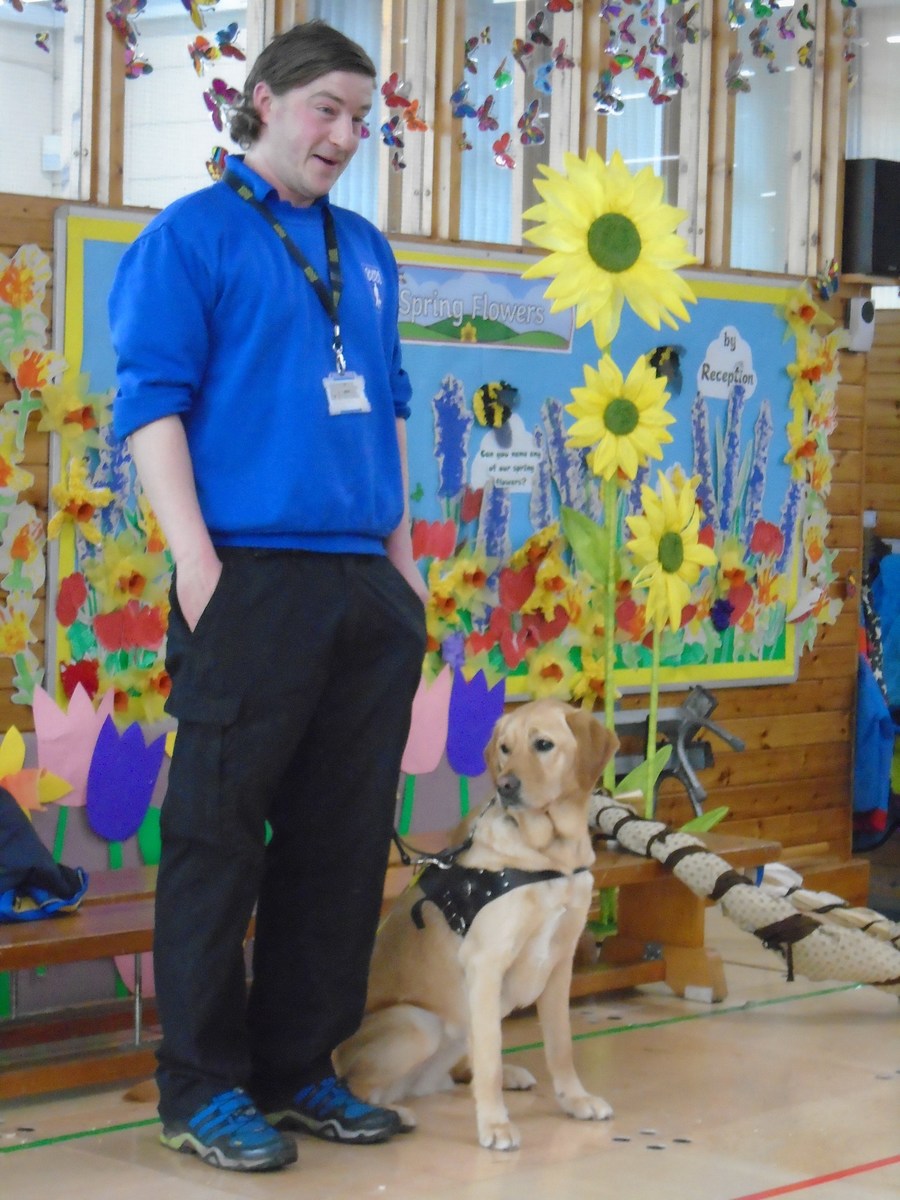 On Thursday Hanna's Dad brought in Yara a dog he looks after that is in training to become a guide dog. She was so calm and at home in school she fell asleep on the stage! The children had lots of great questions to ask and when we got back to class Eddie told us that his family sponsor a guide dog too. We hope Eddie might bring in some photos of his current dog.
Week Beginning Monday 20th March
On Friday the school turned RED as we collected money for Red Nose Day 2017.
Week Beginning Monday 13th March
This week we have been learning all about dinosaurs. We starting by collecting information about what we knew already before making a list of questions about things we would like to find out. I have to say we have some resident experts, I can't believe what some children could tell us!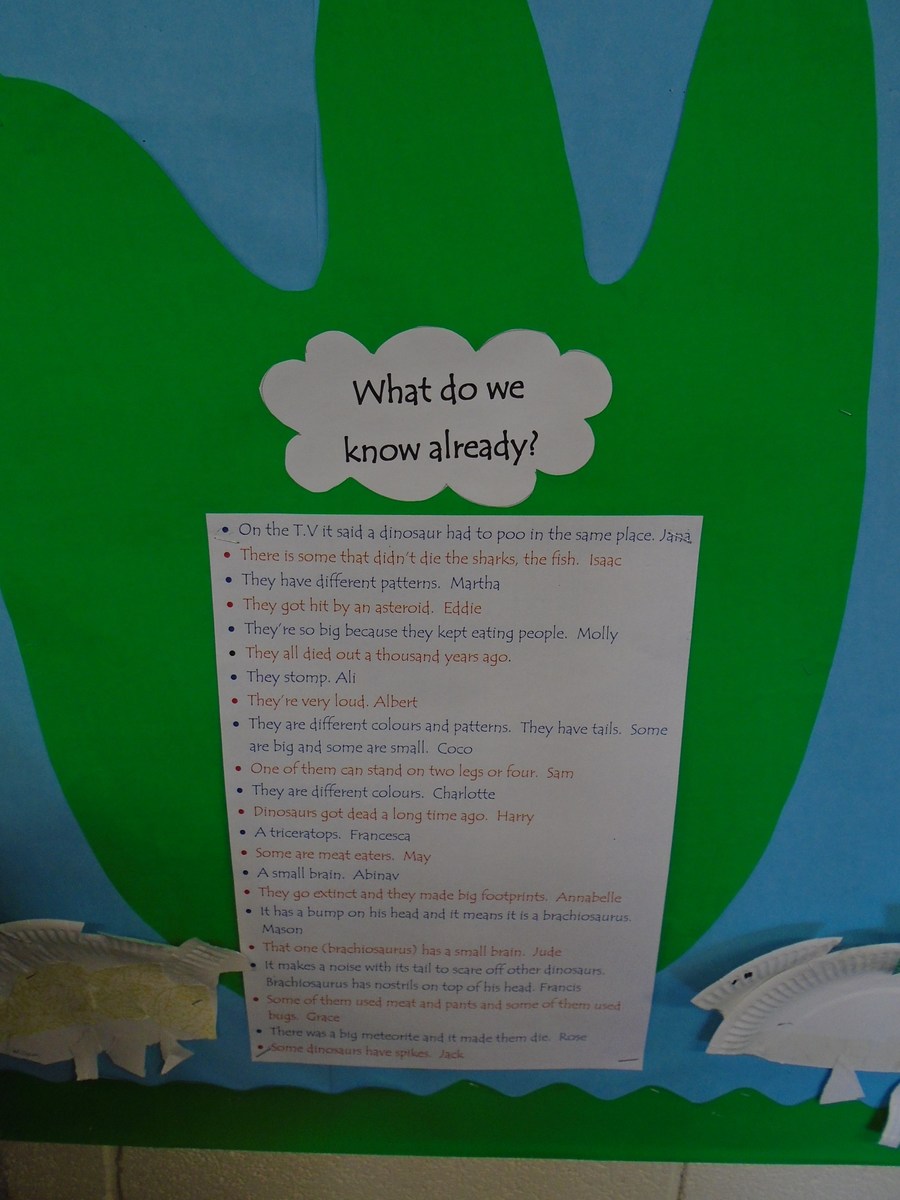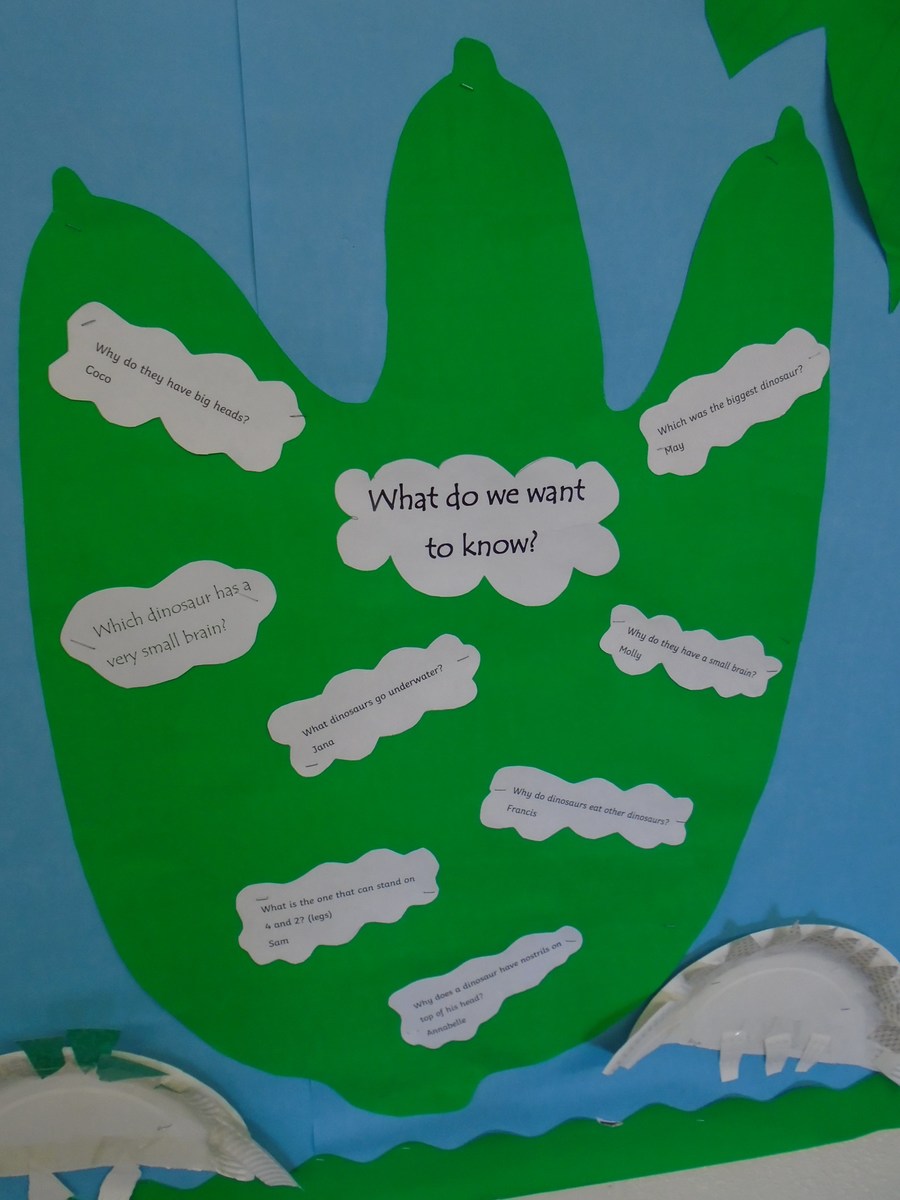 Signs of Spring on Stumperlowe Park Road
We went for a short walk looking for signs of spring. We saw lots of flowers and heard the birds singing ... summer won't belong now!
Week Beginning Monday 3rd March.
This week has seen lots of activity with our tiny doors. Some new families wanted to move house, so two new doors arrived after Francesca replied the their note writing
"yes, wey hav rom for mor doors.'
The children also made a new garden after a request in a note..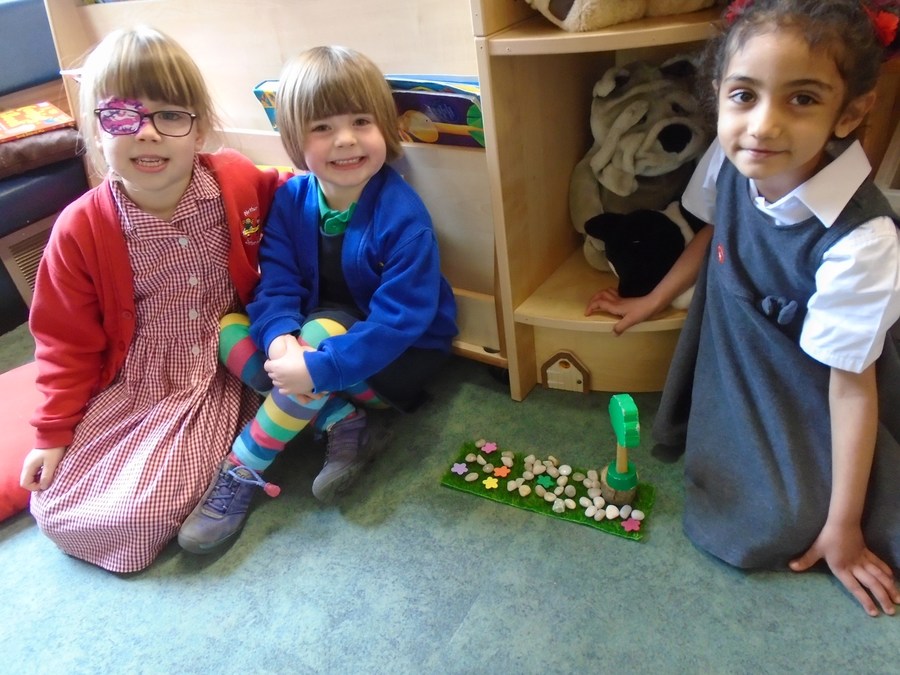 The children have enjoyed reading the notes ..
Week Beginning 27th February
This week something strange has happened ... tiny doors have appeared in the classroom!
First there were two, then one moved, before another one appeared. So far we have not seen anyone come out of the doors but they have left us notes telling us all about their families and what they are doing in our classroom.
World Book Day
The children dressed as book characters on Thursday and brought in a book to share with the class.
This week the children have been working hard to set up a 'Magical House' in the classroom which will form part of our topic for next half-term. The children have started to develop role-play ideas:
"Mix up a potion and make Mrs Nunn drink it."
"Put frogs legs in it."
"Abala coon, turn into a balloon."
"I'll put a spell on it, abracadabra."
"I'm making a medicine potion for the whole class'"
"Give these to all the children."
"I want to drink some, then turn you into a witch!"
"I just put a spell on you!"
This week the children have learnt all about addition. They have added the spots on dominoes and dice and 'read' and calculated the answer to written number sentences.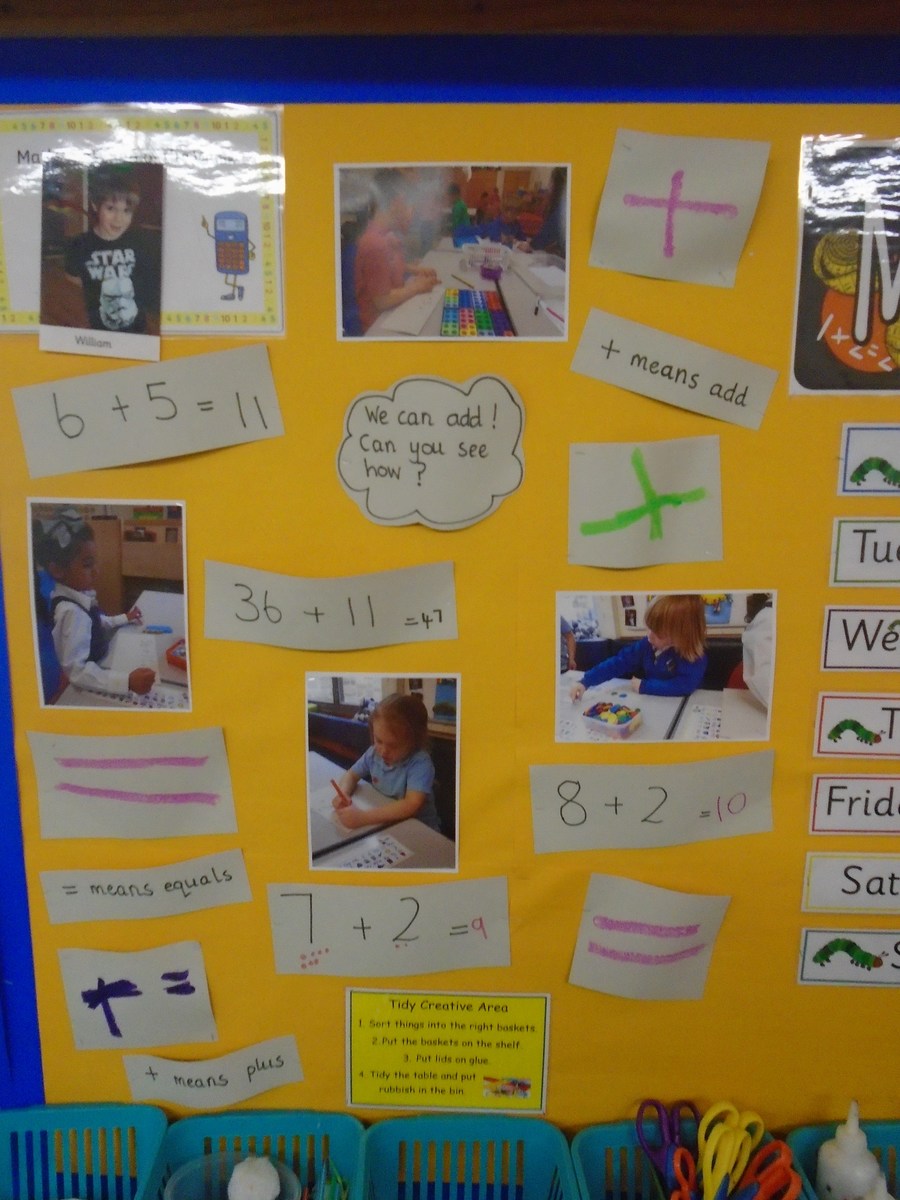 This week the children had a great day learning all about life 150 years ago!
A visit from 'The History Van' provided a range of activities including writing with a quill and ink, cleaning the house, beating carpets, milking a cow, cleaning horse brasses and forging a knife.
Week Commencing Monday 16th January
The children have been very busy learning the story of 'The Three Little Pigs'. They have taken it in turns to act out the story and are really enjoying playing in our 'Builder's Yard!'
Each child has also spent time designing a house for one of the little pigs. You can see they have chosen to make a straw, stick or brick house and some children even worked on the interiors!
Week Commencing Monday 9th January
This week the children have enjoyed designing and building a way for the Gingerbread Man to get safely across the 'river'. Children worked in pairs and came up with a variety of ideas including: bridges, flying cars, aeroplanes, seesaws and boats. Everyone also enjoyed baking and eating gingerbread men, Many thanks to Isaac's Dad and Annabelle's Mum who came in to help.
Week Commencing Monday 3rd January
This week we have enjoyed the story of 'The Gingerbread Man'. Children are learning an oral story which we tell together with actions. They have also enjoyed a range of themed activities including making puppets, painting and building a 'cage' to keep the Gingerbread Man in. Children have investigated floating and sinking and will use this knowledge next week when they design a way for the Gingerbread man to safely cross the river.
"If it floats it stays on top."
"If it sinks, it goes to the bottom."
"The sponge will sink because it fills with water."
"The things have lids on are full of air and the water can't get in, so it floats."
"It floats because it is lighter than air."
"I think it will sink because it is squishy."
"It sank because it has no holes."
Week Commencing Monday 12th December 2016
This week we went on our first school trip! We went to the Discovery Centre at Ecclesall Woods where we took part in a number of activities including:
Following a trail through the woods looking for clues.
Building homes for fairies and elves after the friendly dragon had accidently knocked them down.
Christmas crafts
Look below to see some of our photographs.
Week Commencing Monday 5th December
On Tuesday the children enjoyed watching the Year 1 children perform their Christmas play, some of them have been choosing their parts for next year already!
Next week we have a number of Christmas activities planned including learning about the Christmas story and how Christmas celebrations compare to those of Diwali and Eid.
Week Commencing Monday 28th November
Thank-you to everyone who came to our Christmas craft afternoon. The children enjoyed all the different activities and the classroom now looks very Christmassy!
Week Commencing Monday 21st November
On Friday we watched a fabulous performance of Cinderella. It was very funny and there were lots of characters including a ghost, spiderman and a ghost buster!
This week we have been doing lots of measuring! We started off measuring teddy bears and then lots of children chose to measure themselves.
We have started Guided Reading in class. Guided reading is where groups of children read the same book with an adult and focusing on specific objectives. These might include looking at book features e.g. title, front and back cover, blurb etc. working together to decode words or developing children's understanding of the text by answering questions or making predictions. A record of these sessions will be made in your child's reading diary. Books are not sent home as they are in group sets.
Week Commencing Monday 14th November
Children in Need
We made clothes for bears, here are our bears without any clothes! We worked in pairs to make them some out of newspaper.
This week the children have worked very hard writing facts about owls and reading words to sort animals into nocturnal and diurnal (day and night) animals.
We are also enjoying playing phonics games on the interactive white board and on i pads.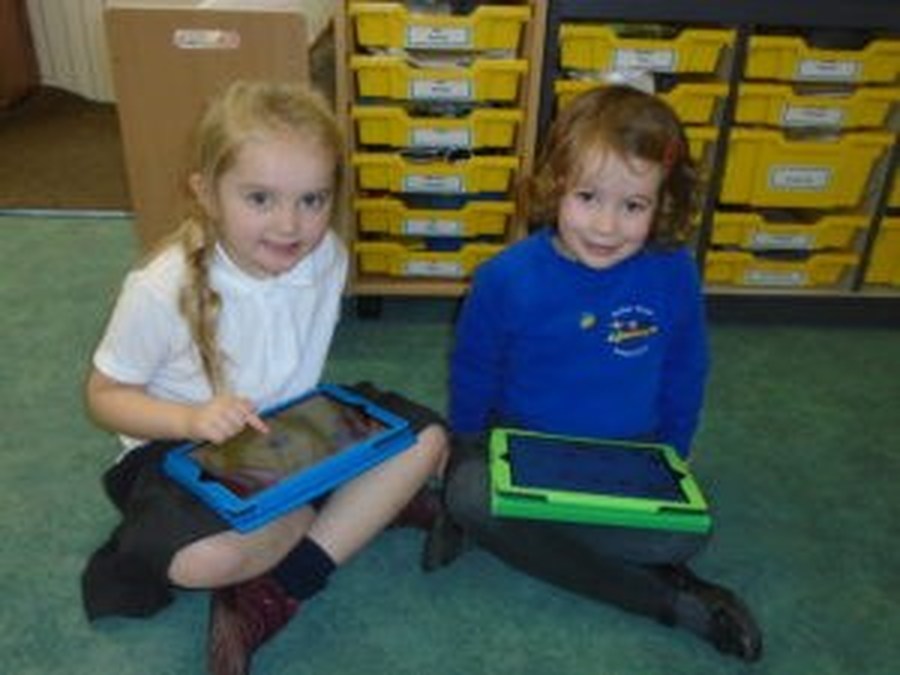 Children have been doing lots of measuring, making Play Doh snakes of different lengths and measuring the length of snakes using cubes.
Please note that from November 15th 'Show & Tell' will take place on a Tuesday instead of a Wednesday.
Week Commencing Monday 7th November
This week the children have been busy counting objects that can't be moved. This is harder than you think as they try to count when someone else is clapping or stamping. We tried two ways; first I showed a number and asked the children to clap or stamp that number of times, then I did the action and asked the children to show the count using a number fan. Try practising at home.
We have based our literacy around the story 'The Owl Babies'. Some children acted out the story using puppets for the rest of the class.
Each child made an owl which will shortly up in the classroom.
You will have noticed we have a new person in class.
Miss Zimondi is a student from Sheffield Hallam University who is doing a degree in Childhood Studies. She will be with us regularly on a Monday and Tuesday as she fulfils her placement allocation. We are all enjoying her working with us and she is great with all the children, a real asset to the classroom.
Don't forget parents evening this Tuesday and Thursday. Children's books will be available in the hall for you to look at before meeting with me in the classroom. I will put a sign up sheet in the classroom if anyone wants to check or alter their appointment.
Week Commencing Monday 31st October
Look what fun we had at our Stay and Play morning on Friday. Children and their parents/carers enjoyed a range of bonfire themed activities as well as games practising current learning in maths and phonics. Thanks to everyone who came, we had a great time and no tears as you left. A great success!
This week we have been learning all about the number 5, which we have discovered is quite tricky to write! Children have been thinking about what number 5 means to them; door numbers, their age, 5 fingers, 5 toes and finding things in the classroom that relates to 5 e.g. Numicon plates, spots on a dice, 5 objects or drawings. They have also spent time splitting 5 cubes into 2 lots and describing them in terms of oral or written number sentences e.g. 3 and 2 makes 5 or 4 +1 = 5.
We have also been learning about the Hindu festival of Diwali 'The Festival of Lights' and each child made a clay 'Diva' which they will be bringing home. Children have been doing very well listening for sounds in words and every child had a go at writing a simple sentence(s) describing how our Diva candles looked when they were lit.
Week Commencing Monday 17th October
Thank you for the lovely story books and books about Australia that children brought in this week. They were very useful in learning about the animals that live there including possum, wombat, crocodile, platypus, sugar glider, emu and kookaburra. The children have started learning the letters s-a-t-p in phonics: recognising each letter and knowing which sound it makes, using them to make and read simple words and learning how to write them using the correct letter formation.
In maths we have made lots of repeating patterns out of anything and everything; children, dance moves, musical scores and lots using objects and paint.
If you would like to 'get ahead' with maths for the first week back, please look at the power points below.
Week Commencing Monday 10th October
Thank you for talking with children about Koalas, the children came in with so many facts I had to change my planning to make sure we learnt more! We have enjoyed looking at video clips of Koalas climbing; making good use of their sharp claws, eating leaves and looking very comfortable asleep in trees. All the children have contributed to our display, creating a Koala from a hand or footprint and choosing a 'Koala Fact'.
In phonics we have been practising blending sounds together to make words, an essential skill for reading. Try some of the games on the class newsletter or if you prefer an on-screen version try topmarks.co.uk . 'Hanging Monkeys' game. You could sound talk the word shown on the leaf and then see if your child can blend the sounds together to choose the correct picture.
Week Commencing Monday 3rd October
This week we have been using a story called 'Ruby flew too' which focuses on a family of ducks where Ruby, one of the ducklings does things more slowly than her brothers and sisters. We have applied this to school and the fact that everyone learns at different rates but like Ruby everyone will get their 'in their own time'.
All the children are learning to write their own names using the correct letter formation. Please could you practise this at home? It is important that children use lower case letters and write in an anti-clockwise direction starting letters from the top.
A few photos of things they have enjoyed this week!
Week Commencing Monday 25th September
This week the children have been learning all about a maths resource called Numicon. Through a variety of play activities they have begun to recognise some or all of the plates by sight and have matched plates to the right numerals and quantities of objects. Numicon is used throughout the school and we have found it an excellent way of teaching maths.
We have also introduced our class Worry Friend who the children have named 'Mr Happy'. He has a special chair of his own in our classroom and children can bring him to an adult if they have anything they would like to talk about. Children have painted their own Worry Friends which will soon be on display in the classroom, and made worry dolls.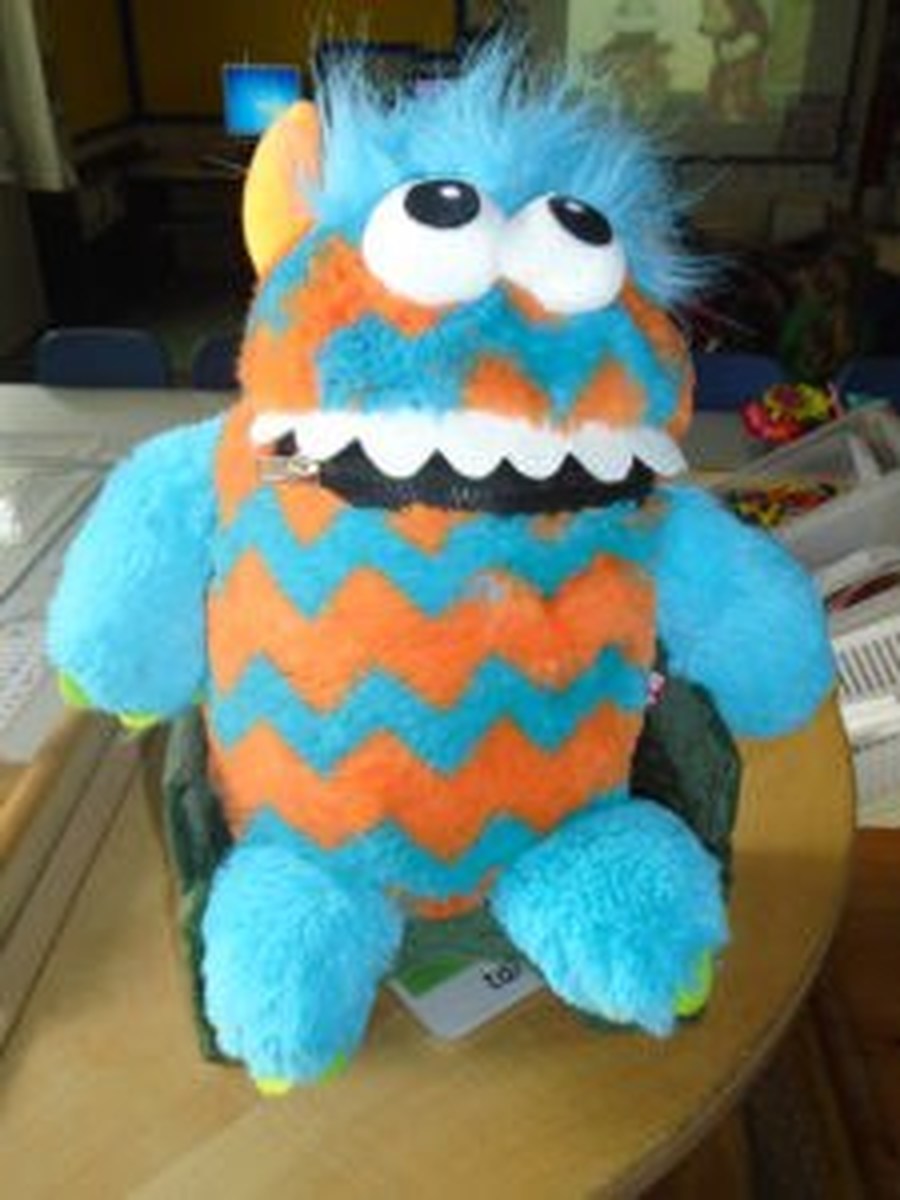 On Friday we explored the Wildlife Garden, looking for bugs and collecting leaves to use for a picture.
Week Commencing Monday 12th September
A fantastic thank you to all the parents and carers who have prepared their children so well for school. We haven't been able to believe how well the children have picked up on rules and routines and how capable they are at listening to and following instructions. We all got changed for P.E. this week, which is something we not usually attempt in our first week!
Being able to settle in half a class at a time has made an enormous difference. We appreciate how parents and carers may have had to juggle their schedules to allow this to happen.
We hope that over the coming week, when we have the whole class that peer familiarity and friendship will develop.
A few photos of what we have enjoyed this week.