Kangaroos
Welcome to the Kangaroos
There are 30 children in the Kangaroo class. The teachers are Mrs Sanderson (Monday, Tuesday and alternate Wednesdays) and Mrs Lipscomb (alternate Wednesdays and Thursday and Friday). Our teaching assistants are Mrs Dyson and Miss Peskett.
This year Mrs Scothorne will also be in class working with children on a one to one or small group basis.
Fortnightly Class Newsletter
Our class newsletter is emailed to all our parents and carers once a fortnight.
14.7.17 30.6.17 5.5.17 7.4.17 24.3.17 10.3.17 10.2.17
Spellings
Click here to see the current spellings.
Handwriting
In Year 1 our children learn the cursive (smiling in and out) style of handwriting. The link below shows how we form these letters.
Half termly overview
Click here to find out what we are learning about each half term.
Show and Tell
Koalas 23rd May
Possums 6th June
Emus 13th June
Wombats 20th June
Dingoes 27th June
Look at what we have done so far this year...
28.6.17
In preparation for making our fruit salads in DT, we enjoyed tasting a variety of fruits which will help us to decide which ones to include. We tasted grapes, blueberries, strawberries, pineapples, apples, bananas and satsumas - yum!
16.6.17
Well done to all our fantastic athletes who took part in our annual Sports' Day. We saw some great team work and sportsmanship and everybody enjoyed themselves. Thank you also to the parents who managed to come and cheer us on. A special mention for Red Team who were our overall school winners and well done also to Blue and White Teams who were our joint winners in Year 1.
15.6.17
This half term in Design and Technology we are focusing on 'Sensational Salads'. Last week we looked at where vegetables come from and how they grow. Today we have been tasting and evaluating different salads. Soon we will get to design and make our own! Yum yum!
9.6.17
We were lucky enough to have good weather, so that we could have our Sponsored Bounce outside in the playground today. The children very much enjoyed practising their bouncing skills and thank you to all who have contributed to raise funds for our school.
26.5.17
Our Design and Technology topic this half term has been 'sculptures'. This week we have been looking at the work of Andy Goldsworthy who collaborates with nature to make his sculptures. Today we went into the wildlife garden and collected natural materials before working in groups to create our very own sculptures in the style of Andy Goldsworthy!
12.5.17
We had the privilege of meeting Lydia Monks a well known author and illustrator when she came to our school to lead an assembly. She demonstrated her fabulous drawing skills and enacted her latest book with our help. In addition to signing her books, she drew all our class animal characters, which are displayed in the hall.
25.4.17
Today in English we had fun acting out the story of The Enormous Turnip. Can you re-tell the story in your own words?Which character were you?
24.4.17
In science today we went on a wild plant hunt around the school grounds. Can you remember the names of the plants we found? Which one did you find most of?
7.4.16
We have enjoyed wearing our Easter bonnets on the last day of this term. Happy Easter everyone!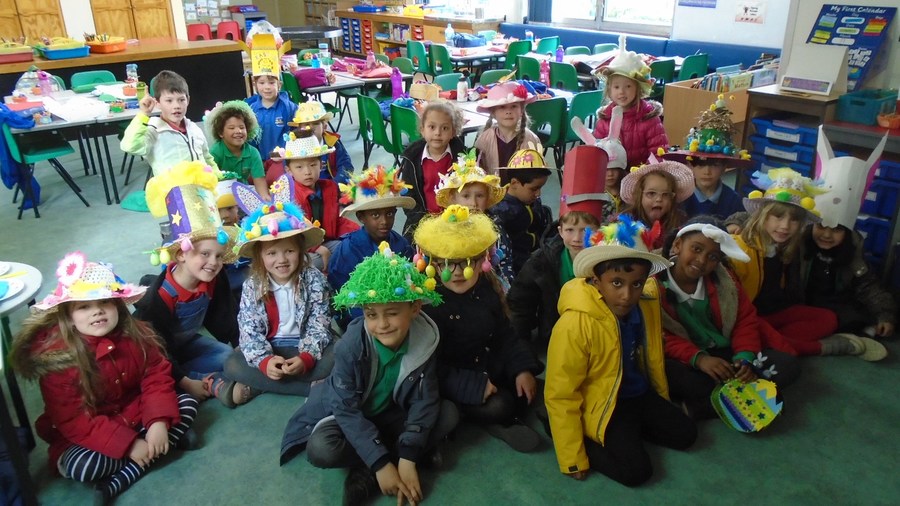 24.3.17
As it was Red Nose Day today, we wore something red and raised money for Comic Relief. Thank you for all your contributions.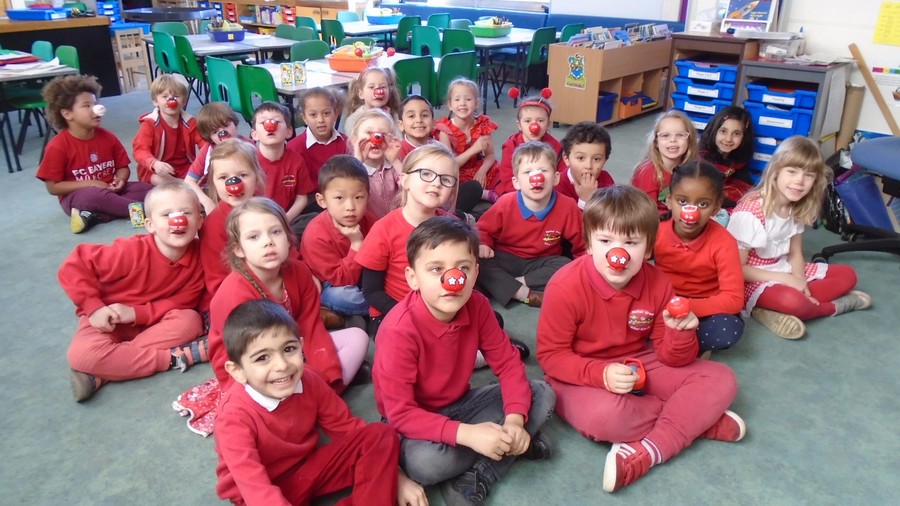 20.3.17
Today we have been talking about what type of food astronauts eat in space. We tasted freeze-dried strawberries and different flavours of freeze-dried ice-cream. How did it taste? What was your favourite flavour? Mine was cookies and cream ice cream sandwich!
We then designed our own flavour of freeze-dried ice cream and designed some packaging to go with it.
16.3.17
As part of our work on Christianity we visited the Beacon Methodist Church today. We enjoyed finding out about all the special objects that are found in the church and what they are used for. First we had to find the objects and record them on our sheet and then Karen from the church explained what makes them special to Christians.
Can you spot the objects in the photographs below?
Altar table Organ Communion cups Cross Bible Hymn book Font Pulpit Banner
13.3.17
This week is Science week. Today we had lots of fun doing some exciting science experiments!
We turned dull 1p coins shiny again so they looked like new. Can you remember how we did this? We poured the vinegar into the bowl and added the salt. We gave it a stir. We put some pennies into the bowl and counted to 10 slowly. We took out the pennies and rinsed them out in some water.
We made an erupting volcano by mixing bicarbonate of soda and white vinegar together in a bottle. We added some red food colouring to make it look like lava! It went all fizzy as the chemical reaction took place.
2.3.17
To celebrate World Book Day we had fun coming to school as a character from a well known book or film. Can you guess our characters?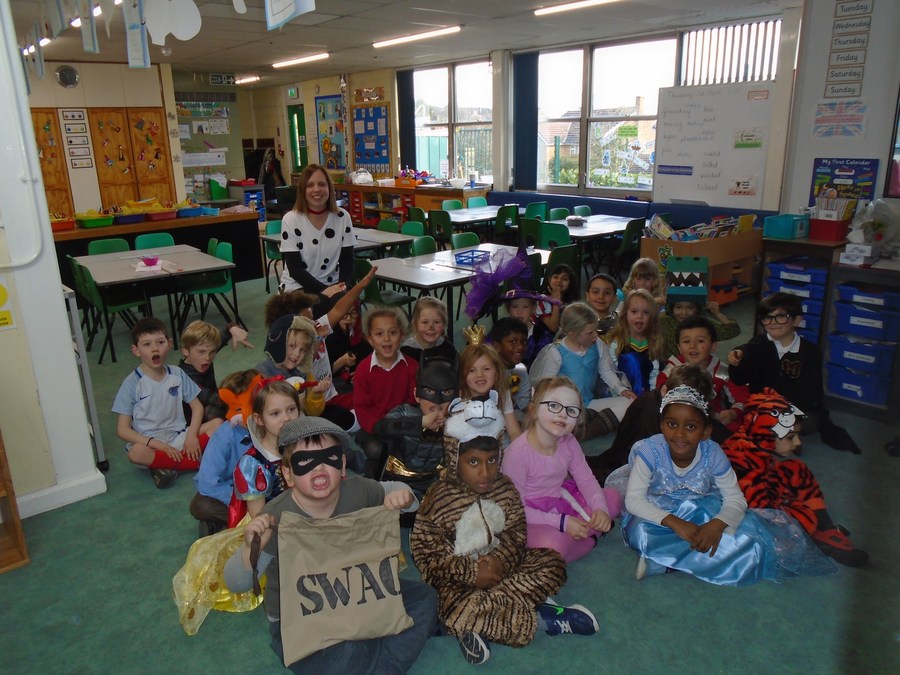 27.2.17
Wonder Dome came into school today with their mobile planetarium. We had a wonderful time watching an exciting show all about space.
17.2.17
Superhero Day
As an end to our topic on Superheroes, Kangaroos dressed up in their favourite costumes and imagined themselves with superhero powers!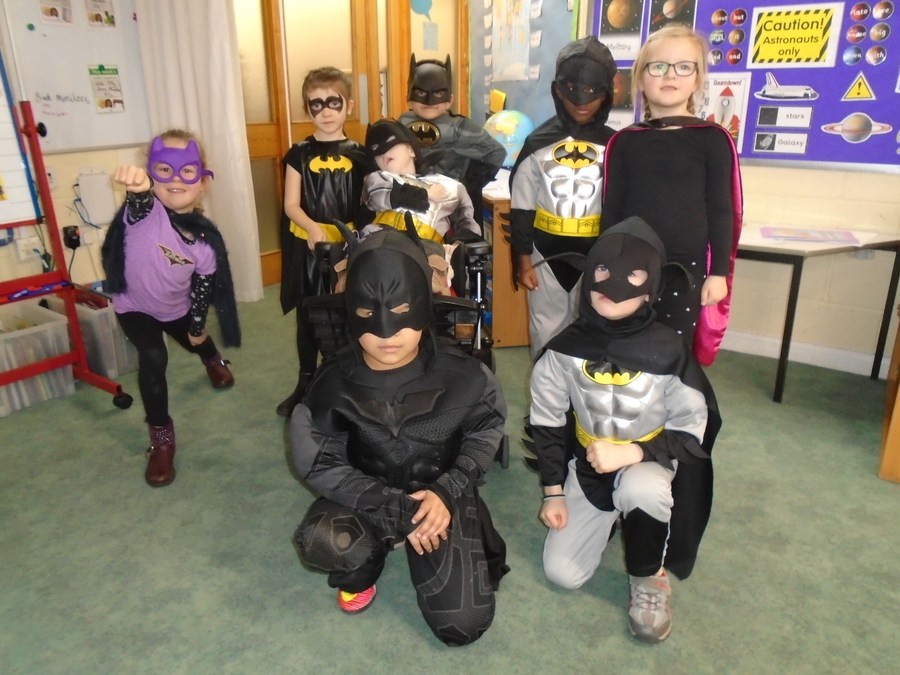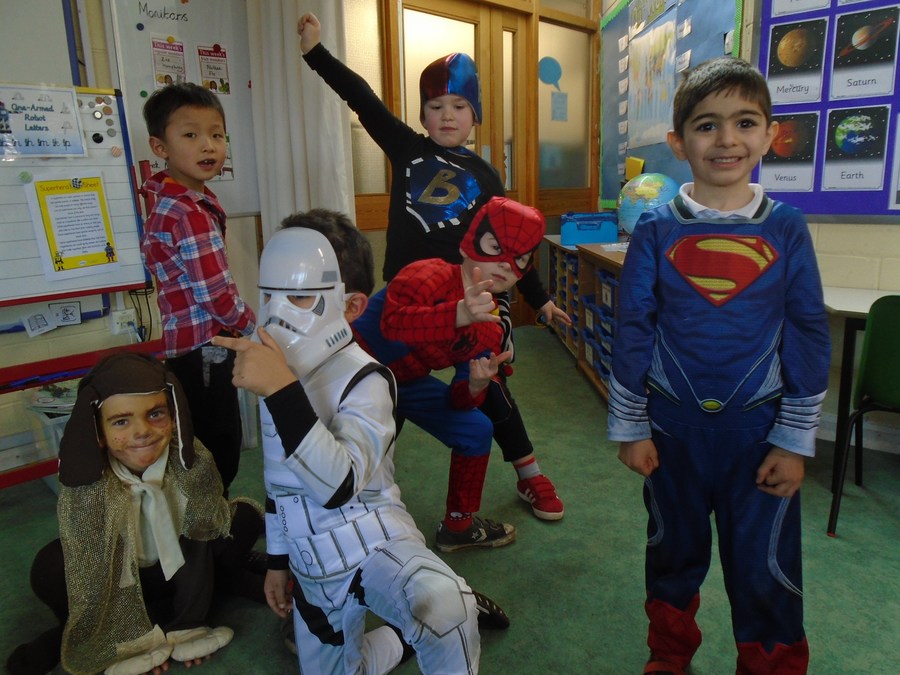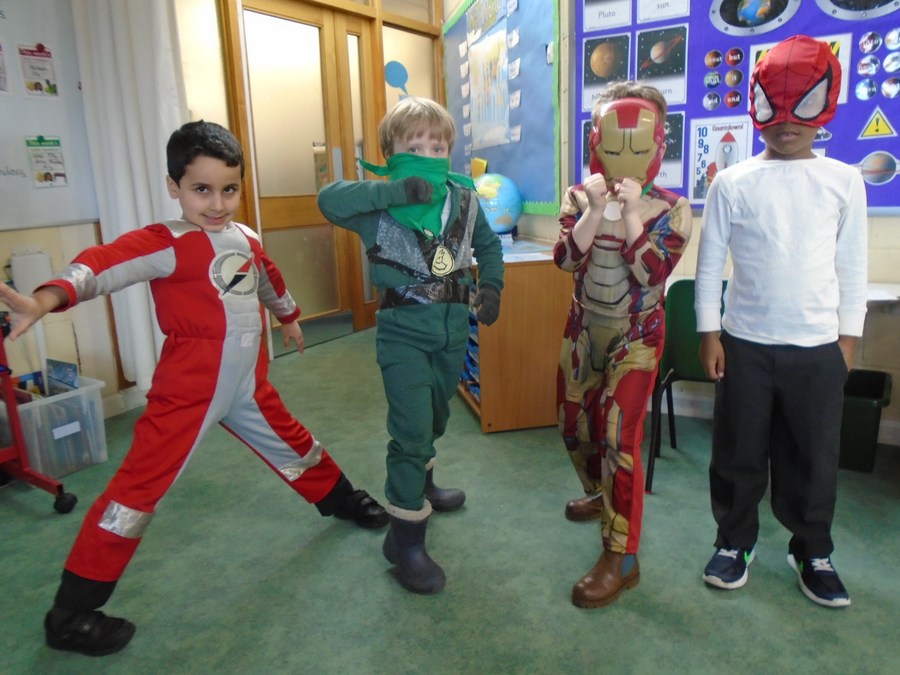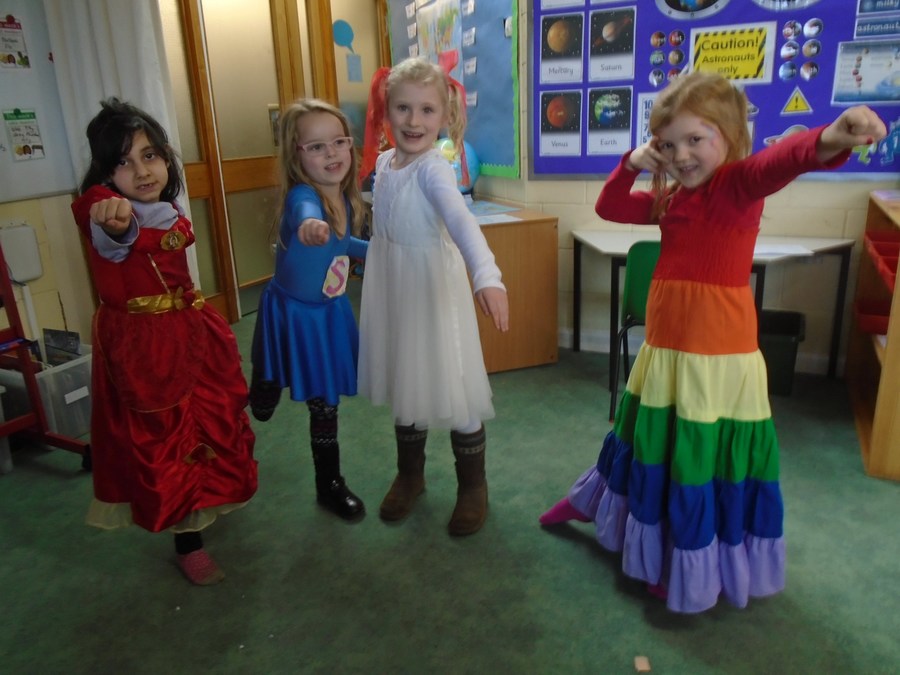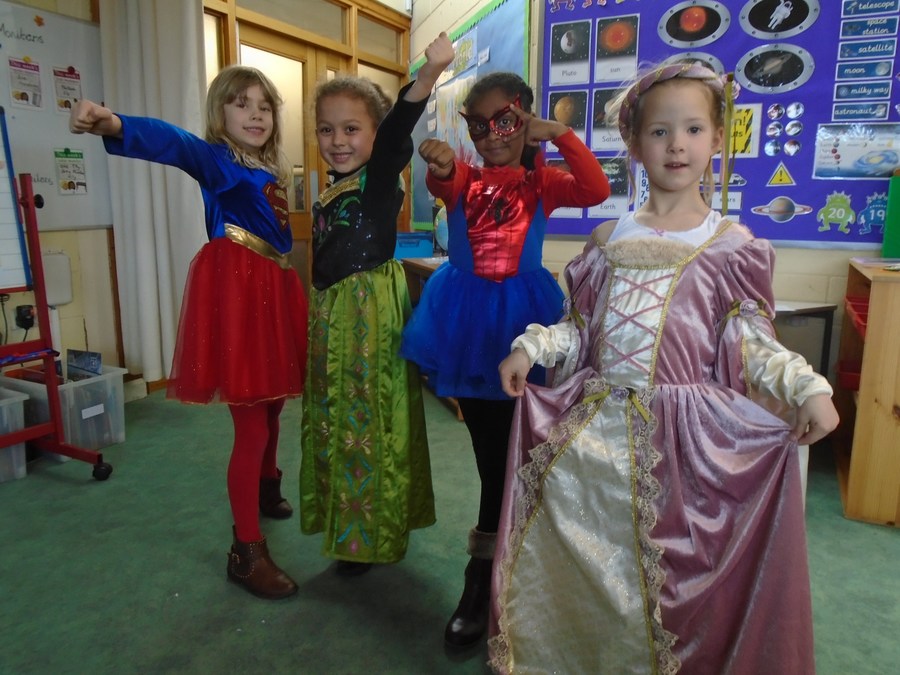 10.2.17
Just look what Henry has been busy making at home! We loved watching the Woolly Mammoth and T-Rex so here they are again for anyone who missed them.
13.1.17
Maths Open Morning
We have all been mathematicians this morning, working at the different activity tables to practise our maths skills, which included place value, ordering random numbers, addition and subtraction, word problems, telling the time to the hour and half past and measuring with a metre stick.
Thank you to all the parents who were able to stay, we hope that you found it useful and enjoyable.
16.12.16
We were all very excited to have visit from Father Christmas today.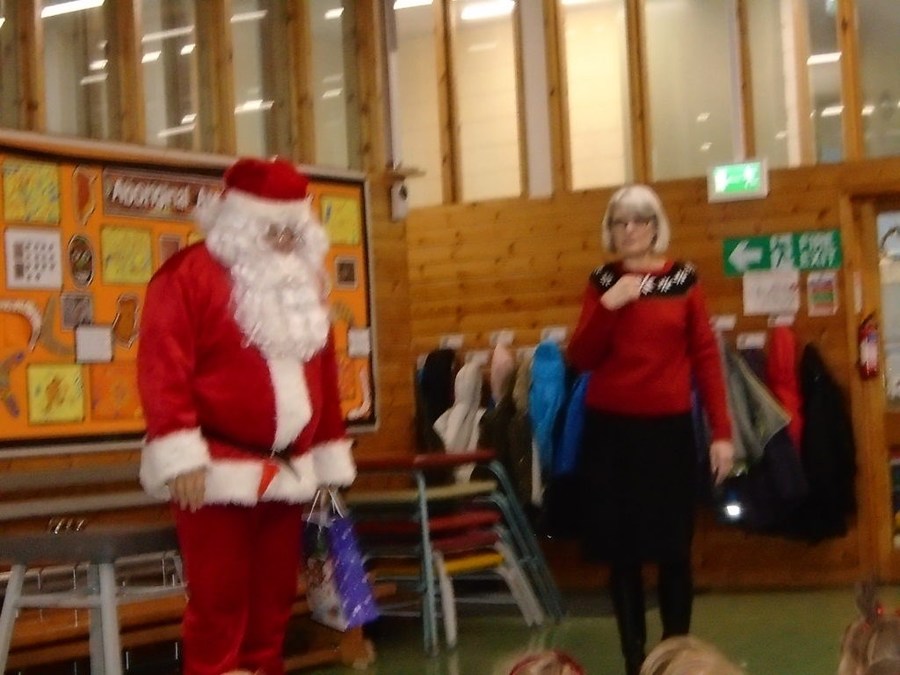 Don't we look great in our Christmas jumpers!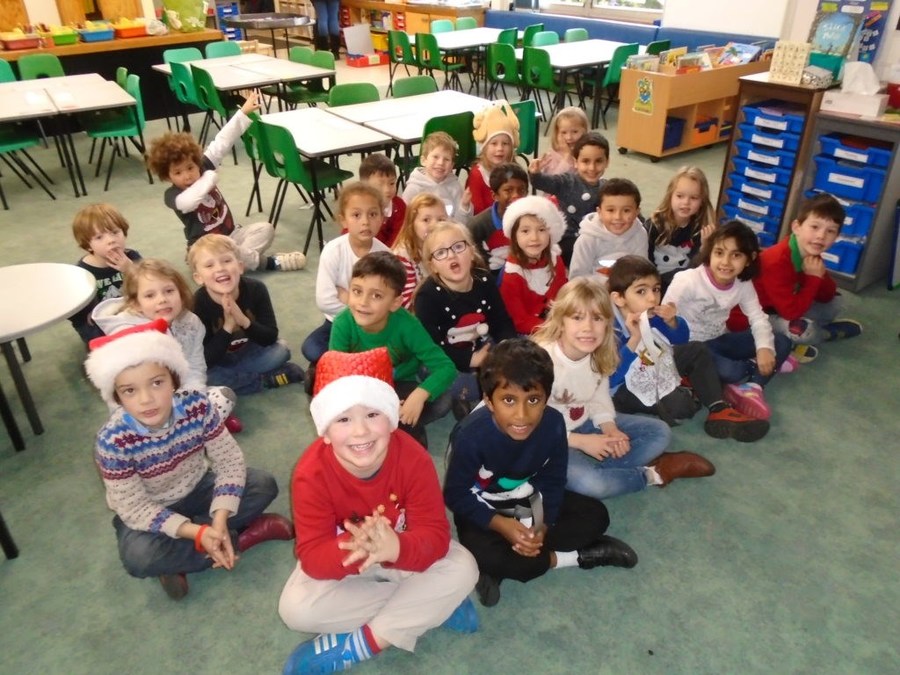 18.11.16
Thank you to everyone who donated to Children in Need. We enjoyed wearing our pyjamas and onesies in school today.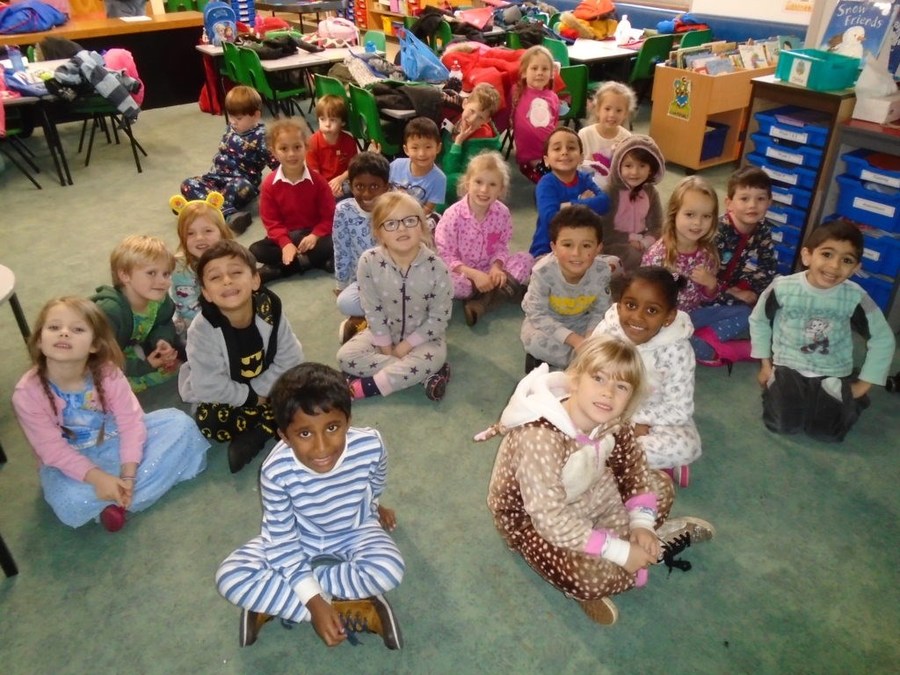 4.11.16
We had a great time at our Stay & Play morning today. Here we are exploring different 2D and 3D shapes.
3.11.16
Our Design and Technology topic this half term is 'Dips and Dippers'. Today we tasted different dips! Ask us what we thought of the different dips and see if we can remember the words we used to describe them. We had thousand island, guacamole, raita, salsa and hummus. Here we are trying them out!
7.10.16
In RE this half term we are learning about belonging to different groups such as families, clubs and religions. We will be having a Show and Tell session on this topic next Thursday/Friday. If your child would like to talk about his or her religion and what it means for them and their families, then we would love to hear what they have to say. They are also welcome to bring any items/photos to show. Thank you.