Giraffes

Welcome to the Giraffes
We are a Foundation Stage 2 class with 25 children. Our teacher is Mrs Wyatt and our teaching assistant is Mrs Steeper.
Weekly Class Newsletter
Our weekly class newsletter is emailed to all our parents and carers every Friday.
Half termly overview
Click here to find out what we are learning about each half term.
Spring 1 2017 Once upon a time
What's happening in the Giraffes?
We loved our end of year trip to Whirlow Hall Farm! We met lots of different animals on the farm and we had a great time acting out the story of 'Farmer Duck'! A perfect end to a fantastic year in Giraffes class!
Look at what we have done so far this year...
30th June 2017
Giraffes class had a yummy treat this week, eating home grown potatoes! A while ago we entered a "Grow Your Own Potatoes" competition. We were sent some potatoes in the post and we followed the instructions to grow them, first by putting them in a cardboard box until they sprouted then by planting them in compost. We were amazed how many potatoes grew and this week we harvested them and cooked them. They made a delicious snack time treat!
23rd June 2017
We have been learning to read instructions and follow them. We followed instructions to make peg airplanes and we think they look brilliant!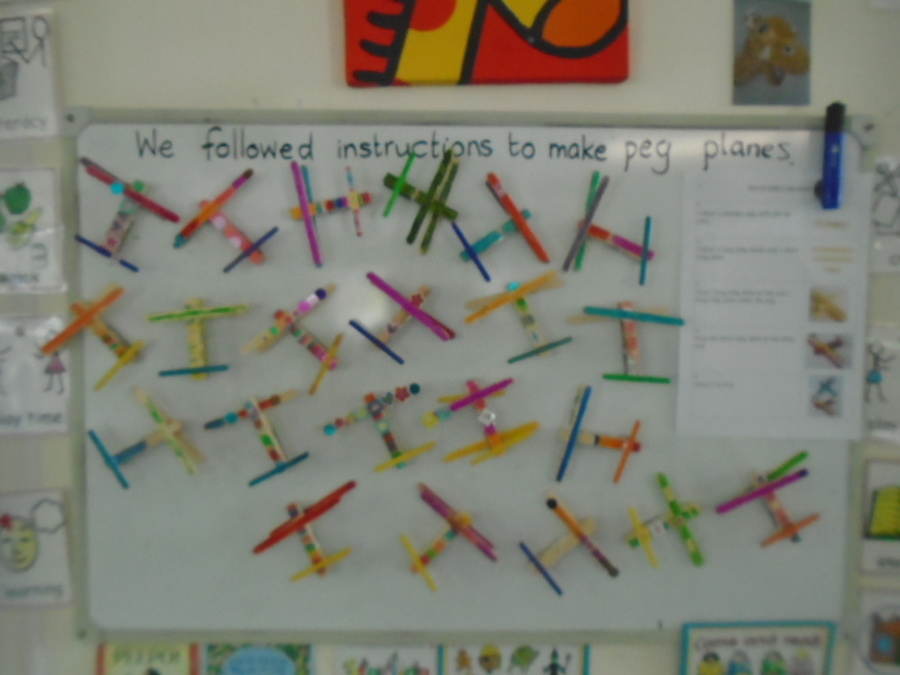 We also enjoyed following instructions to make a wrap with lots of healthy salad ingredients from our vegetable patch. Our favourite instruction was "eat it"!!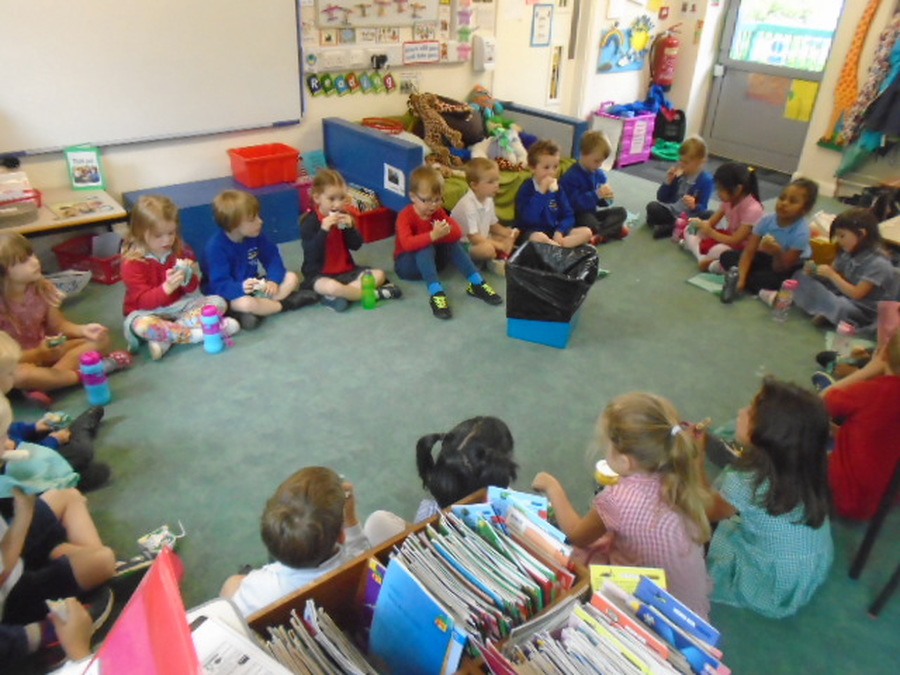 19th June 2017
As part of our work on being healthy. Hattie's mum, who is a dentist, came in to tell us how to look after our teeth. We had the chance to dress up and to count some rather big teeth!! We learnt lots, including three important rules: brush twice a day, visit the dentist regularly and don't eat or drink too many sugary foods and drinks. Thank you to Hattie's mum, we promise we will look after our teeth!!
16th June 2017
We had a fantastic sports day, have a look at us in action!
9thJune 2017
We had a wonderful, bouncy time today! It was our sponsored bounce and we all had great fun on the bouncy castle, raising money for our school.
9th June2017
Giraffes Gardening Club have definitely got green fingers!! For the last few weeks all the children have been busy every Thursday creating their very own vegetable patch. We could not believe our eyes when we came back after the half term holiday... everything had grown so much! So this week we were able to pull up some of our radishes, carrots, spring onions, rocket and salad leaves and we all had a go at tasting them. We weren't sure about the radish but we all had a little taste! A big thank you to Mrs Steeper, our gardening expert, who runs Giraffes Gardening Club.
24th May 2017
Butterfly update! Today we said goodbye to our four beautiful, Painted Lady butterflies. We released them in our school garden and the first three flew away but the last one settled on the tree in our garden. It has been wonderful to see the amazing changes that have taken place and it is hard to believe they came to us in a box as four tiny caterpillars only a few weeks ago!
20th May 2017
Butterfly update! Great excitement when we found the first of our butterflies stretching out its wings to dry in the lovely sunshine. We will be feeding our butterflies on sugar water and fruit before releasing them into our garden on Friday.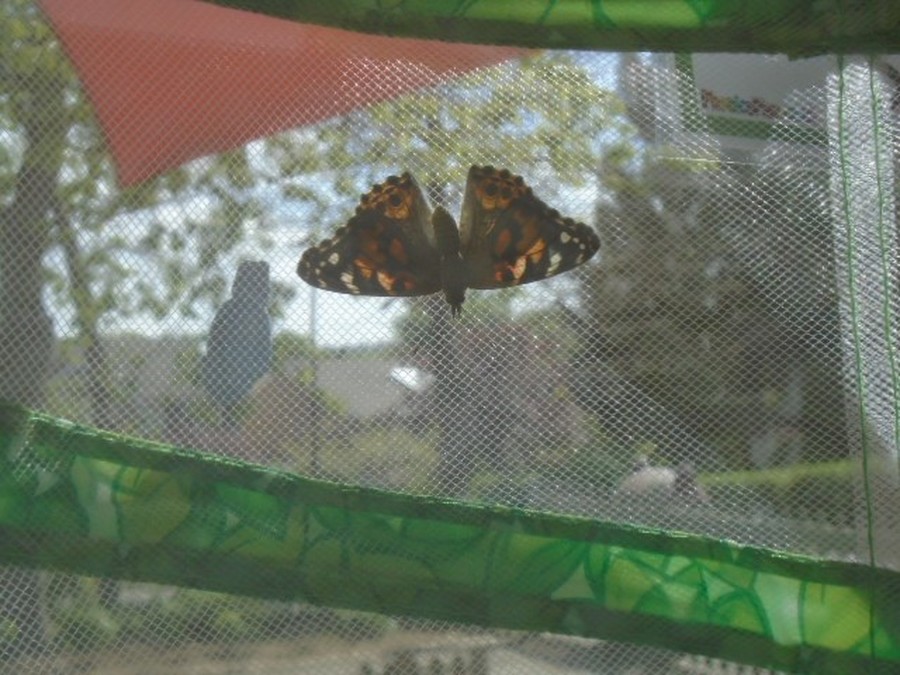 15th May 2017
This week the PTA organised a 'coin trail' to raise money so that we could buy new maths resources for the school. Rain stopped us from making a trail outside but we had a great time using all the coins to make a lovely sunflower picture instead. We couldn't believe how many coins had been brought in, a very big thank you to everybody for the fantastic contributions, we are looking forward to finding how much money was raised. Check the school newsletter for more information.
15th May 2017 Caterpillar update!
We now have four chrysalides! We have put them into the butterfly pavilion and we are expecting that butterflies will emerge in about a week or two. We hope it happens before we break up for the half term holiday!!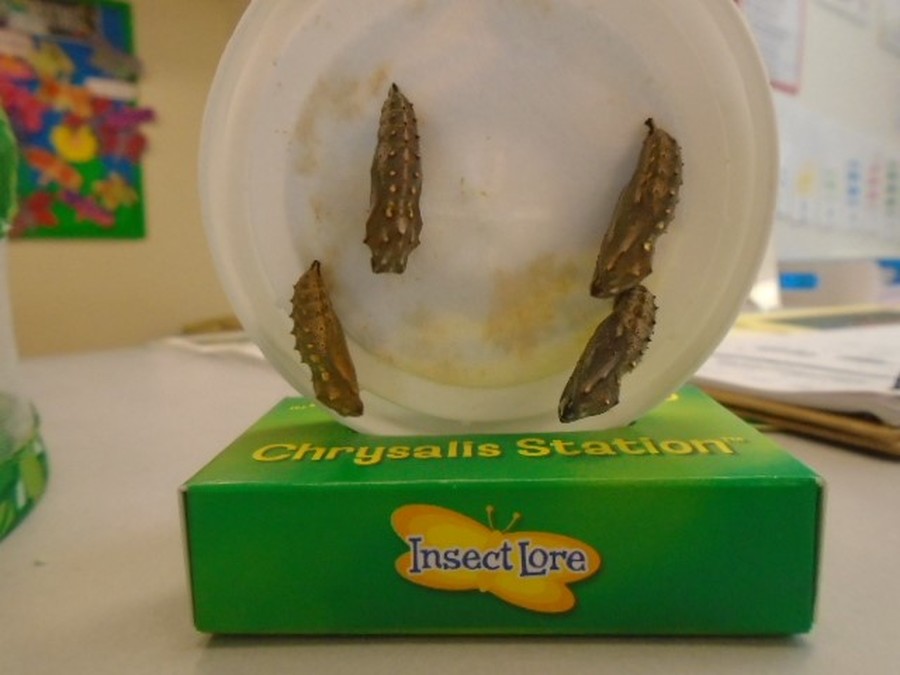 12th May Caterpillar update!
The caterpillars have grown even bigger and have now moved to the top of the pot where they are hanging in a j shape which means they are ready to turn into chrysalides!
We have started a Giraffes Gardening Club! We are all going have a go at being gardeners in our school garden and Reception outdoor areas, looking after the plants and also growing our very own vegetables!
5th May 2017 Caterpillar Update week 2!
The caterpillars are getting bigger! They are over 2 centimetres long now and they are looking quite hairy!!
30thApril 2017 Caterpillar Update Week 1!
We have now named our caterpillars ... welcome to Colin, Carla, Chris, Cookie and Curly!! They have already grown bigger and have also made webs, this is a good sign and shows they are healthy, the webs are to protect the caterpillars from predators and from windy or wet weather. Curly is the smallest of them but he is definitely moving about!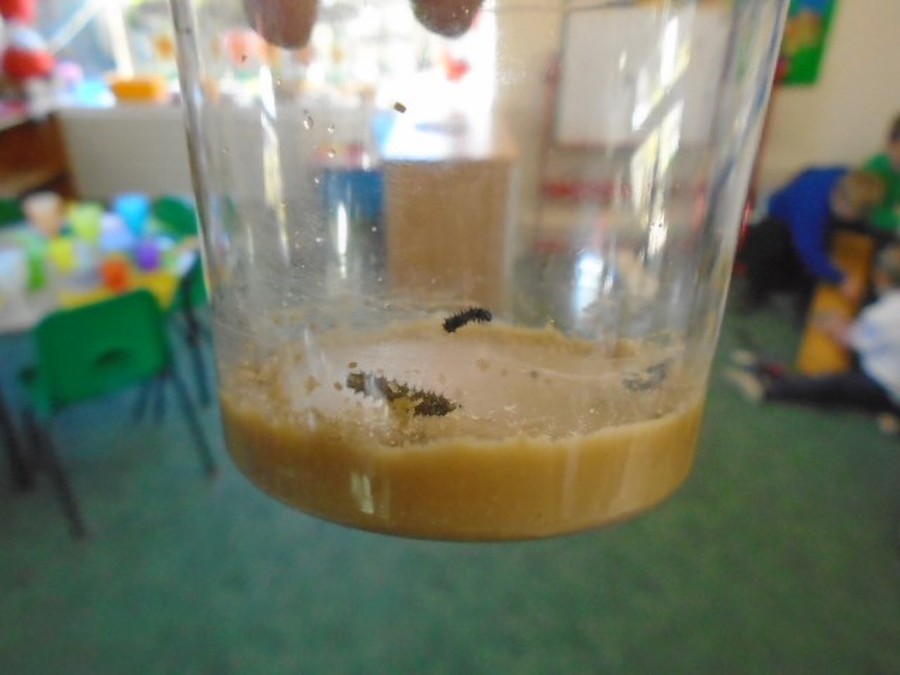 24th April 2017
We had a very exciting delivery from the postman today ... five very tiny caterpillars!! We are going to look after them very carefully and watch as they grow and, in few weeks, change into butterflies! We measured them and they were less than 1 centimetre long.
In maths we have been ordering pretend caterpillar eggs and making a caterpillar from milk bottle tops, counting its legs in twos. We are going caterpillar crazy at the moment!!
Friday 24th March was Red Nose Day! Everyone wore red to raise money for Comic Relief, and we had fun telling jokes, such as ... "What do you call a fairy that doesn't have a bath?" "Stinkerbell!" (Thank you to Tom!)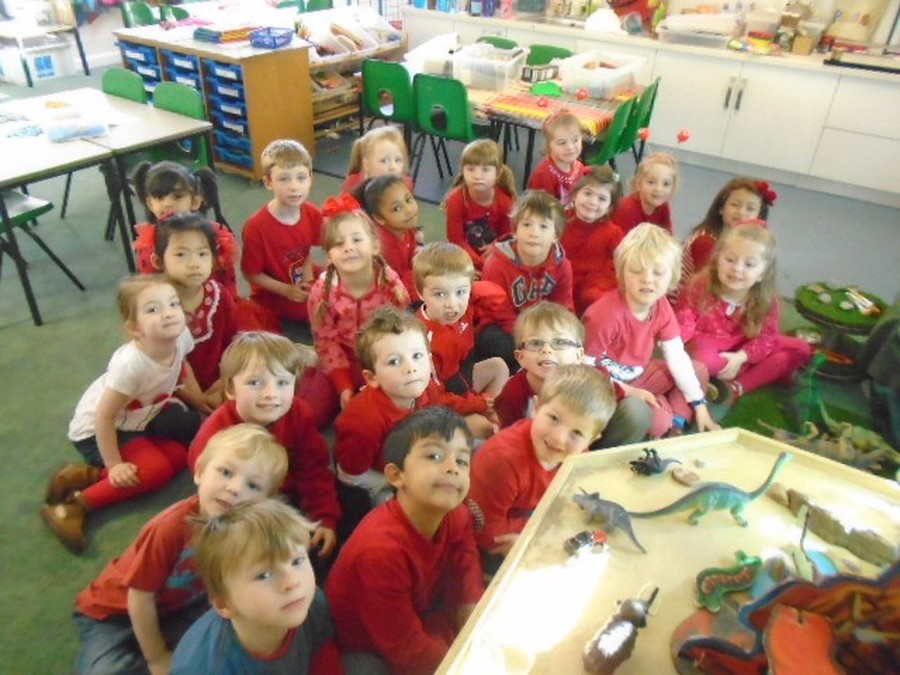 Science Week March 2017
We made an amazing discovery when we put some sweets called Skittles on a plate and added a little water! We sat and waited and watched ... and we couldn't believe what happened, have a look!
7th March 2017
As the sun was shining we decided to take a little walk down the road to look for signs of spring, we found lots! We also made our own spring flowers to make a beautiful display in the hall.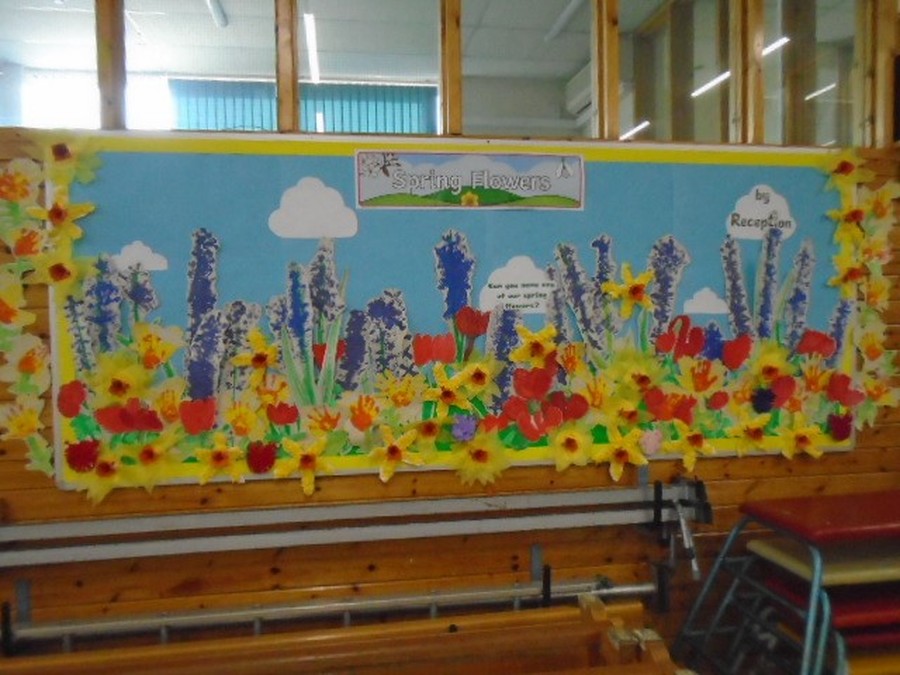 On Thursday 2nd March it was World Book Day. Everybody was invited to come to school dressed as a character from a book and the Giraffes looked fantastic! We enjoyed looking at the books brought in too. Well done Giraffes!
7 February 2017
The Three Little Pigs need new houses, Giraffes to the rescue!! We used junk to make new houses for the pigs, we hope they like them!
3 February 2017
We had a fantastic day when Jenny Bland brought her 'History Van' to our school. We went back in time to find out what life was like 150 years ago; cleaning, washing, ironing, writing with quill pens, cleaning the horses' tack and working on a farm. Many thanks to Jenny for bringing the past to life!
23rd January 2017
"Run, run, as fast as you can, you can't catch me I'm the gingerbread man!" After reading 'The Gingerbread Man' we made our own gingerbread boys and girls, and we kept a close eye on them to make sure they didn't run away! They were delicious!!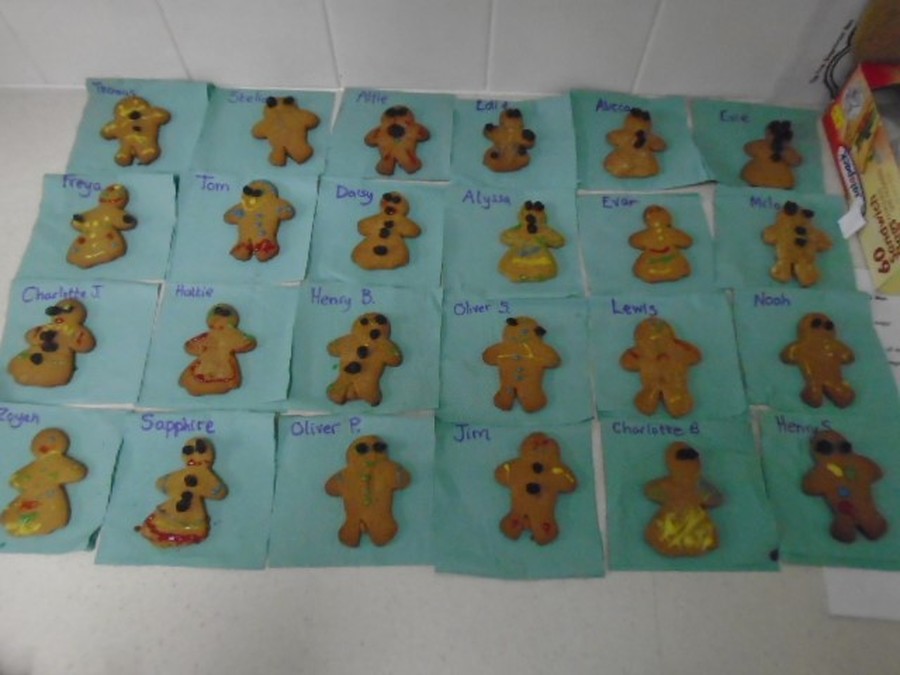 16th January 2017
Giraffe class was alive with the sound of music this week! We had great fun making music and exploring different sounds we could make using lots of percussion instruments. Some were louder than others!
9th January 2017
We have started our new topic 'Once Upon a Time' by reading the story of 'Goldilocks and the Three Bears'. We have our very own Three Bears Cottage in our classroom and we had a big surprise on Monday morning when we found a 'crime scene' in the cottage... someone had been in and broken Baby Bear's chair! Our class became detectives and set to work with great enthusiasm looking for clues. We found lots, including a girl's bag, some golden hairs, fingerprints, as well as porridge oats on the floor - someone had been tasting the bear's porridge and they had eaten Baby Bear's! Who could it be?!
16th December 2016
We have had our first school trip this week. We had a wonderful morning at Ecclesall Woods Discovery Centre; we started by making tree decorations with clay then we followed a trail through the woods to make homes for fairies and elves after the friendly dragon had accidently knocked them down! We all had a great time!
Many, many thanks for all the fantastic Christmas gifts of stationery, Giraffes cannot wait to start using them all.
2nd December 2016
This week we have been learning all about nocturnal animals. We found out that hedgehogs hibernate in the winter and that they make nests from leaves and twigs, so we decided to make some nests in our Wildlife Garden in case any hedgehogs would like to stay with us for the winter! Our very own hedgehog Harry, tried our nests out and decided he liked them all! Good team work Giraffes!
25th November 2016
On Friday the whole school watched a theatre group performing the pantomime 'Cinderella', there was lots of laughter and we had a great time!
This week we have learnt all about owls. We read 'Owl Babies' and made our own owls from leaves and sticks. We also used owls in maths to order and measure heights.
Giraffes class were "Class of the Week" (again!), well done!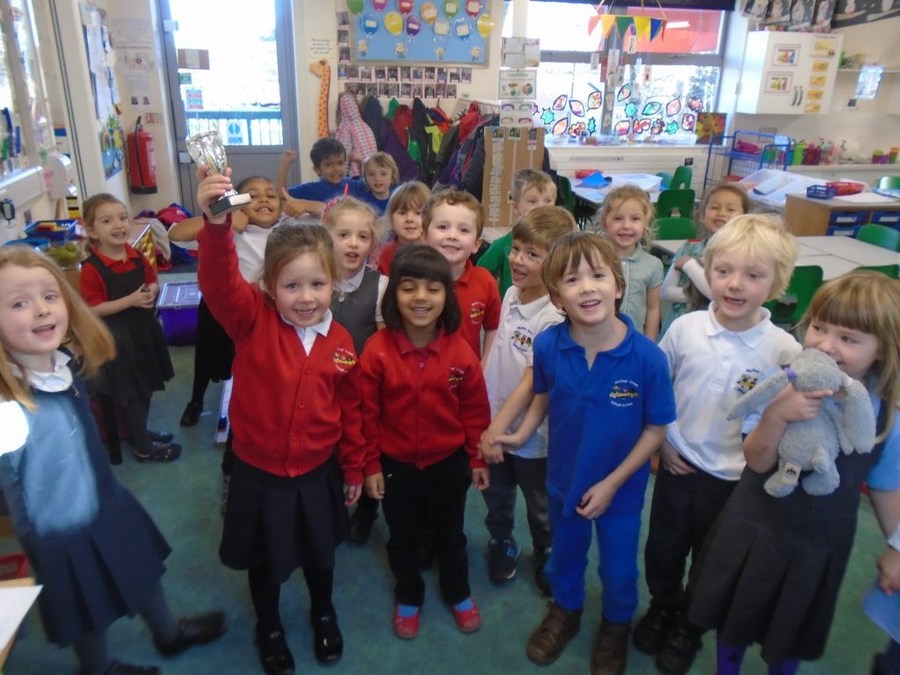 18th November 2016
Thank you to everyone who donated to Children in Need. We had great fun wearing our pyjamas in school today! Even our cuddly toys were ready for sleep so we made beds for them.
3rd November 2016
Prepare to launch...5,4,3,2,1 ...BLAST OFF!! Giraffes' very own spaceship has landed on Planet Giraffe. Our astronauts are enjoying exploring space as part of our new topic, 'Light and Dark'.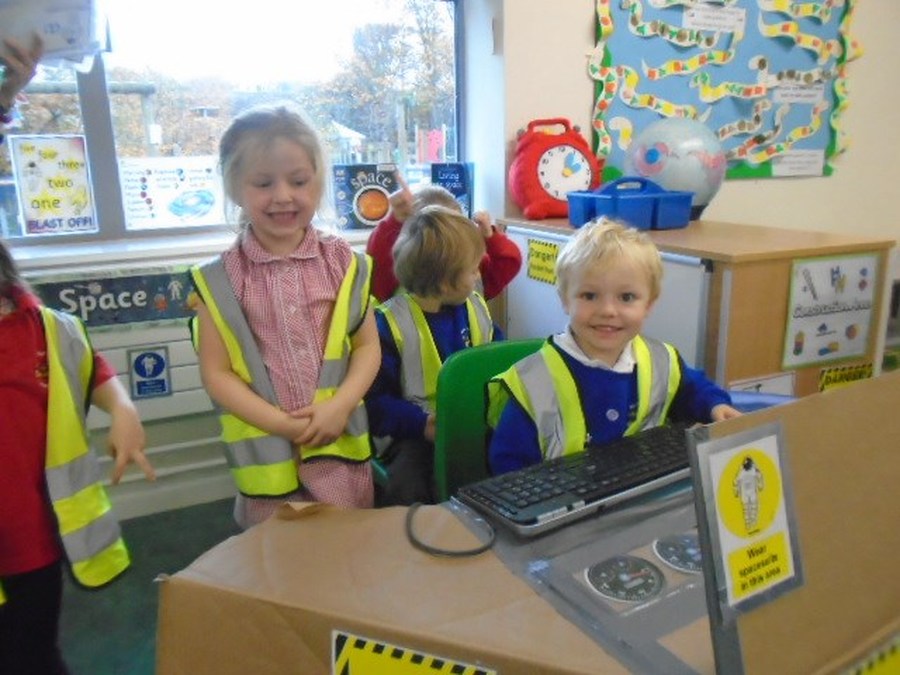 20th October 2016
We have been learning about repeating patterns in Maths this week. We have made lots of repeating patterns ...our favourite ones were the ones we ate!
14th October 2016
We have enjoyed learning about giraffes this week. We wanted to see how big a giraffe really was so we made a life-size picture of a giraffe outside then lay down next to it! We started with 2 metre sticks for its neck and legs, then we added plates for it's feet, ropes for the outline and finally added leaves. We were amazed at how tall the giraffe was!
We have also been learning about shapes. We went on a shape hunt to find shapes around school and we used lolly sticks to make shapes. We are now shape experts.
7th October 2016
Giraffes class have a trophy! We are "Class of the Week", the best class in Fantastic Friday Assembly! Well done, you deserve it!
We are enjoying our "Funky Fingers" and "Dough Gym" sessions, exercising our hands and fingers to One Direction! Activities include putting buttons through buttonholes, playing finger football and hammering leaves.
30th September 2016
We had great fun riding bikes in the playground this week!
We had our first visit to the school's Wildlife Garden and the outdoor classroom, collecting leaves of different shapes and sizes to make into animal pictures.
In Maths we have been learning to use Numicon, counting the holes in the different Numicon plates by putting 'jewels' in them.
23rd September
We have used apples from our very own apple tree to make delicious apple flapjack! We enjoyed eating it too in our 'Carpet Cafe' (snack time!).
16th September 2016
What a fantastic first week we have had in Giraffes! Well done to all the children, you have been brilliant, we are going to have a great year.
Our classroom is ready for the start of a new year!