Phonics
Our children learn synthetic phonics helping them to blend sounds to make a word. Phonics is a method of teaching children how spoken words are composed of sounds called 'phonemes' and how the letters in words correspond to those phonemes.
English is essentially a code that can be encoded (written) and decoded (read). We teach our children this 'code' and the rules and regularities of the written language.
Children are taught that they can make a word from the sounds and then break it down when they want to spell it.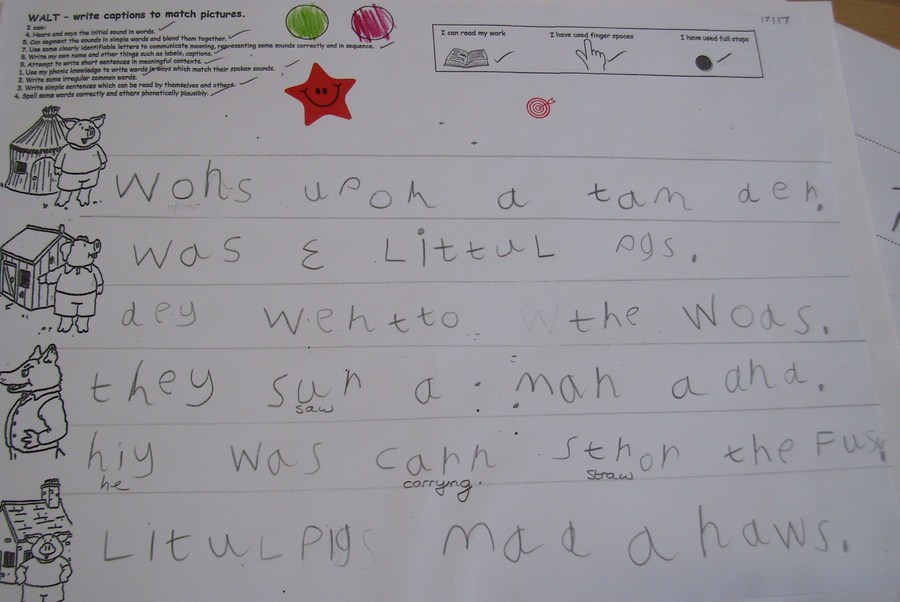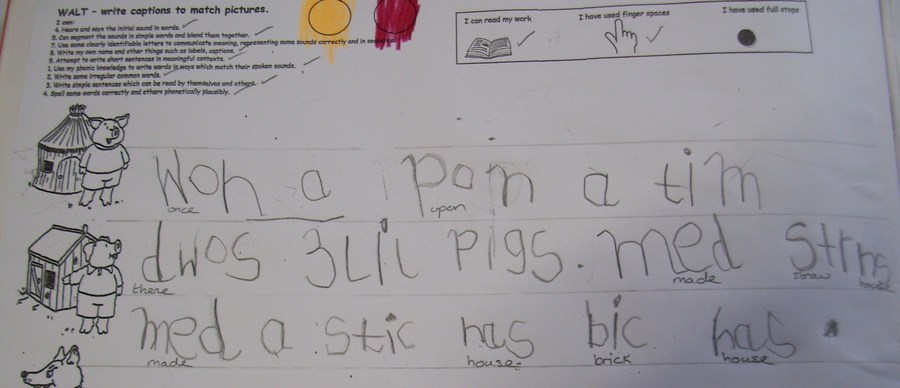 We have 26 letters in the alphabet and 44 phonemes in the spoken language. There are many letter combinations needed to make the 44 phonemes (smallest unit of sound).
Letters and Sounds
We use the government produced synthetic phonic teaching programme known as Letters and Sounds. There are six phases which starts with 'phonemic awareness' which is hearing the different sounds in a word and the matching of these phonemes to single letters. At the same time the phonemes can be 'blended' to read words and segmented to write the words.
Our children learn letter to sound correspondence - a phoneme is represented by a single letter e.g. 'c', 'a', 't'.
Then they will learn that two letters represent one phoneme e.g. 'ch', 'i', 'n'. ('ch' is only one sound)
After that the children learn that a phoneme can be represented in many different ways such as 'ay' in 'play'.
The next steps are to learn that the phoneme can be written in different ways such as 'ay' in the word 'play'; 'a-e' in the word 'cake'; 'ea' in the word 'break'; 'ey' in the word 'hey'; 'eigh' in the word 'eight'; 'a' in the word 'plate' and 'ei' in the word 'vein'.
Finally the children learn that sometimes a single (or more) letter may represent more than one phoneme for example the 'o' in 'most' and 'o' in 'hot' or the 'ow' in 'wow'. This can be confusing but with the structure and regularity of letters and sounds most children will pick this up.
To find out more about the Phonic Phases click here Phonic Phases